« The Rules | Main | The EU, the Euro and the Greek debt bail-out. »
May 04, 2010
Running dog Yankee Mr. Oliver want fries with this?
Hooters restaurants in China? Say it ain't so, Joe. Los Angeles Times: Hooters Underscores Mixed Sexual Messages in China. Maybe Greater China lawyer Dan Harris would weigh in? Mr. Harris, you speaking to us these days? Lord knows no one else is. Anyone? Please yes to have picture taken with the American Mister Dane Hool. We meet once on Sint Jacobsstraat in Amsterdam. Fun guy. Way cool. Click-click.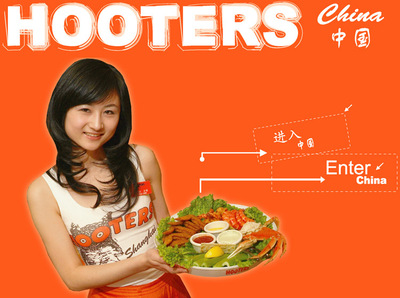 Chairman Coby: To Get Rich on Hooters in China is Glorious.
Posted by Holden Oliver (Kitzbühel Desk) at May 4, 2010 11:59 PM
Comments
Posted by: geeklawyer at May 5, 2010 07:33 AM
Yes, GL. People are always mad at Dane Hool in his capacity as Anti-Weenie. Tough post. Click-click.
Posted by: Holden Oliver at May 5, 2010 01:22 PM
HO and GL--I leave in a few minutes for points East. But quickly: Maybe GL could do some more Brit election coverage? Nicely done fo far. Albion and America looks to understated humble GeekLawyer as North Star of legal London, and of all good things to flow from Magna Carta Libertatum.
Posted by: Hull at May 5, 2010 04:05 PM
Hooters in China. What next? Democracy maybe?
Posted by: Dan Harris at June 7, 2010 04:59 AM
Post a comment
Thanks for signing in, . Now you can comment. (sign out)
(If you haven't left a comment here before, you may need to be approved by the site owner before your comment will appear. Until then, it won't appear on the entry. Thanks for waiting.)