December 17, 2017
Got sand? Parker does. Rent "Party Girl" (1995). Watch her dance at the end. She's among the first in our Pantheon, a really exclusive club. Not one where old guys in second tier cities pay dues to drool on their shirts. Parker, it is said, likes Non-Risk Averse People Who Step Up. That's not you, is it, Wendell? Time to get off your knees, maybe?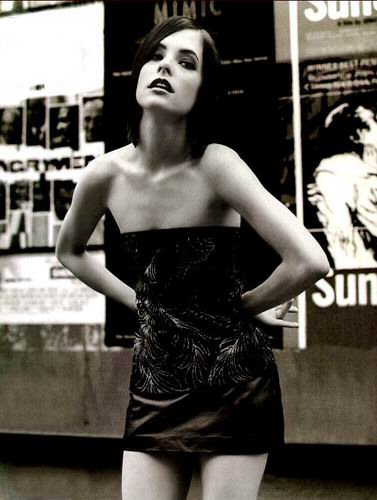 Pretty Bohemian Girl Next Door.
Posted by JD Hull. Permalink | Comments (0)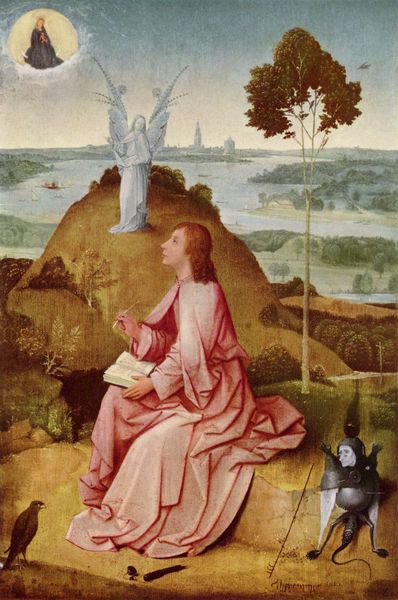 Posted by JD Hull. Permalink | Comments (0)
December 16, 2017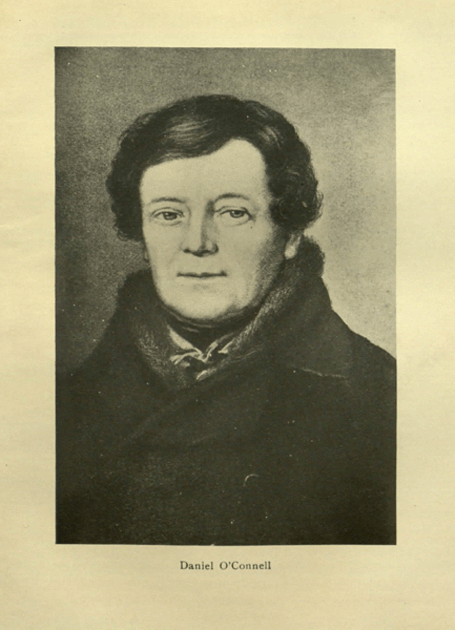 Daniel O'Connell (1775-1847), MP, Lord Mayor of Dublin, "Liberator of Ireland", and trial lawyer's trial lawyer, led a movement that forced the British to pass the Catholic Emancipation Act of 1829, allowing Catholics to become members of the British House of Commons.
He may have done more for Ireland than anyone after him. The English, of course, found him infuriating. O'Connell was at heart a consummate trial lawyer, and by nature both actor and gadfly.
In a set of lectures John L. Stoddard published in 1901, he said of him:
He was a typical Irishman of the best stock--wily, witty, eloquent, emotional and magnetic. His arrival in town was often an occasion for public rejoicing. His clever repartees were passed from lip to lip, until the island shook with laughter.

In court, he sometimes kept the spectators, jury, judge and even the prisoner, alternating between tears and roars of merriment. Celtic to the core, his subtle mind knew every trick peculiar to the Irish character, and he divined instinctively the shrewdest subterfuges of a shifty witness.
Posted by Holden Oliver (Kitzbühel Desk). Permalink | Comments (0)
December 15, 2017
Paris was a bold man who presum'd
To judge the beauty of a Goddess.

-John Dryden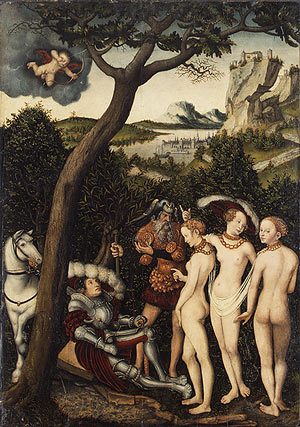 The Judgment of Paris, Lucas Cranach the Elder (1472-1553)
Posted by Holden Oliver (Kitzbühel Desk). Permalink | Comments (0)
FRE 612 provides that if a witness uses a writing "to refresh memory", either while or before testifying, the adverse party is "entitled to have the writing produced at the hearing, to inspect it, to cross-examine the witness" on the document. Good trial lawyers overlook that FRE 612 applies to depositions as well as to trials. Federal decisions have applied the rule to depositions based upon Fed.R.Civ.P. 30(c). So ask a "hostile" deponent if he or she looked at documents before the deposition other than those being produced at the deposition. If the answer is "yes", request that they be produced. Go to the judge. You can have them produced during or after the deposition. Often the best documents are the ones that never make it to the deposition, like handwritten records that even opposing counsel doesn't know about.
Posted by JD Hull. Permalink | Comments (0)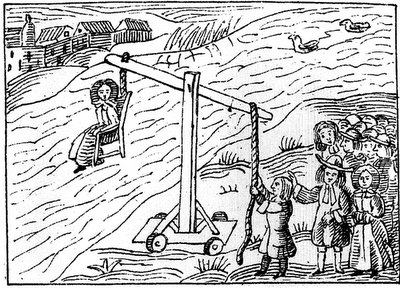 Posted by JD Hull. Permalink | Comments (0)
From a Facebook post I did 2 days ago that made people nuts. Like Bonkers. Flip City.
"Didn't vote for him. He's flawed like us all. And he's not out of central casting for an American President. But I think Donald John Trump is starting to look like the best POTUS we've had in a long, long time. Right POTUS at right time. And plays MSM effortlessly to boot. Like a grand piano. Fun to watch."
Posted by JD Hull. Permalink | Comments (0)
December 14, 2017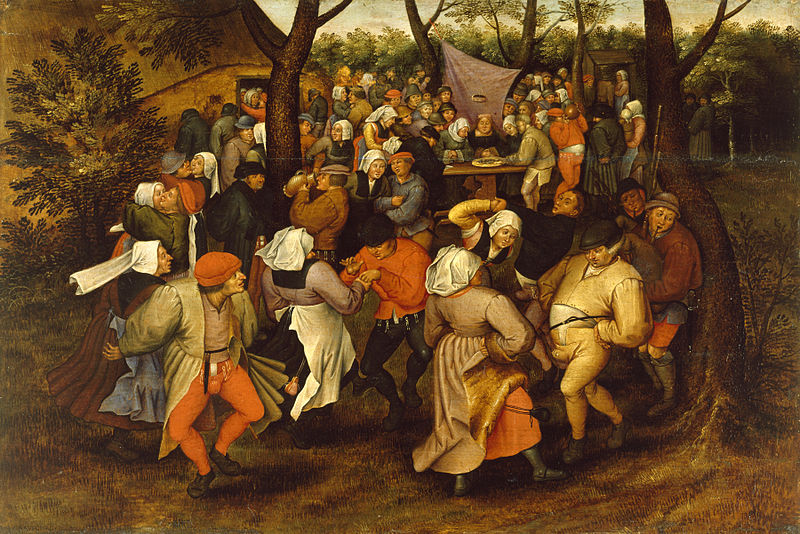 Posted by JD Hull. Permalink | Comments (0)
December 13, 2017
New Orleans-based Gene Dwyer is a gifted writer who deserves to be a household name. No, he's not a client. From Dwyer's website:
Marie Laveau of New Orleans is recognized as one of the most influential women of 19th Century North America. The life and legend of this Voodoo Priestess has been clouded in mystery. Her followers in the American South witnessed her supernatural powers of healing and casting spells prior to the Civil War and then during Reconstruction. Her legend, including her immortality, is even stronger and more complex. Thousands come to her New Orleans mausoleum every year to ask favors and pay homage.

"She Walks On Gilded Splinters" is the never before told story of the life and legend of Marie Laveau. Explore 16th Century Africa and New Orleans. with a riveting opening chapter in Selma, Alabama on March 7, 1965, a watershed day in the American Civil Rights movement. The novel is a unique, intricate murder mystery following retribution for the sins of past generations set against the history and consequences of the slave trade.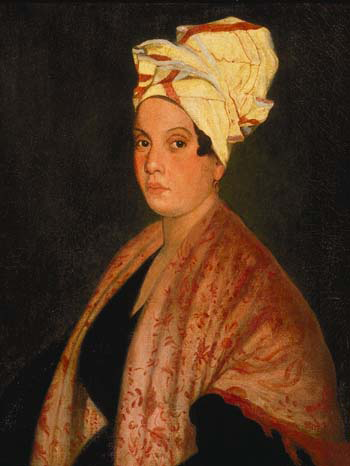 Posted by JD Hull. Permalink | Comments (0)
Solstice of course is generally December 21 or 22 and happens late next week. It is an ancient idea and observance that Christians may have borrowed from pagans. As one digital resource has it:
The pagan Scandinavian and Germanic people of northern Europe celebrated a twelve-day "midwinter" (winter solstice) holiday called Yule (also called Jul, Julblot, jólablót, midvinterblot, julofferfest). Many modern Christmas traditions, such as the Christmas tree, the Christmas wreath, the Yule log, and others, are direct descendents of Yule customs. Scandinavians still call Yule "Jul". In English, the word "Yule" is often used in combination with the season "yuletide" a usage first recorded in 900.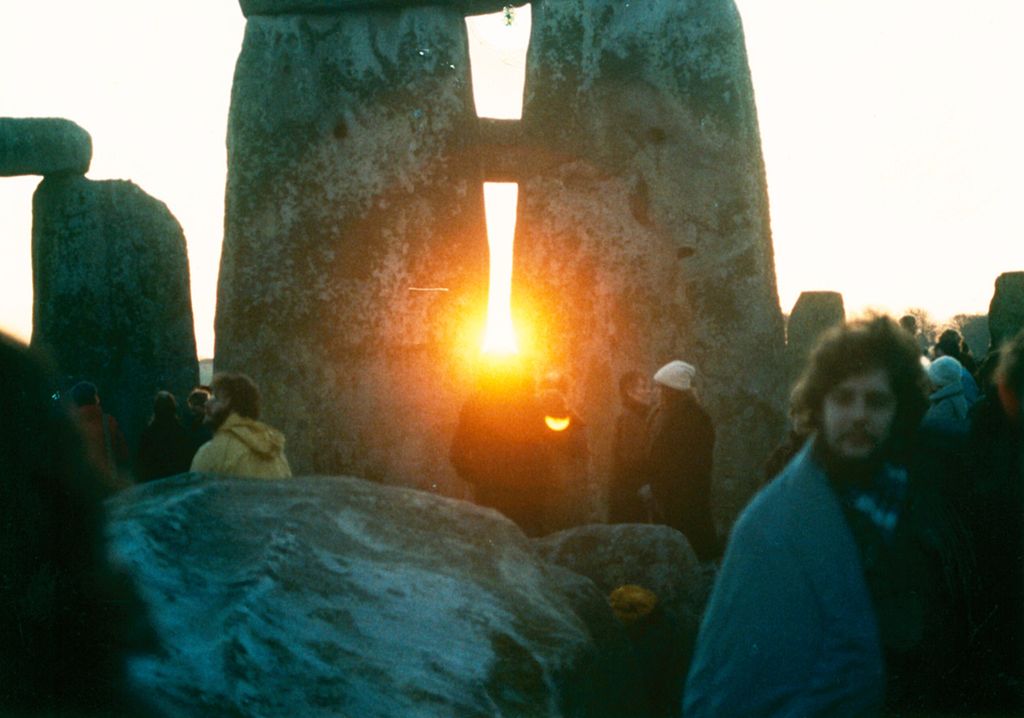 Stonehenge, 1980s
Posted by JD Hull. Permalink | Comments (0)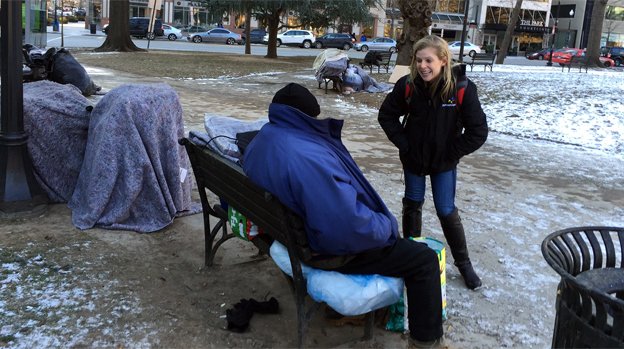 You say you would really like to help the urban homeless on both cold and super-cold Northeastern and Midwestern nights? Both plain cold and the bitterly cold, often unpredictable nights that many cities are prepared to accommodate more homeless residents at shelters but for a number of reasons (both good and bad) thousands of Americas's rough sleepers take their chances outside?
Good. So see our inaugural post about our One Night, Person (March 5, 2015) campaign and our follow-up March 7, 2015 post. No, we don't have time to go over all of this again; we're working stiffs like you. Just read the posts.
Once again, and in short, here is the idea and the rules:
You're a Yuppie, professional or other generic dweeb between the ages of 22 and 82.You live in towns like New York City, Philly, Boston, Baltimore, Indianapolis, Cleveland, Wilmington, DC or Chicago. Or similar cities in Europe. Or Asia. Generally? Think Northern Hemisphere. Planet Earth. Wherever Yuppies roam. You may live in the suburbs or in a downtown neighborhood of these cities. But if you work during the day in a downtown area of any of them, you and yours will go forth and do this:
1. Pick out and ask a homeless woman or man what articles of warm clothing she or he needs that you already have at home or in storage--thermal gloves, wool scarfs, warm hats and beanies, big sweaters, winter coats, thermal underwear, socks, etc.
2. Ask just one person at a time.
3. Agree on a time to meet (preferably at the same place) later that day or the next day.
4. Find the iwinter stuff you have at home or in storage.
5. Bring said stuff to the homeless woman or man as agreed.
6. Nine out of ten times, your new friend will be there when you show up.
7. Wait for forecasts of the next super-cold night--and repeat.
Posted by JD Hull. Permalink | Comments (0)
Without invention nothing is well spaced,
unless the mind change, unless
the stars are new measured, according
to their relative positions, the
line will not change, the necessity
will not matriculate: unless there is
a new mind there cannot be a new
line, the old will go on
repeating itself with recurring
deadliness.
William Carlos Williams in Paterson, Book 2 ("Sunday in the Park")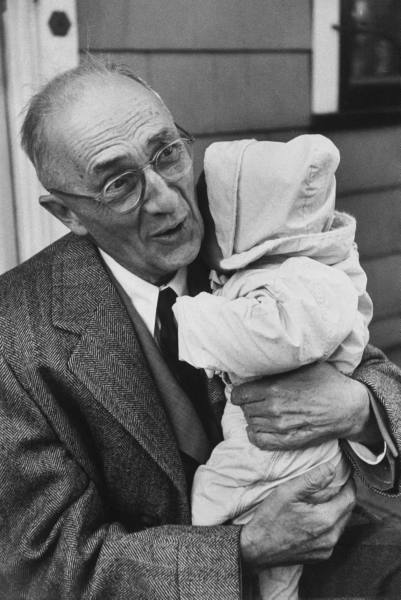 Posted by JD Hull. Permalink | Comments (0)
December 12, 2017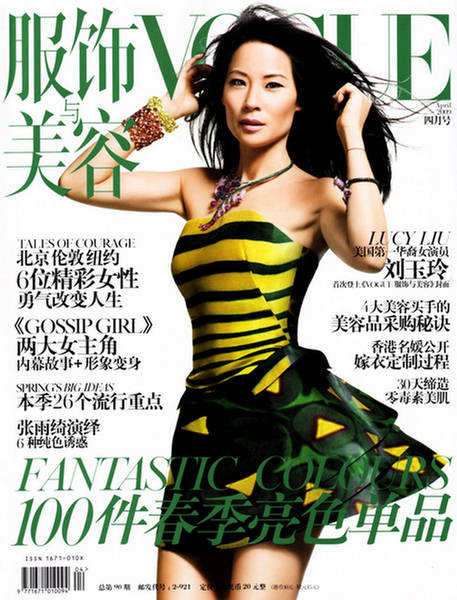 Lucy Liu Vogue China April 2009

Posted by JD Hull. Permalink | Comments (0)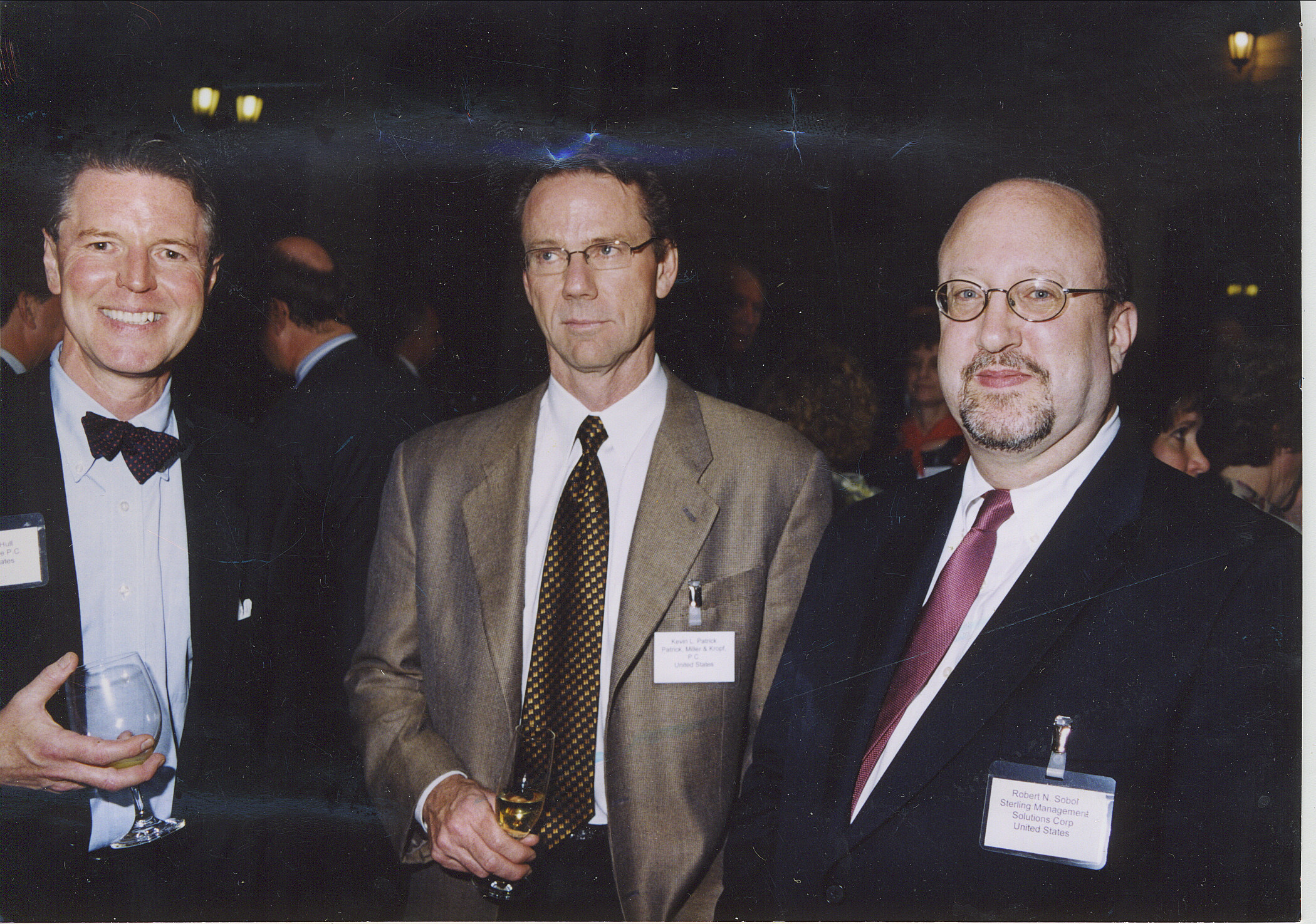 Posted by JD Hull. Permalink | Comments (0)
December 11, 2017
I still tell some AA girls that in 1985 I offed both my biker parents & did some serious time.
That way fewer ask me at meetings "hey, Dan, what are you doing later on?"
Seriously.
Posted by JD Hull. Permalink | Comments (0)
December 09, 2017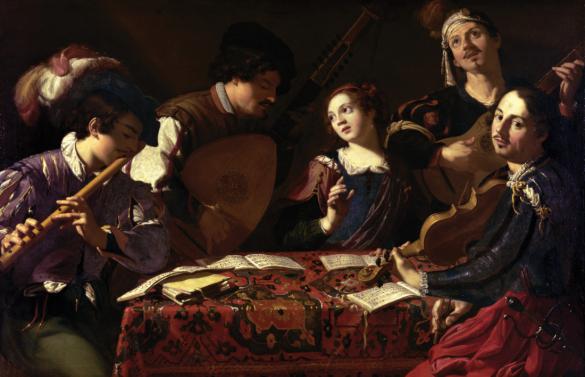 The Concert, c. 1620, Theodoor Rombouts (Flemish, 1597-1637)
Posted by JD Hull. Permalink | Comments (0)
December 08, 2017
If you have nothing nice to say, come sit by me.

-- Alice Roosevelt Longworth
Died on February 20, 1980 at 96.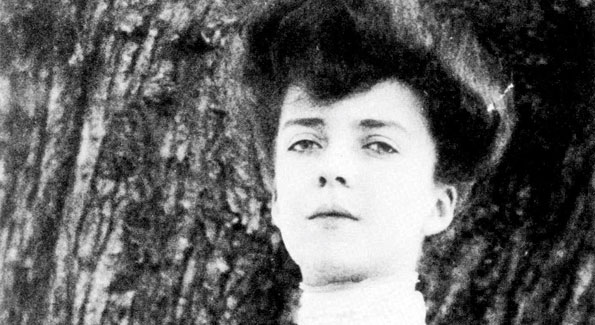 Posted by JD Hull. Permalink | Comments (0)
December 07, 2017
Seventy-six years ago today, a Sunday, my Dad, 13, came home in the afternoon with a basketball as usual under his arm. He was surprised to find both his parents in the living room of their new house in Indianapolis, where the family had moved from Missouri the year before and my grandfather J. Dan Hull was now the new principal of storied Shortridge High School. They were listening intently to the radio, heads bowed to their Emerson tabletop model. His mom, and my grandmother, Alene Oliver Hull, mother of two, one girl and one boy, and tough-as-nails, outspoken Kentuckian schoolteacher (she died at 101), looked up from the radio at my Dad and started to softly cry.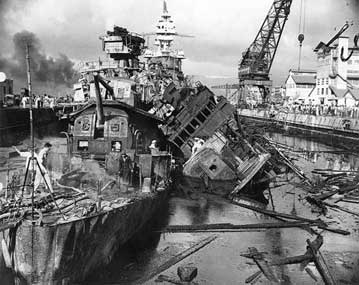 Damaged Pearl Harbor destroyers USS Cassin and USS Downes

Posted by JD Hull. Permalink | Comments (0)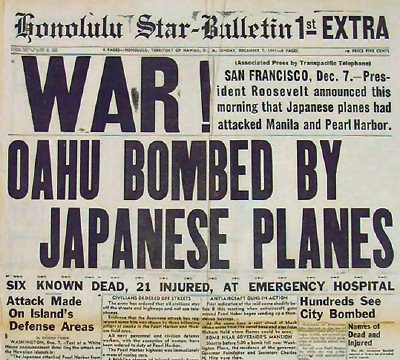 Posted by JD Hull. Permalink | Comments (0)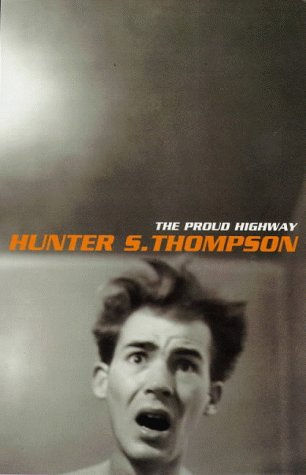 Posted by JD Hull. Permalink | Comments (0)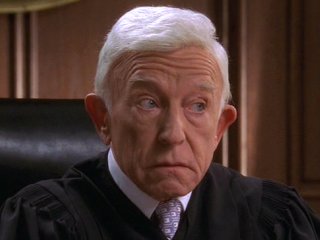 You hosin' us, Mr. Hull?
Rule 27 of the U.S. Federal Rules of Civil Procedure is "Depositions to Perpetuate Testimony". It's not invoked that often. Subdivision (a) covers "Before an Action Is Filed":
(1) Petition. A person who wants to perpetuate testimony about any matter cognizable in a United States court may file a verified petition in the district court for the district where any expected adverse party resides. The petition must ask for an order authorizing the petitioner to depose the named persons in order to perpetuate their testimony. The petition must be titled in the petitioner's name and must show:

(A) that the petitioner expects to be a party to an action cognizable in a United States court but cannot presently bring it or cause it to be brought;

(B) the subject matter of the expected action and the petitioner's interest;

(C) the facts that the petitioner wants to establish by the proposed testimony and the reasons to perpetuate it;

(D) the names or a description of the persons whom the petitioner expects to be adverse parties and their addresses, so far as known; and

(E) the name, address, and expected substance of the testimony of each deponent.

(2) Notice and Service. At least 21 days before the hearing date, the petitioner must serve each expected adverse party with a copy of the petition and a notice stating the time and place of the hearing. The notice may be served either inside or outside the district or state in the manner provided in Rule 4. If that service cannot be made with reasonable diligence on an expected adverse party, the court may order service by publication or otherwise. The court must appoint an attorney to represent persons not served in the manner provided in Rule 4 and to cross-examine the deponent if an unserved person is not otherwise represented. If any expected adverse party is a minor or is incompetent, Rule 17(c) applies.

(3) Order and Examination. If satisfied that perpetuating the testimony may prevent a failure or delay of justice, the court must issue an order that designates or describes the persons whose depositions may be taken, specifies the subject matter of the examinations, and states whether the depositions will be taken orally or by written interrogatories. The depositions may then be taken under these rules, and the court may issue orders like those authorized by Rules 34 and 35. A reference in these rules to the court where an action is pending means, for purposes of this rule, the court where the petition for the deposition was filed.

(4) Using the Deposition. A deposition to perpetuate testimony may be used under Rule 32(a) in any later-filed district-court action involving the same subject matter if the deposition either was taken under these rules or, although not so taken, would be admissible in evidence in the courts of the state where it was taken.
And subdivision (c), equally as vague in some respects (but see the Committee Notes), states:
(c) Perpetuation by an Action. This rule does not limit a court's power to entertain an action to perpetuate testimony.
Posted by JD Hull. Permalink | Comments (0)
December 06, 2017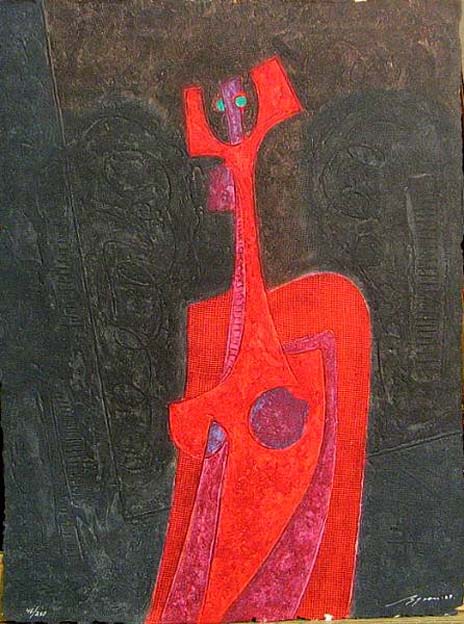 "Rosa", 1989, Byron Galvez (1941-2009)
Posted by JD Hull. Permalink | Comments (0)
December 05, 2017
Transcript of oral argument of this morning's SCOTUS gay wedding cake case. 1 hour. Real lawyers & real judges.

MASTERPIECE CAKE SHOP, LTD.
v.
COLORADO CIVIL RIGHTS COMMISSION
No. 16-111
December 5, 2017 10:03 AM
https://www.supremecourt.gov/oral_arguments/argument_transcripts/2017/16-111_f314.pdf
Posted by JD Hull. Permalink | Comments (0)
December 04, 2017
Below is a photo we love by Clear Blue Sky of the Winston Churchill statue in Paris. In 1998, it was erected and unveiled just outside the Petit Palais. In bronze and by French sculptor Jean Cardot, it stands ten feet high and weighs about 2.5 tons. Cardot modeled it on a photograph taken on November 11, 1944 of Churchill marching down the nearby Champs Elysees with General Charles de Gaulle.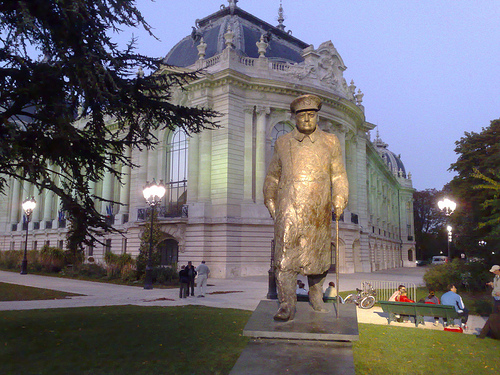 Posted by Holden Oliver (Kitzbühel Desk). Permalink | Comments (0)
Get down on your knees and pray! I know it, I see it. The Huns will not come.
Sainte Genevieve (422-512) saved Parisians from the Huns, the legend goes, in 451. People had started to flee Paris in anticipation of the invasion led by Attila--but stopped when she told them she had a vision that the Huns would not enter Paris. She became the city's patron saint. In 1928, a grateful Paris erected a statue to her on the Pont de la Tournelle (now about 400 years old). Genevieve is facing east, the direction from which the Huns approached. She is also said to have converted Clovis, king of the pagan Franks, to Christianity. If you walk from the Right Bank to the Left Bank near the Ile Saint Louis, you walk right under her, with Notre Dame on your right.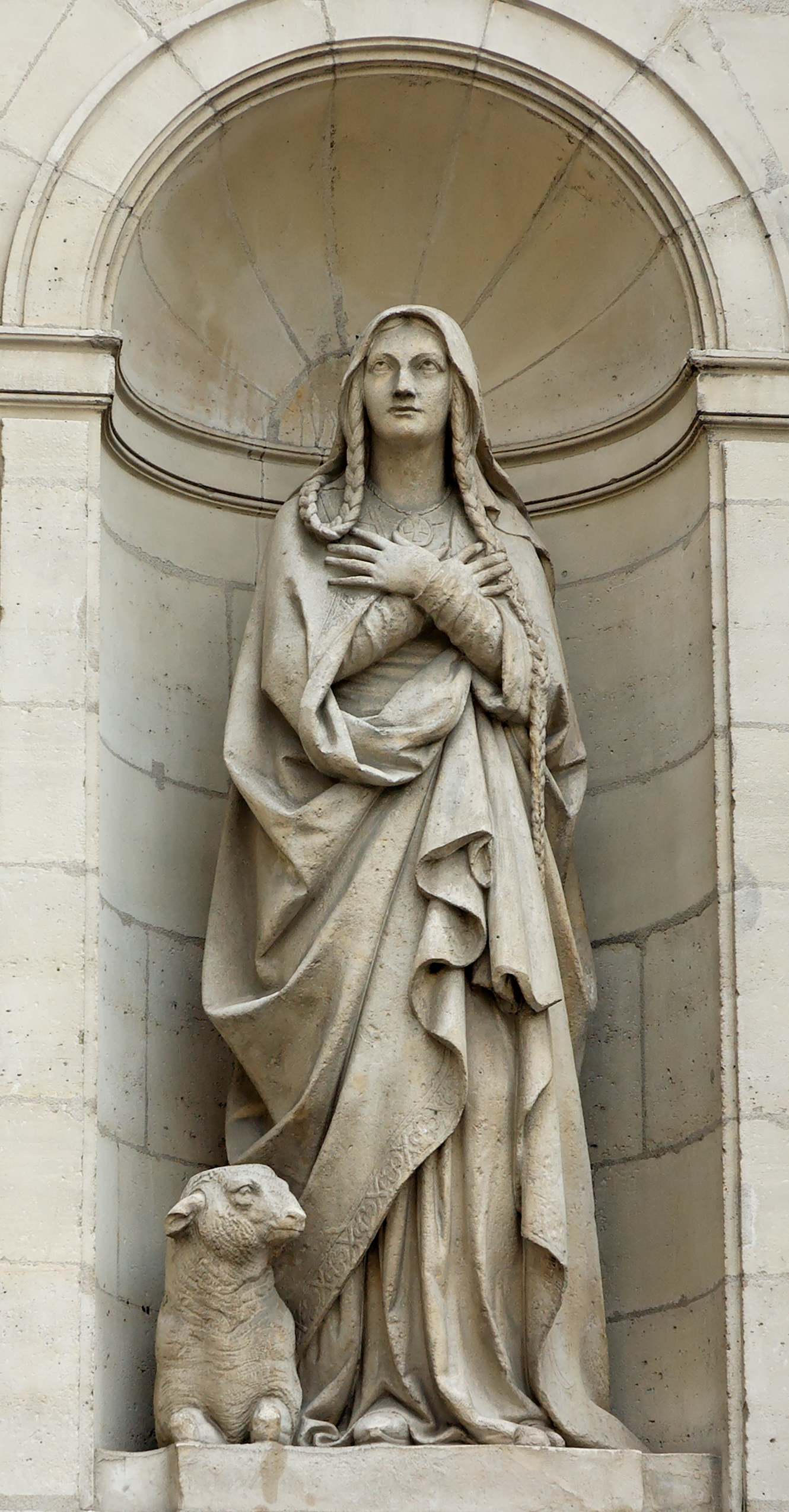 Posted by JD Hull. Permalink | Comments (0)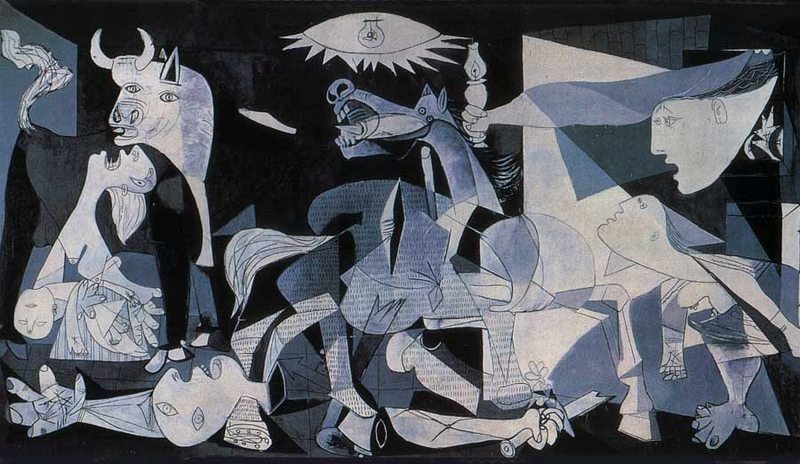 Here's a WWII story I first heard in 1992 in Paris from a struggling young Irish painter named Richard hustling his drinks and living by his wit, humor, charm and talent on a few choice blocks of the Right Bank. I never found out what happened to Richard. But ever since I've thought about this simple and apparently fairly well-known Picasso story, and more and more since 2005.
In the Fall of that year, Julie McGuire and I were together in Madrid. We made time to see Guernica, very likely Pablo Picasso's most famous painting, and some other great modern Spanish works, at the Museo Reina Sofia in central Madrid. Picasso painted Guernica in 1937 after both German and Italian bombers shelled Guernica, in Spain's Basque Country, on April 26 of that year, during the Spanish Civil War. The bombing by Germany and Italy happened at the request of Spanish Nationalist forces. The painting is an outcry, protest and lament of the self-assured, polite, smooth and famously composed Picasso.
The smallest details of the story seem to change. But historians and journalists seem to agree on the following:
In 1942, during the 1940-1944 German occupation of Paris, German officers often visited Picasso's Paris studio at a time when some of his paintings were being burned as decadent. On one visit, an aggressive Gestapo officer found a simple postcard with an image of Guernica in the studio. The officer confronted the painter, and held before Picasso's face the postcard with its breathtaking indictments of war, national pride, meaningless death, pointless suffering, waste, government hypocrisy, inflamed leadership and self-destruction.
"Did you do this?", the officer asked.
"No, sir. You did."
Posted by JD Hull. Permalink | Comments (0)
December 03, 2017
From a Facebook post this morning by me:
I'm a long-time (now-ex) moderate Dem who did not vote for Trump but recently registered GOP for reasons—I've never liked unions or our unthinking PC 'parrot' culture & love free speech—unrelated to Trump. But I've applauded Trump's entry onto the world stage since he announced for POTUS in June 2015 because I think that—long term—he is a refreshing, productive & badly-needed influence, especially on free speech. I'm amazed at the cost of this subtle shift. Before entering private practice, I worked on Capitol Hill for 4 years for both GOP & Dem MOCs (liberal D Senator & conservative R Congressman); folks well know this. My politics really haven't changed much. But my publicly-open willingness to at least listen to Trump is apparently costing me countless friendships or prevents the continuance of developing relationships. I'm stunned. Am fortunate to be well-educated, well-read & well-traveled. I engage & talk to Everyone. Board rooms & the grittiest city streets. I've always had friends all over the cultural political landscape & spectrum. It makes life fuller. I do hope some of them come back or begin to mend.

https://www.facebook.com/dan.hull.37/posts/1524498210960750
Posted by JD Hull. Permalink | Comments (0)
December 02, 2017
Like Tel Aviv in Israel, Amsterdam's nickname (among others) is Mokum, a Hebrew word for "place" or "city", due to its historically large Jewish population. My favorite European city, Amsterdam is poorly understood by Americans, often half-blinded by Victorian and morally pretentious views of real life. This city is about beauty, great art, great food, healthy free-thinking people, and genuine class--not just the Sex Museum, social welfare, cathouses along canals in the de Wallen, smoking hash at the Betty Boop coffeehouse, and other indulgences, percs and pleasures. Cosmopolitan, the Dutch like other languages. In the Netherlands, the official ones are Dutch and, in the north, Frisian (which many believe is the closest thing to Old English still spoken). But about 85% of the total population has basic knowledge of modern English. German and French spoken here, too.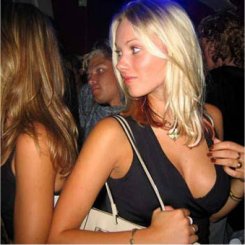 Posted by Holden Oliver (Kitzbühel Desk). Permalink | Comments (0)


239 rue Saint-Honoré.
Posted by JD Hull. Permalink | Comments (0)
December 01, 2017
Urban Dictionary: Slackoisie
Top definition
Slackoisie
Prounounced "Slack-wah-zee". This term was coined by J. Daniel Hull, Esq., author of the "What About Clients?" blawg, and popularized by Scott H. Greenfield, Esq., author of the "Simple Justice" blawg. It refers to:
(1) a class of narcissistic young professionals, particularly attorneys (usually Gen Y/millenials), who believe that having a job is an entitlement, rather than a privilege. They often complain about the work they have (if working), opine the lack of "real lawyer" jobs available in the market, and are critical of the long hours and inadequate pay found at most small firms. They believe they are entitled to work/life balance, that their opinions on any subject are inherently important and that whatever benefits they enjoy are inadequate. The Slackoisie are more interested in having a place to go in the morning and some spending money than committing themselves to their clients and the profession; or
(2) a slacker with an exaggerated sense of self-importance and entitlement.
Examples:
(1) Attorney 1, "OMG, like I got a job at (insert name of any law firm) and they expect me to work like a hundred hours a week. I did not go to (insert name of law school) to work all the time."
Attorney 2, "Stop being such a slackoisie, and appreciate the opportunity you have! There are tons of people graduating law school who would love to have a job doing (insert type of law practiced at Attorney 1's law firm)."
(2) Anyone who claims to be a social media expert/guru;
(3) Anyone who posts on "JDJive" and "JD Underground"; or
(4) Anyone with a graduate degree who lives in their parents basement and is unemployed because they cannot find an employer who "appreciates their uniqueness" or demands that they actually produce quality work before being given a raise, the corner office and a convertible sports car.
by SI_Counsel February 28, 2010
Posted by JD Hull. Permalink | Comments (0)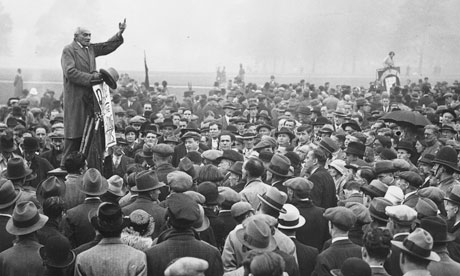 Posted by JD Hull. Permalink | Comments (0)
As with London, and with the County of Suffolk to the north, from where my mother's family came to Massachusetts via Ipswich 383 years ago, I am completely and hopelessly in love with Kent, mainly the eastern ("Men of Kent") part. The County of Kent is the southeastern doorway to the British Isles--it has even more history, legend and myth than London. Lots, and maybe even too much, has happened here during the past 2500 years. Eventually, in 51 BC, Julius Caesar called it Cantium, as home of the Cantiaci. Augustine founded what became the Anglican Church here in about 600 AD. And of course Thomas Becket, Chaucer's "holy blissful martyr", was killed here (Canterbury) in 1170.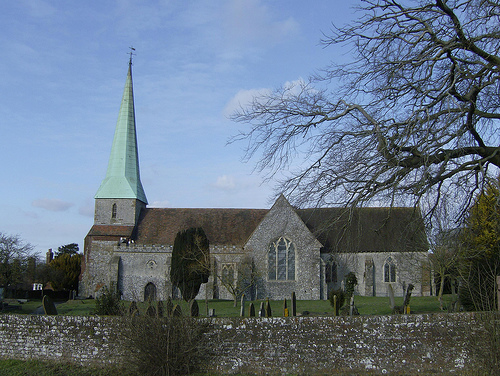 St. John the Baptist, The Street, Barham, Kent
Posted by JD Hull. Permalink | Comments (0)
November 30, 2017
There's more—much more—to all these recent male downfalls. Women of all ages are all over men with businesses, power & money. Like flies on shit. They fall over them. Going on for ages. Eons. Women often lie about their victimhood, too. Women can be sharks.
Posted by JD Hull. Permalink | Comments (0)
November 29, 2017
Quality has a yen for resurrection. It endures; it repeats. Quality has great legs.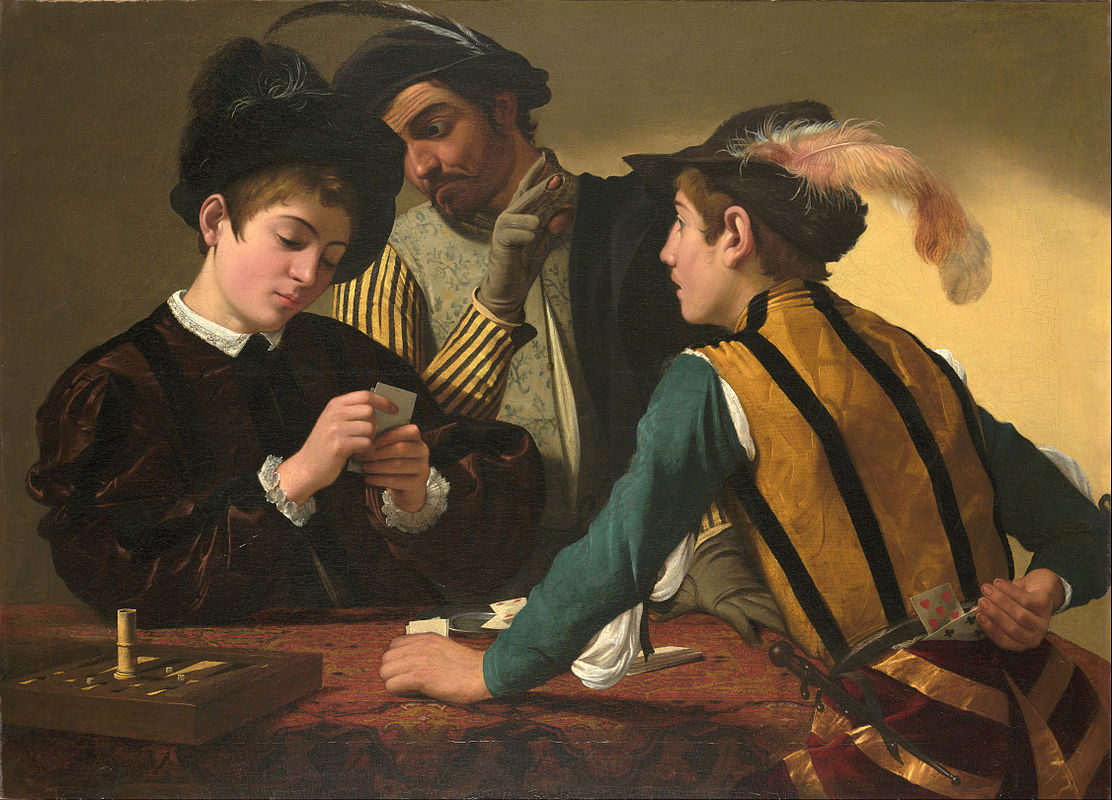 Above: Caravaggio's "The Cardsharps", c. 1594. Oil on canvas, 37" x 52". Kimbell Art Museum, Fort Worth, TX.
Posted by JD Hull. Permalink | Comments (0)
Neither the tiny rural village of Lindsey nor the surrounding countryside has changed much since 1634, when one side of my family left there for Massachusetts and, in time, a new "Groton", named after another small village near Lindsey. Three hundred and eighty-three years later, Lindsey is pastoral, green, mainly un-peopled and fairly remote. No visible overt 21st century commerce. Some farming. No tourists.
St Peter, a rough Anglican church, at one time Catholic, the one my ancestors attended, built in the 1300s, and even older church ruin, St James (1200s), are the only man-made constants. Still a "parish", Lindsey is on the B1115 Hadleigh-to-Bury road.
This is part of East Anglia--coveted, held and loved for so long by the Danes. The region's been victor and victim over and over again. Mainstream tribes from all over Europe battled here for centuries. It is storied. It is still beautiful. Nothing compares to it.
And it is a key "feeder" region in the English migration to America. From 1625 to 1640, Charles I had tried to rule England without calling the Puritan-dominated Parliament. Puritan dissenters, lots of them, lived in the area around Lindsey, and
from here hundreds of families fled across the Atlantic to the new world. The Winthrops, of tiny Groton, would become founders of the State of Massachusetts. But most of the settlers were poor, working families, and they would devote themselves to quiet, prayerful unpersecuted lives, and of work hard to build new communities. Of course, they would never see Suffolk or the valley of the gentle Brett again.

--Simon Knott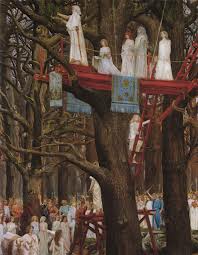 Posted by JD Hull. Permalink | Comments (0)
November 28, 2017

1. Women, gays, minorities & poors are no longer special.
2. Time for the West to stop treating them like retards, gimps & ne'er do wells.
3. Women, minorities & poors can do well without special help.
4. Stop "normalizing" & enabling mediocrity.
5. Stop punishing people who work hard. Rich, poor, middle-class.
6. Stop demonizing the families of Europeans who built America & always fix things when they break. For 400 years.
7. Finally, stop pretending everyone is substantively "equal." They're not equal. Not even close. Get used to it. Or at least get out of the way.
Posted by JD Hull. Permalink | Comments (0)
November 27, 2017
For me, it beats Big Sur and the Austrian Alps. My favorite place in the world, it is desolate in the winter and still beautiful. Not too many people live here year round: about 10, they say, and even that may be a U.S. Census error. No one around. PAB sits on the northern-most point of the Michigan Thumb, between Port Austin and Grindstone City, on Lake Huron. It was built as a resort community for St. Louis and Detroit business people in the mid-1890s.
Posted by JD Hull. Permalink | Comments (3)
November 26, 2017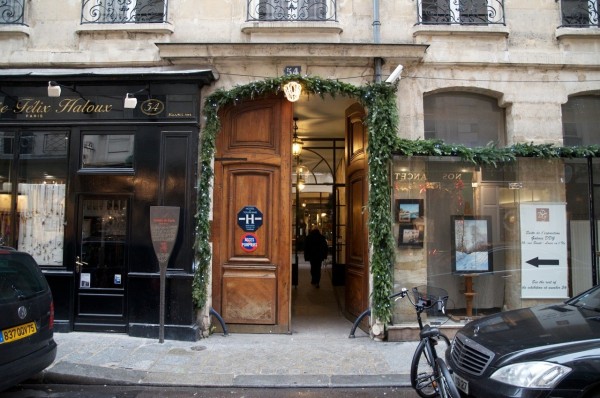 Hotel du Jeu de Paume, 54 Rue Saint-Louis en l'Île, 75004 Paris
Posted by JD Hull. Permalink | Comments (0)
November 25, 2017
The Strip, Sunset Boulevard, West Hollywood. As the fictional movie character John Milton said, law done right is a "backstage pass to the world." We've a client doing good things in Africa with an office here. How many lawyers have a practice with client meetings two blocks from the Viper Room and The Whiskey? Probably quite a few. But I grew up in the Midwest--where TGIF restaurants are considered to be pretty wild, and it's eccentric to wear a trench coat and tasseled loafers on the same day. So this kind of meeting venue may be my notion of gratitude.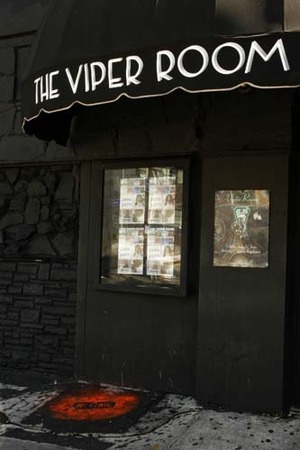 Posted by JD Hull. Permalink | Comments (0)
Around 1620, Jacques Fouquières painted Germany's Heidelberg Castle, a famous structure in both German history and art, in "Hortus Palatinus" (below). Although the Castle has been in splendid ruin for most of its history, artists still flock to its foundations, gardens and terracing. Camera-toting American lawyers do, too. I've spent several hours at the Castle on each of my three trips to Heidelberg--and I am sure I'll go again. Nearly 130 years ago, Heidelberg Castle was a hit with Americans. Samuel Langhorne Clemens, better known as writer and humorist Mark Twain, wrote about the storied castle in Appendix B to his famous "A Tramp Abroad" (1880).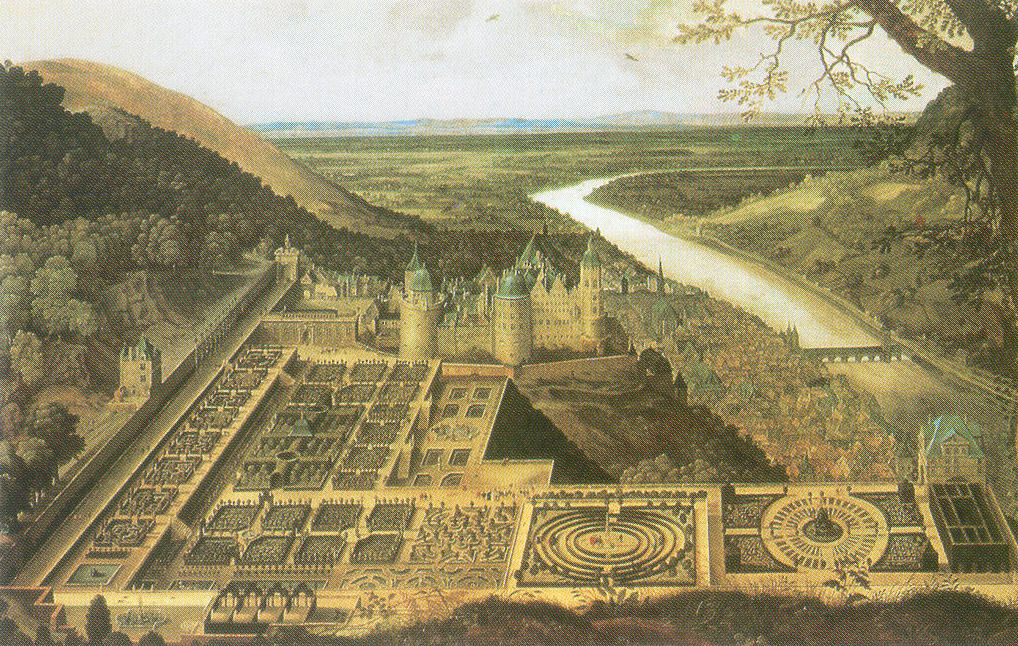 Posted by JD Hull. Permalink | Comments (0)
November 24, 2017
Over the years this blog has had a number of pet issues and themes apart from customer service, litigation strategies, lawyering abroad and cultural literacy. One of them has been the importance of thinking independently about law, government, politicians and political ideologies. Or about Anything. There are these days lots of good, and arguably "bad" notions and ideas--nationally and internationally--all along the political spectrum, and there is no reason to pick one party, camp or pol to follow on all ideas.
After all, people, not ideologies, solve public problems. You don't need a label. You need not be a Democrat, Republican, Libertarian, Anarchist or Nihilst. You can "mix and match" both pols and ideas. Me? I've changed, if subtly, and in ways that trouble a friend here and there. But my thinking is pretty much the same as it was when I was in my 20s. As a "liberal", I never trusted Big Labor. I've never liked the "politically correct" speech regimen many traditional liberals unfortunately embraced. To the contrary, I've always admired free speech--and I revel in it. But the main change is that last year I registered Republican for the first time. Not much else is different.
Most of us do have a Political-Civil Rights-Human Rights-Social Justice resume, CV or profile (hereinafter "Political CV"). I use "political" broadly here to describe anything related to participation in public affairs where some social purpose was fully served beyond my own self-aggrandizement, ego or pleasure. More than one purpose is okay; few of us do anything out a pure heart to "will one thing." So below I've fashioned my Political CV. Forget about Dem or GOP or Libertarian scripts. I've listed things that I did in large part "for the public good." For example, things I'm not including are Senior Class President (mix of duties and agendas), Eagle Scout (the same), working in a union-shop factory (Keebler's, in my case), membership in student or church groups with some but not primary political or social welfare slant, merely being asked to run for Congress (and saying no), merely voting, serving on an elected but non-partisan Zoning Board for a community of 40,000 or going to see Jerry Rubin, Timothy Leary or Milo speak at the Cow Palace. Or throwing a huge pickle at an on-stage Iggy Stooge (and hitting him).
But passing out leaflets for a political candidate, demonstrating against POTUS candidate and Alabama Governor George Wallace or working regularly with the urban homeless? Oh yeah. Those are "political". They reflected my idea of furthering "the public good" at the time I did I them. You get the idea. There's got to be a cause, some heat, some passion in an activity that helps others. Doesn't matter if it's a national issue or not. Doesn't matter if there's rhetoric involved.
Anyway, I've been an "activist" in everything I've ever done--and particularly with respect to groups I've joined or with which I've identified. So since I was 16, here is my political resume in chronological order. I'll update it as I remember things things:
1. Campaigned twice for Jerry Springer (Ohio-D), for runs for Congress and City Council in Cincinnati.
2. Campaigned more briefly but earnestly for Howard Metzenbaum, U.S. Senator (Ohio-D)
3. Worked with Armstrong United Methodist Church in Indian Hill, Ohio on several long-term projects for inner-city kids in Cincinnati, Ohio. Some with my mother (Head Start). Some in connection with working toward God & Country Award for BSA. (I was Boy Scout.)
4. Worked twice at as counselor at a camp for inner-city handicapped kids at summer camp in Cincinnati.
5. My party's candidate for 1970 Governor of Ohio Boys State. I was "liberal" party candidate and lost to a black kid from Sandusky. Ohio named Tony Harris. The race made news on television and in newspapers all over Ohio.
6. Student Reporter, Duke University Daily Chronicle. Civil Rights beat, Durham. (1972-73)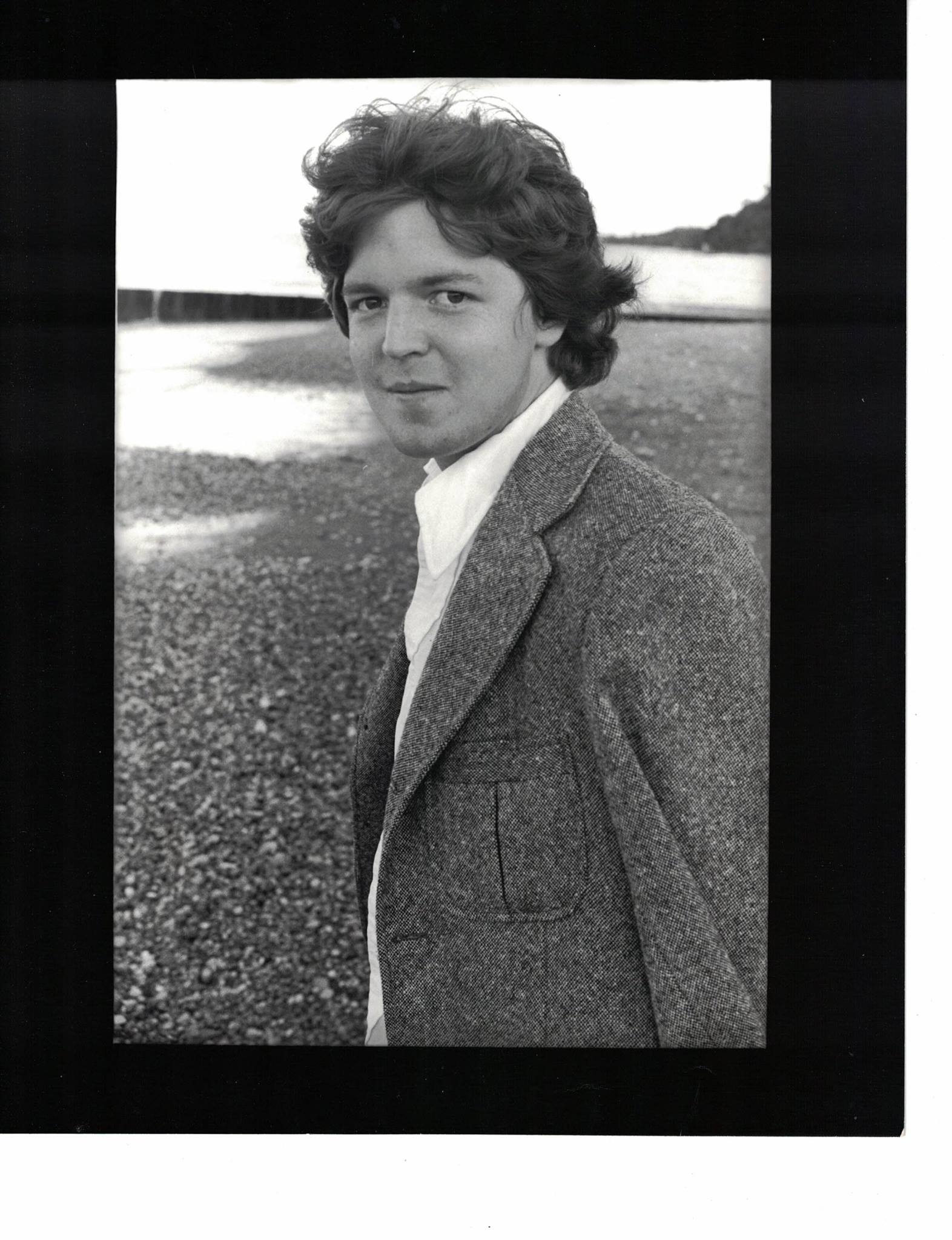 Dem then, GOP now. But still a classic liberal, and always the same guy.
Posted by JD Hull. Permalink | Comments (0)
November 23, 2017
Twitter reply today:
Most of us can't afford to poof-out & won't poof-out in this lifetime.* We're like Eagle Scouts. Need to be super-prepared. No go homo. Stay Morlock. :)
*Exception: GenY Men. They're like the Eloi in H.G. Wells' 1895 novel The Time Machine.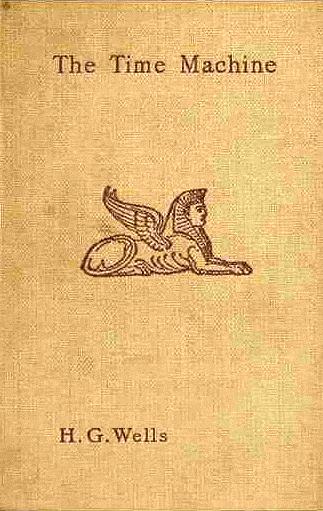 Posted by JD Hull. Permalink | Comments (0)
November 22, 2017
1. Alpha men get cocky, act out and overreach.
2. Bullying is unfortunate but natural.
3. Pols hustle for votes. All pols. Everywhere. Any vote will do.
4. People make up stories and lie for strategic advantage. All the time. We lie.
5. All-important aggressive humans do questionable things.
6. Few acts have one motive. Two, three, four or more reasons—good and bad—for doing anything.
7. Most of us? We're "moral" and "good" and helpful when it's convenient—and rarely any other time. It's way easier and more convenient for the educated, wealthy and well-heeled to be moral, good & helpful.
8. Older men have sought younger women for thousands of years. Legal or not, it's a strong instinct. Get used to it, Humans. It will happen again & again & again.
Posted by JD Hull. Permalink | Comments (0)
November 21, 2017
Tomorrow, November 22, marks the 54th anniversary of President Kennedy's assassination in downtown Dallas, Texas. He was 46 years old. If Kennedy had lived, and were alive today, he would be 100--not a completely inconceivable age for him to have attained given the longevity of some on his mother Rose's side. Below is my favorite photograph of him, likely taken in late 1942. He'd have been 25.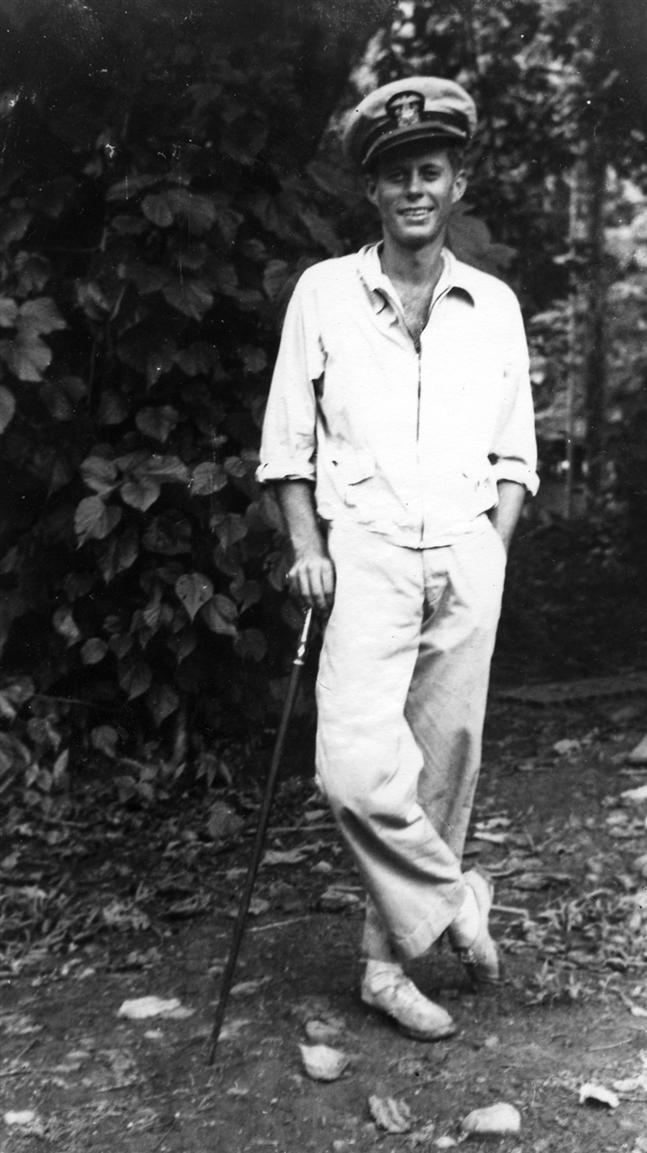 A stick in me hand and a tear in me eye
A doleful damsel I heard cry,
Johnny I hardly knew ye.

--from "Johnny, I Hardly Knew Ye", a popular Irish anti-war song written in early 1800s.
Posted by JD Hull. Permalink | Comments (0)
Chrissie Hynde of The Pretenders turned 66 this year. She lives mainly in London now. Like me, she went to a truly great public high school in the Ohio suburbs, hers being up north in the more industrial Cleveland-Akron megalopolis. I like Ohio. I was lucky to spend half my childhood there. But whenever Hynde and The Pretenders over the past 30 years have performed this song--to be fair, it could be about quite a few Midwestern cities--her voice drips with anger, and you know what she means. It's powerful. Here's one of her tamer renditions.
Posted by JD Hull. Permalink | Comments (0)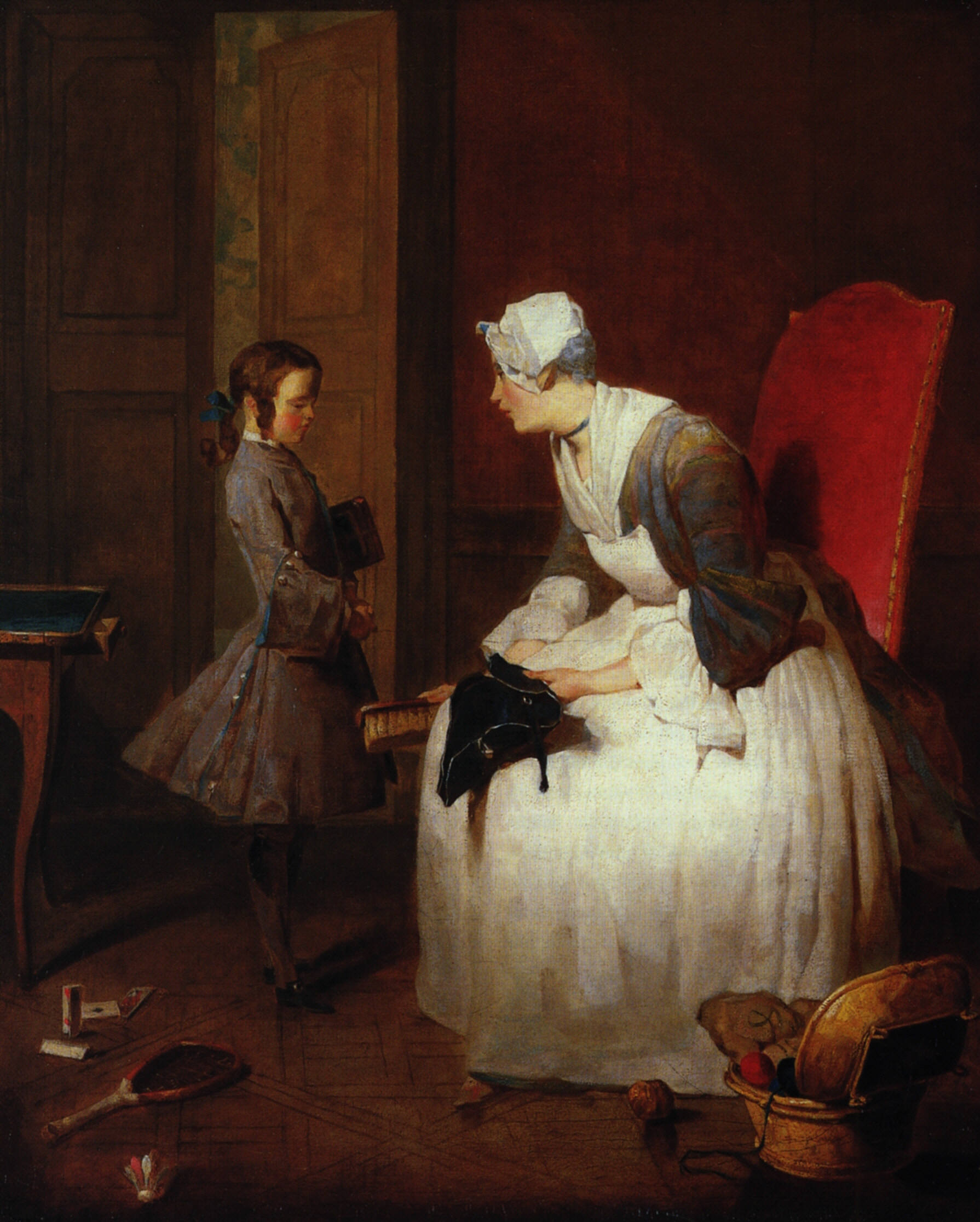 The Governess, 1739, Jean-Baptiste-Simeon Chardin (1699-1779)
If you went to Duke, folks will re-float the vile and completely untrue story that Duke exists only because Princeton had too much honor and class to accept Buck Duke's filthy tobacco money and re-name Princeton Duke.

In case your Governess never told you, you're from Utah, or you were stoned all nine years at Andover, remember that when thanking anyone for something important--a meeting, referral or a dinner--do it and do it promptly with a handwritten thank-you note. We all fail here from time to time. Yet no valid excuses exist for not writing short prompt notes.
Too few of us practice gratitude, in either business or our "other" lives, enough. Some say the practice of saying thanks is good for the soul. Others swear it's good for revenues, too. Many business people and some lawyers with the highest standards taste (i.e., wear socks to meetings or court) think that no written thank-you note means no class--as harsh and low-tech as that may sound.
Typed is okay--but handwritten is better. Even if you are not convinced that thank-you notes are noticed and appreciated (they are), pretend that we know more than you (we do), and do it anyway (thank us later). Good stationery. We suggest Crane's on the lower end, or something better, like stationery from Tiffany's, or a Tiffany-style knock-off, on the higher end. A "studio card", maybe. Plain. Simple. Initials on it at most.
If you get personalized stuff, have a return envelope address to a home or business--but without the business mentioned. It's personal. Leave Acme Law Firm off it.
If you get mentioned or "linked-to" on the Internet? However, "electronic thank-yous" by e-mails to express thanks for links, comments or mentions in posts or articles on the Internet--i.e., three different people link to your blog every day, you are working full time for clients, busy firing GenY staff and associates, and writing op-ed pieces entitled "Winter 2017: The Post-Election Mood of the Midwest"--are totally okay.
Short, sweet, and press "send".
Blogging about you or your ideas is, of course, very nice--but it's not like they bought you dinner, or invited you up to Newport for the weekend. Besides, you'll always miss a few kudos thrown at you in the digital ether.
But what if you are trashed in the ether? A "reverse" thank-you? Sure, you may be insulted, purposely mis-paraphrased, misinterpreted, or just inadvertently misquoted. It happens. Remember, some bloggers and pseudo-journalists are (1) angry, (2) disorganized, or (3) essentially unemployed. And there are often good reasons for all three. Three approaches:
First, ignore them. Who cares? You are busy.
Second, if you are dissed or insulted in cyberspace, and you are in the right mood, respond smartly with: "Wendell, Dude, if I were you--or someone remotely like you--I would not like me either."
Third, study the techniques of our friend Scott Greenfield, a full-time trial lawyer and widely-read blogger who manages to juggle, keep at bay and often humiliate legions of aggressive and often anonymous fire-breathing "experts" without breaking a sweat.
Anyway, let's get back to manners. If you don't regularly thank people for links or mentions of you or your firm's blog or website, you are fouling your own nest.
Not thanking people in the blogosphere is (1) arrogant and (2) dumb. It adds to the notion that (3) bloggers are insular, passive-aggressive lightweights lacking in people skills.
Posted by JD Hull. Permalink | Comments (0)
November 18, 2017
He was a loner with an intimate bond to humanity, a rebel who was suffused with reverence. An imaginative, impertinent patent clerk became the mind reader of the creator of the universe, the locksmith of mysteries of the atom and the universe.

--Walter Issacson, in Einstein: His Life and Universe (Simon & Schuster, 2007)


Children come with Imagination. It's standard issue.

--Holden Oliver in 2009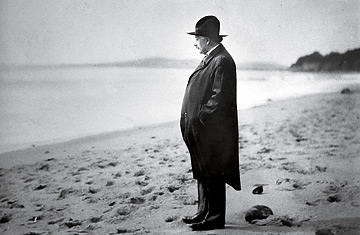 "E" at the beach: Another fresh take.
Try this at home and work: The Holy Surprise of a Child's First Look. Forget for a moment, if you can, about Clients and Paris. This blog is at heart about Quality, Old Verities, and Values--the things no business, government, non-profit group, religion, politician or leader (a) wants to give you or (b) can give you. No, not even family and friends can. You have to find them on your own. Work and Service, whether you are paid for them or not, are inseparable from these things.
At the blog, at our firm, and in our lives, we seek--in the largest sense--serious overachievers, and aficionados of life, past and present: identifying them, learning from them, having them as friends, hiring them and above all, never holding them back. It is often hard to find these people--or even to remember that they once existed. We do, after all, live in a cookie-cutter world. Originality, intuition, authentic spirituality, and even taste are not valued--these traits are often feared and attacked--in most of the West. This is especially true in America, where we continue to be geographically, culturally and (some think) cosmically isolated. The United States, despite its successes, high standard of living and exciting possibilities, has become world headquarters of both moral pretension and dumbing life down. Besides, fresh thinking leads to painful recognitions. It's easier to let something else do the thinking for us.
"Fragmentation" is a word some people (including those with better credentials than the undersigned to write this) have used for decades to describe modern humans all over the world: lots of wonderful, intricate and even elegant pieces--but no whole. So, in our search for coherence, we look for clues. We look to television, advertising, and malls. To work, and to professional organizations. To secondary schools, universities, and any number of religions (none of the latter seem "special"--they say identical intuitive and common sense good things, but just say them differently), and to an array of other well-meaning institutions. In fairness, all of these have their moments (hey, we all like our insular clubs).
Posted by JD Hull. Permalink | Comments (0)
November 17, 2017
Return of EFGB and the Seven Habits. Lawyers who won't take a stand is a time-honored tradition. Ernie from Glen Burnie, a life-long friend of mine, is not such a creature. It's just his nature. He'll stand up for people who pay him--and people he just met on the subway. You can read Ernie's story. It's about an old parchment he claims was discovered in Alexandria, Virginia, around the same time we both began practicing law in the District. Do see "The Seven Habits of Highly Useless Corporate Lawyers". This is a true story, mostly. So listen up.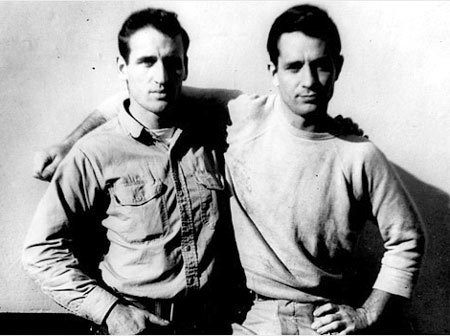 Stand-Up Guys: Ernie, a dead-ringer for 1950s icon Neal Cassady, and the author, during their pre-lawyer years in Washington, D.C.
Posted by JD Hull. Permalink | Comments (0)