May 25, 2015
For us Yanks, today is about resolute if terrified men and women, innocents all, who died, sometimes horribly and in confusion, in American military engagements.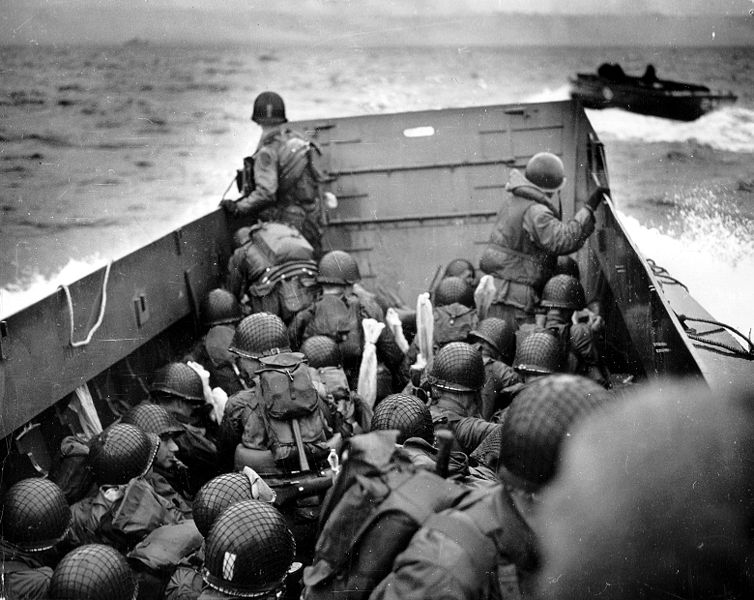 June 6, 1944. U.S. army officer watching Norman coast as his landing craft approaches Omaha Beach.

Posted by JD Hull. Permalink | Comments (0)
May 23, 2015
Anthony Burgess's frightening 1962 dystopian novel Clockwork Orange and satire is not my favorite book. Its spectacular 1971 adaptation to Hollywood blockbuster, starring Malcolm McDowell as the sociopathic droog leader Alex DeLarge, is not my favorite Stanley Kubrick movie, either. But Burgess, a Brit who died in 1993, was a simply amazing human being who may have regarded what his now most famous work as simply a short if odd detour in his career.
Burgess (1917-1993), in addition to being a celebrated writer, he was an accomplished playwright, critic, producer, linguist, translator and composer, with over 200 musical scores to his credit. Polymath--the term some of us use when Renaissance man would be an understatement, may be the right category for Burgess. God did not make many of them.
When I was a junior in college, I went to hear Burgess, then in his mid-50s, talk extemporaneously to maybe 250 undergraduate students and answer questions. He was up there for an hour at most. He was, hands down, the most fluent, articulate human being I had ever heard speak the English language. Burgess did this without pretension, glibness or any apparent awareness of his gift for seizing exactly the right word for every nuance and sentiment out of his mouth.
And his speech, rhythms and inflections were the same fielding our often precocious questions as when he was speaking continuously without notes for the first 45 minutes at the Page Auditorium lectern. "Natural" is too wimpy and understated a word to describe what he was doing. "Symphonic" maybe? That suggests that he was somehow being carried with the sound or import of his own voice. He wasn't. I can't summon up any right words for what Burgess could do. And, of course, I am not Burgess.
I've still heard no live speaker with the quality of the command of the English language Anthony Burgess had. (I heard William Buckley speak twice the following year and, as brilliant as Wild Bill was with words, it just wasn't the same.) I wish I had an audio tape of that fall evening. Burgess was joy to see and hear.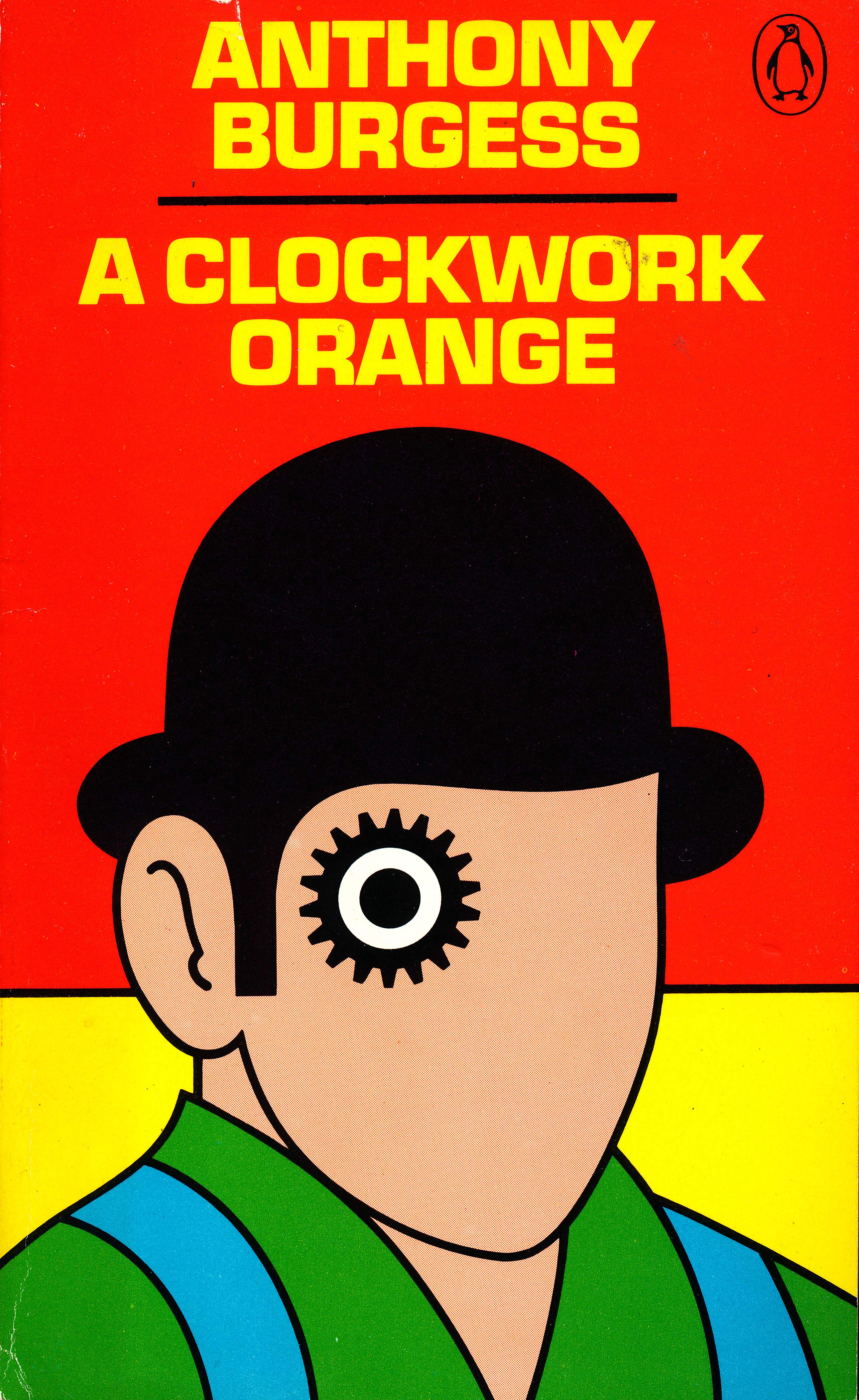 Posted by JD Hull. Permalink | Comments (0)
May 22, 2015
I am proud of 3 things in my life:
1. I've never been to Las Vegas.
2. Except for jeans and my tux, all my pants are tastefully cuffed.
3. Until yesterday I'd never heard of Josh Duggar.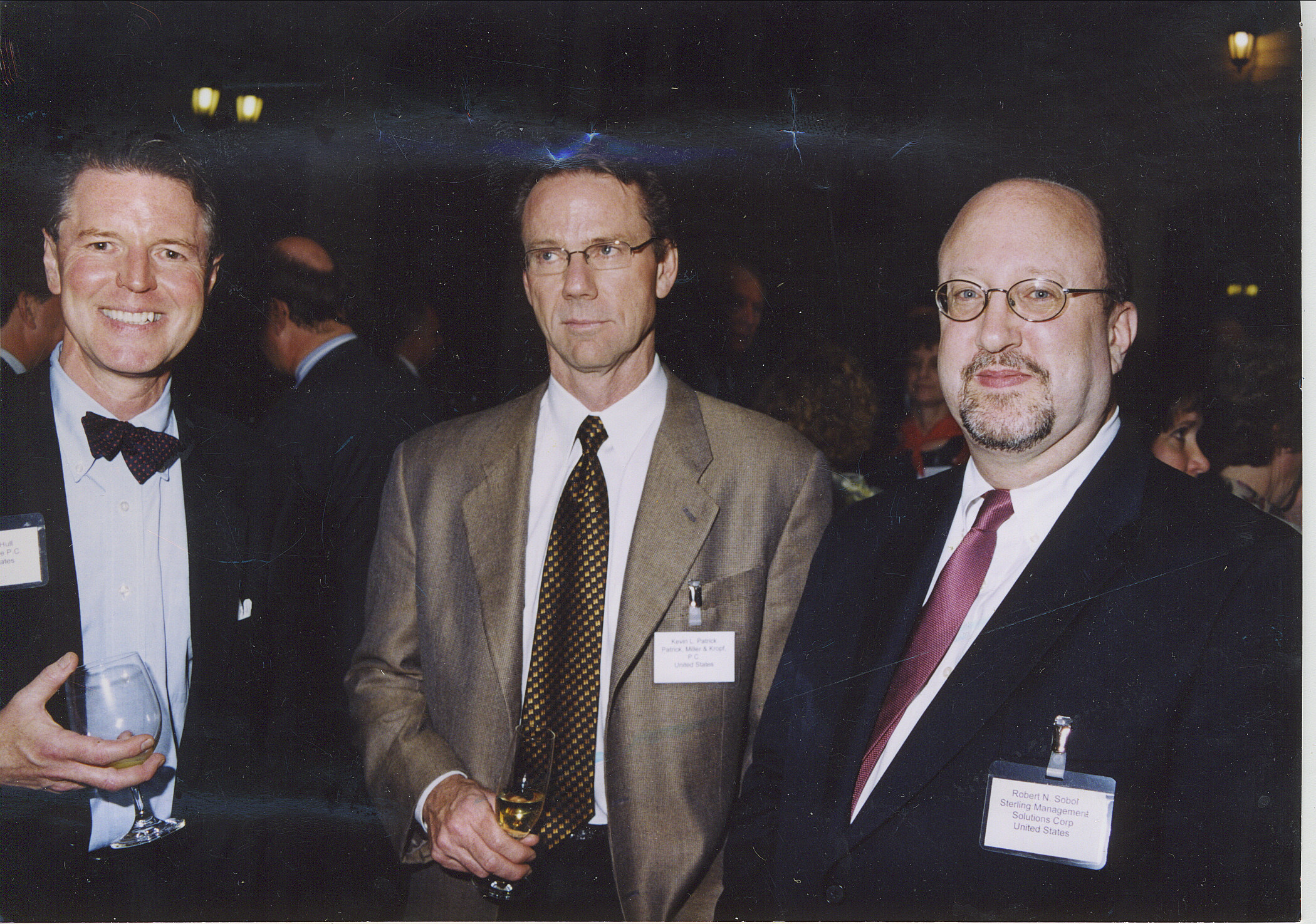 Sing, everyone.
Posted by JD Hull. Permalink | Comments (0)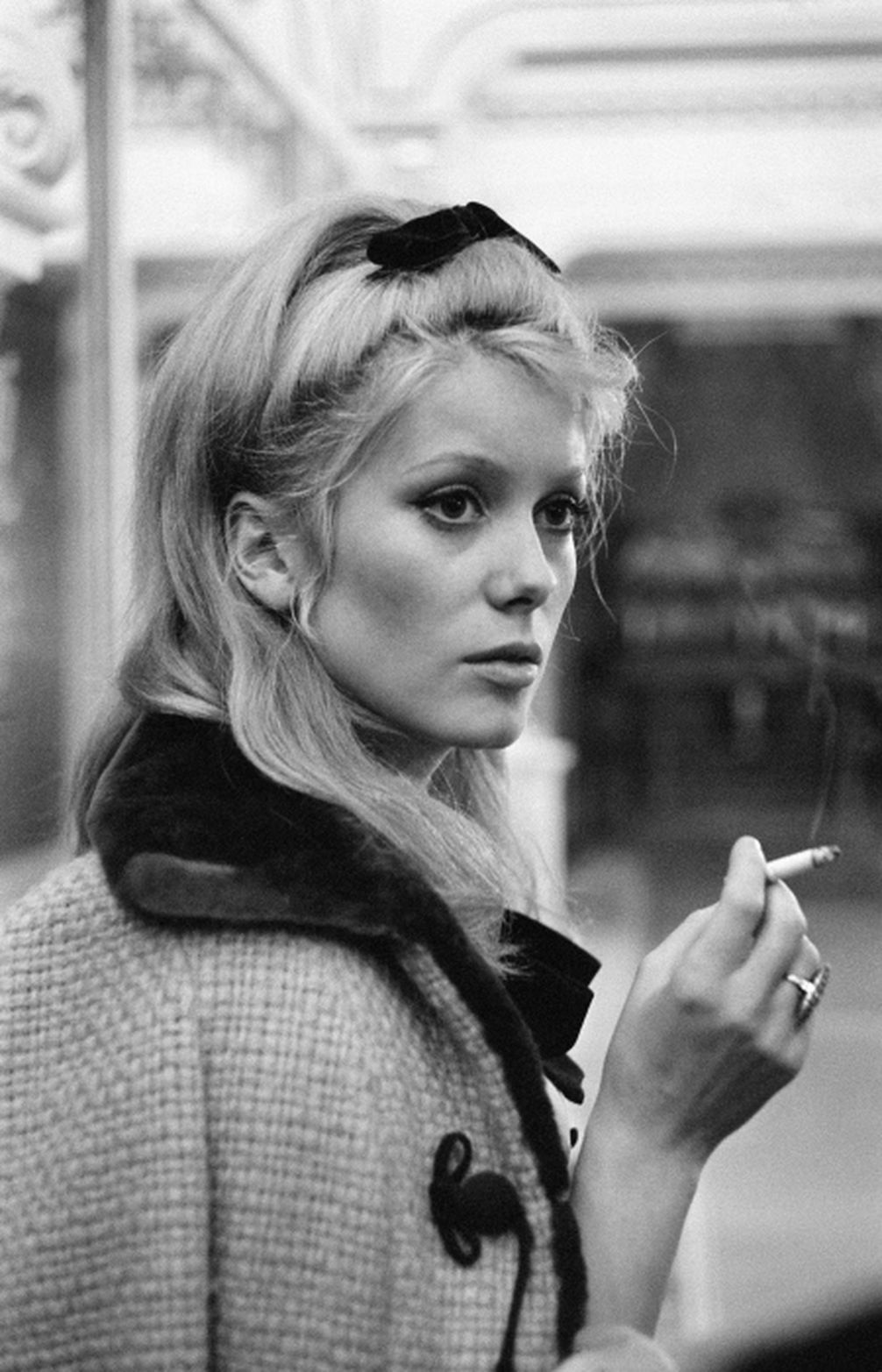 Posted by JD Hull. Permalink | Comments (0)
May 21, 2015
It is American trial season again. The weeks before Memorial Day are always packed with trials. We now have fewer civil trials--in both American state trial courts and federal district courts--than we did fifty years ago. But we still have them. And lots of them have jurors. In America, we have so many different types of civil disputes in courts of record heard by juries that most Europeans, especially Germans, think we've gone a bit far with the right to a jury trial, and due process generally, if not completely around the proverbial bend. We waste too much time and money, some say. Maybe they're right. But under our federal and state systems, jurors are here to stay. We are dug in.
No matter how elitist or egalitarian you are on the subject of jurors here in the States, please understand something.
Jurors are not dumb. They miss little. They watch you and your team--lawyers, fact witnesses, expert witnesses, consultants, law firm employees and even partisan well-wishers you may have invited--in the courtroom, in the back of the courtroom, in hallways, in restrooms, in parking lots and in restaurants.
In short, they are watching you and yours. You get the idea.
Here's something you already know. Jurors will always surprise you in their decision-making. No matter what an expert might tell you, or how hard you've worked at selection, you're always wrong about one, two or three of them. You find out things about some of them at the verdict, with or without special interrogatories.
You'll learn tons more, however, if you have the opportunity to speak with them after the verdict comes in and they're dismissed. Ask them how they viewed the personalities in the courtroom and whether they formed opinions about anyone. Of course they did.
Creep Control
Anyway, during trial, don't go out of your way to antagonize jurors with sideshows which have nothing to do with the trial itself. Bring no "creeps" with you to trial. Keep them in the office. If they must show up--even for a moment--teach them to "un-creep" themselves, starting at 60 second intervals, and practicing until they can hold out for five minutes at a stretch. Hint: They pretend they are happy confident people who genuinely like other humans. And life. Breathe in. Breathe out. Repeat. And remember, you seek progress--not perfection. Be gentle at first.
Non-Creeps
Bring to trial no "non-creeps" capable of any snide, "mean" or creepy gesture, facial expression or body language glitch lasting more than one half-second. Instruct your non-creeps to read this post to be on the safe side. Reformed creeps--you spotted them early and sent them to rehab but they are ultimately powerless over they way they look or act--need pep talks, and brief courtroom appearances. See above.
Recovering Creeps Who Under Pressure of Trial May Relapse and Fold or Explode in Public
See above.
A Note on Nerds
In doses, however, a few generic dweebs and weenies running in and out of the courtroom with a huge box of documents, a phone message from your wife about Nantucket this summer with the Bloors, a good luck note from your mistress, your lucky bow-tie, your spats, your reserve pair of Bass Weejuns--face it, many on your staff are the kind of people you routinely made fun of in high school--is okay. Jurors expect nerds will be in the building. You're a lawyer. You live in a world where nerds are almost normal. Jurors get and tolerate that.
But jurors just don't like self-important "assisting creeps". That's really personal. Let us explain more.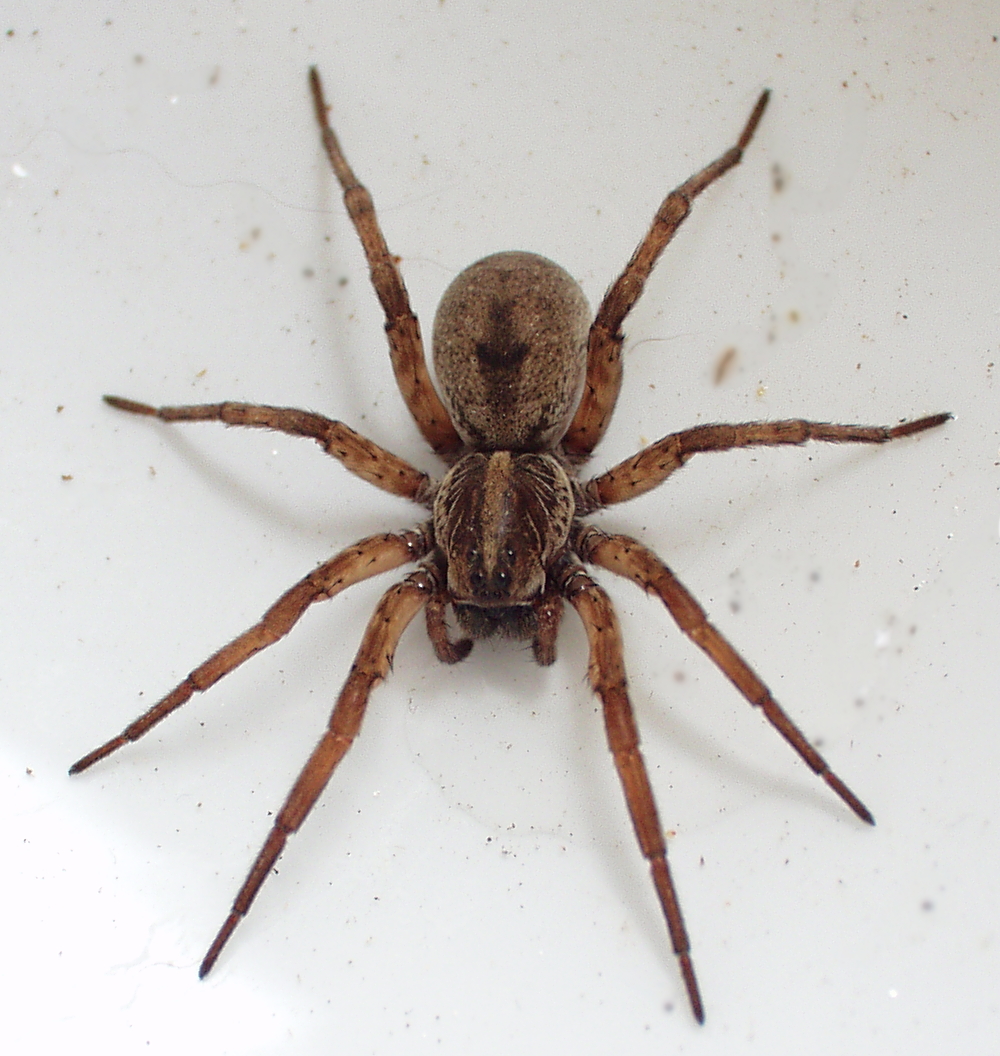 Posted by JD Hull. Permalink | Comments (0)
May 20, 2015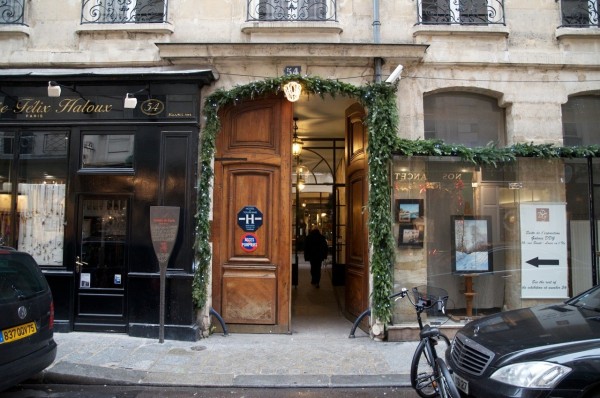 Hotel du Jeu de Paume, 54 Rue Saint-Louis en l'Île, 75004 Paris
Posted by JD Hull. Permalink | Comments (0)
May 19, 2015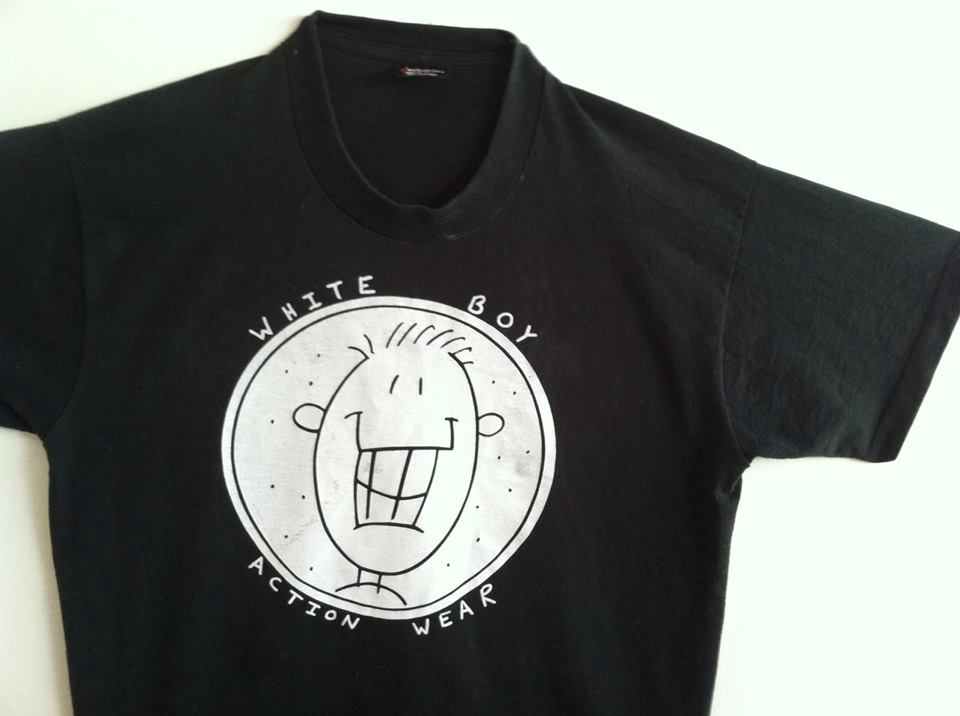 "When being a white dude just isn't enough...."
Twenty years ago I started a company in Pittsburgh called Black Dog to sell tees, sweatshirts, jackets and the like under the name of "White Boy Action Wear". The WBAW logo and "White Boy" (see T-shirt image below) would have appeared on every product. We shelved the company and the clothing line it when we realized something while selling a few items initially to obtain trade and service marks. Very few people outside of the largest U.S. cities and some fun (but insular) snowboarding, skateboarding and extreme sports communities (a) "got it"--the name, that is--and (b) felt comfortable with it and the "concept", such as it is. Lots of people said they felt uncomfortable--and in ways they could not always explain to us.
Help me out:
1. Does, for example, the T-shirt product below offend you?
2. Would you buy it?
3. Would you wear it it it were a present?
4. Would you let your kids wear it?
5. Even if you have no problems with it, an think it's wonderful and funny, what problems do you see other people having with it?
6. Have things (and sensibilities) changed or loosened up enough for people to understand the mild fun and satire connected the "White Boy Action Wear" idea and the goofy White Boy who would appear on every product?
Posted by JD Hull. Permalink | Comments (0)
Six months ago, New York City-based CPR (International Institute for Conflict Prevention & Resolution) released its Rules for Administered Arbitration of International Disputes for use in cross-border business disputes. They were effective December 1, 2014. I was introduced to CPR years ago by Michael McIlwarth, a well-known in-house GE lawyer, author and expert on cross-border resolution based in Florence, Italy. As an organization and resource, CPR is a general counsel's dream. It champions super-quick, efficient and sane resolution of business-to-business disputes internationally. One of the best-kept secrets in international business litigation.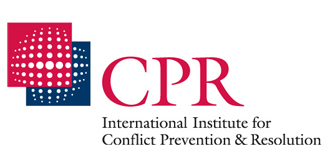 Posted by JD Hull. Permalink | Comments (0)
May 18, 2015
Prescient. Accurate. Inspiring. Irritating. Even upsetting. But they are not about you. Born right here in 2006, and part of Hull McGuire cosmos since the 1990s, the 12 Rules of Client Service try to align client and lawyer interests, and do a good job of that. They require discipline, persistence, attitude and a mind-set of enforcement. And big ones, frankly. Have a nice day.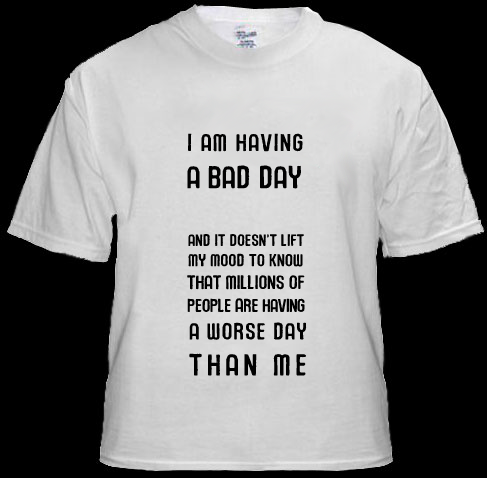 Posted by JD Hull. Permalink | Comments (0)
May 17, 2015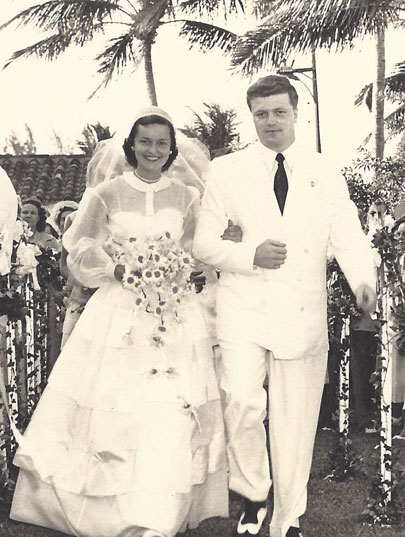 Happy 87th, Big John. May 17, 1928 - December 27, 2012.
A stick in me hand and a tear in me eye
A doleful damsel I heard cry,
Johnny I hardly knew ye.
--1800s Irish war tune
Obituary for John Daniel Hull III
Cincinnati, OH and Marco Island, FL
January 1 , 2013
John D. Hull, of Cincinnati, Ohio, and Marco Island, Florida, a longtime executive of the Procter & Gamble Distributing Company, died on December 27, 2012 in Marco Island, Florida. He was 84. The cause of death was sudden cardiac arrest.
He is survived by his wife of 62 years, Arlene "Penny" Hull, and their children, J. Daniel Hull of San Diego, David A. Hull (Maureen) of Cincinnati and Rebecca Gorman (David) of Atlanta, daughter-in-law Pamela Larsen (Dan), and seven grandchildren: David Hull, Jr. , Kelley Hull, Katie Hull, David Gorman, Jr. (Erin), Chris Gorman, Carrie Gorman, and James Gorman. He is also survived by a sister, Nancy Hull McCracken, of Robinson, Illinois.
John was born in Springfield, Missouri in 1928. His parents were J. Dan Hull, an educator, and Alene Oliver, a home economics teacher. John graduated from Indianapolis's Shortridge High School in 1945. He attended Wabash College, and DePauw University in Greencastle, Indiana, graduating in 1949. In both high school and college, he excelled in varsity football and basketball. At DePauw, he met Penny Reemer, his future wife. John and Penny were married in 1950.
After graduating from DePauw, John began a 41-year career with Procter & Gamble in sales. When P&G purchased the Charmin Paper Company in 1959, John played a key role leading the integration of Charmin into P&G. He stayed in the Paper Division for the balance of his career in several executive roles. He trained, coached and mentored many P&G people throughout his career. He was known for his unpretentious management style, and willingness to share his knowledge and experience with others. John Hull had an impact on countless P&G people over the years.
During the Korean War, and between 1952 and 1954, he served in the U.S. Army, and was honorably discharged.
John and Penny raised their family in Aberdeen, Maryland, Chicago, Grand Rapids, Detroit and Cincinnati. All his life, John was a sportsman who loved lakes and the sea. He was a dedicated fisherman and was especially enthusiastic about fishing trips to Central America, Alaska and lakes and streams in the U.S. where smallmouth bass ran. He enjoyed golf, and was an avid tennis player. John and Penny were members of Cincinnati's Kenwood Country Club.
John Hull was known to everyone he met as a larger-than-life personality, curious about the world he lived in, and an engaging storyteller.
A short memorial service celebrating John's life was conducted by family and close friends at Marco Island on New Year's Eve. In the Spring of 2013, on a date to be announced by the family [May 16, 2013], there will be second memorial service in Cincinnati, and John's ashes will be interred at Old Armstrong Chapel Cemetery in Indian Hill, Ohio.
Posted by JD Hull. Permalink | Comments (0)
May 15, 2015

Lyrics in post's title by J. Bonham, J. Jones, J. Patrick. (Flames of Albion Music, Inc.)
Posted by JD Hull. Permalink | Comments (0)
May 13, 2015
Let's nix professional, corporate and academic wankspeak and start speaking like human beings who value originality in language. Examples of wankspeak: empower, next level, unpack that, core competency and calling garden variety problems "challenges." Get the net, folks. We are starting to sound like Anita Hill or Steve Covey on acid. We can do better.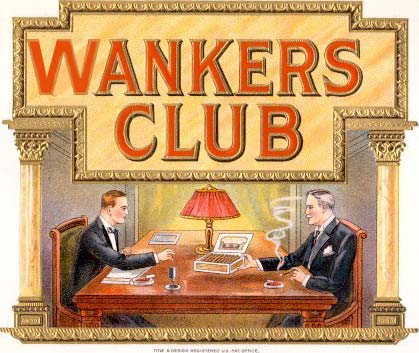 Posted by JD Hull. Permalink | Comments (0)
May 12, 2015
They call it stormy Monday, yes but Tuesday's just as bad.
They call it stormy Monday, yes but Tuesday's just as bad.
Wednesday's even worse; Thursday's awful sad.

The eagle flies on Friday, Saturday I go out to play.
The eagle flies on Friday, but Saturday I go out to play.
Sunday I go to church where I kneel down and pray.

And this is what I say:

"Lord have mercy, Lord have mercy on me. Lord have mercy, Lord have mercy on me. Just trying to find my baby, won't somebody send her home to me."
Posted by JD Hull. Permalink | Comments (0)
May 10, 2015
She lights up all rooms--not just ours.
My mother--to us, "mom"--was and is that mom all the other kids in the neighborhoods we lived in wanted to be their mom.
Before that, way before, she and her ancestors were part of one of the most romantic stories ever told. I imagine first thousands, and then tens of thousands, and then even more, of people out of Suffolk via Ipswich to Groton and other towns and slowly invading America, Massachusetts, Canada, and Three Oaks, Michigan.
But she never let on as we grew up that her family--and therefore mine--had been in America so long. We'd only heard about Hulls or Holles--German protestant minsters and farmer stock in the Palatine who come over on a ship from Rotterdam in the just-yesterday mid-1700s. I had to piece it together myself with some colonial organization records prepared in the late 1940s (at the request of a patron great aunt in Jacksonville, Florida who threw my parents' wedding in 1950) she had kept from everyone and finally gave me; it's actually typed before my birth and condensed to 6 pages. And a little help from Google on the part of Suffolk they came from via Ipswich.
Her family came from the still-tiny village of Lindsey, England, to Massachusetts in 1634. This is mainstream early Yank history. (I visit Lindsey, in Suffolk, in 2003. Her family's name is still on some of the stones in the churchyard, and in recent records of weddings still kept in the church.)
Exactly three centuries later, a photogenic only child is growing up in Chicago. It's the Depression. She starts working as a model when she is quite young. She's a bit quiet and sweet. And tall. Her own mother is strong, "well-raised", and with an Auntie Mame/stage mother quality she had until her death in 1970. In the late 1930s and 40s, the agencies love Mom's "all-American" girl next door face and smile. In photos, commercial or not, they jump off a page at you. Without makeup, she comes by a young yet "all grown-up" look at a very young age.
I am looking at one of them hung in my home right now.
Her face: Strength. Spirit. Fun. Femininity. A real but completely natural Charisma. In this one agency photo, that she's classically beautiful is nearly besides the point. At thirteen, she's an experienced model. Looks aren't everything--but in the 1940s they are still the pinnacle for a girl or woman. Times are hard. You're female? You're an off-the-charts pretty girl from Evanston? You've a natural figure? Well, use it, honey. She has some other breaks. She's good at language--and college bound. A pretty good athlete. A relative in the American South offers to pays for much of her education.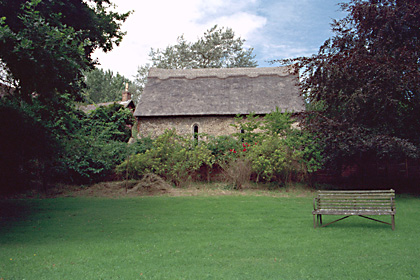 Lindsey, Suffolk, England
And then there's this one: she actually spends much of her teen and early adult years trying to gain weight. Milkshakes and candy bars. Anything is okay--and that continued. Here's someone put on earth to compensate for some of the rest of us: she has brains, smarts and charm. And an enviable--no maddening--metabolism. She can't gain weight. She even tries. I have the same gift/problem as a kid. I drink milkshakes with her. But I am 11 and she is 35.
But mainly, and here's The Gift: she loves people. I mean, she really, really loves them.
Today, in her eighties, she is still tall, almost 5'10", angular, with dark hair, and fresh, friendly, athletic, striking. In boarding school and college, she is always the homecoming queen, or "May Queen", or something--but that rare and somewhat quiet one without enemies.
All my life, I've heard both men and women remark how beautiful she is--and how nice she is to them.
People talk about the two qualities almost interchangeably--as if they go together. Usually, folks, they do not. With the exception of her, and just one other person, I consider humans without enemies as sad, low and worthless. They're either spineless soulless schemers or straight-up lily white wimps who must be 'liked' by everyone, and won't play in The Game of Real Life. But not Mom.
She is modest, and very private about her own needs, my brother and sister and I learn over time. The eldest, I am most 40 when I first see her entire modelling portfolio--scores of 1940s and 1950s glossies and pictures in magazines I heard about growing up. It is all stunning covering 15 years. Yet she quits it all early--because of us.
A late-coming family beef: Sorry, Dad, and Mom--but why not haul out those pictures earlier? I love black and whites of my Dad playing Hoosier basketball and football, both at Shortridge and college. And then color came slowly to the pictures in the post-college 1960 pictures. Who would not love the glories of Tide, Jif, Bounty and Charmin? Who isn't glued once they start looking through them to our albums of fishing trips and Pointe Aux Barques years? Vacations with 3 cousins named McCracken. A few male Holdens from Michigan. The pictures show how few in number--but how amazingly healthy--the last three generations of our family had become. One aunt. One uncle. The neighborhoods in La Grange, Grand Rapids, Detroit, then Chicago again.
Finally lots of images of Cincinnati: the promised land and, as it turned out, a class act. A true City-State with real city government that attracted talent. True, Cincy's a bit stiff but hardworking. True, it seems like we're a "tolerated minority" again. In Highland Park, Chicago, we weren't Jewish. In Cincinnati, we weren't Catholic--or of the "old German 'Zinzinnati stock". But nothing beats these Indian Hill schools. Like Braeside, another life-changer. It's the teachers--and the kids. The luck on us. Even my grandparents (the youngest of the four was born in 1900) are lucky enough to graduate from college And Mom tells us to notice it all. And I do.
In the pictures, she always looks as if she is quietly celebrating. Is she in prayer?
There are even some some black and white photos of my first real home: Aberdeen Proving Grounds. G.W. Hospital. Washington Circle. Beginnings I can't quite see. Anyway, lots of images: places and people we met. Musical instruments. Tennis rackets. Teachers for both. Much later Marco Island. Naples. French Lick. Kiawah summers with a new grandkid each one. Even meeting in Paris (my parents and me only; they were my first docents and guides). The 50-year anniversary trip. A 100th birthday party for a grandparent in Springfield, Missouri. Hey, I was there, too. We all were. Great photos--and I treasure them.
But when your smart French-speaking mom men are whispering about all through high school and college looks, and talks, better than "either Hepburn", and so many people like her, show me that stuff at sixteen, okay? Why the silence? Because she's a Greatest Generation-era woman? Here is the main event and fact of our lives: Our mother, Mom, is never interested in herself. Not ever. (It bothers us all). The past-glories portfolio can stay in the trunks, she must have thought to herself.
Beginning at 25, things change. She now loves noisy children and sloppy dogs. Too energetic and too physical, she still does things too quickly. I got this from her: an odd mixture of athleticism and metabolism that yields accidents.
But she, unlike me, always moves too fast for the sake of others. Fond of the troubled, those with raw deals, the strays, she must get things done for them. This, to me, is drive at its purest. She sizes them (and the rest of us) up in seconds. Notwithstanding the judgment you do get, everyone gets a pass. Street people, the mailman, animals and executives and wives.
Yes, our animals, too. She thinks of them as friends. Real friends. Word's been out for some time that Mom speaks several dialects of American Dog.
Each of the above creatures, human or not, is part of Life. All are equally considered. At our house it is always Christmas Eve. "Here," her voice seems to say in our house, "we will consider you. That is what we do here? Got it?" And with a determined let's-go smile: "Let's get this done. Now, please." Or "We have a problem to solve."
She has a very private but active spiritual life, and a natural class and ease with others. She is comfortable with, and genuinely interested in, everyone she meets, anywhere in the world. She wants to know them. She interviews you--but only out of curiosity, genuine interest and an enduring love for humankind most of us lose by 25.
Bear with me. I like movies, and they are often part of my firm's work. Think for a moment of the characters in the 1939 movie "Gone with the Wind". Imagine in one person a fusion of Melanie's love and compassion with Scarlett's resolve and strength.
Are these gifts to us all? Or challenges? Is God throwing down a gauntlet here? It doesn't matter. I want to age that well. I want to care about others that much. I want my laugh, like hers, to ring with the joy and humor of unfinished growth and adventure.
She has put up with me, and my father, and I wish I could be more like her. As the eldest, I am far more of a pain-in-the-ass than either my brother or sister, even though we are all just 2 years apart. (Fair warning: If you eat with me, I may make you finish your vegetables. I will tell you what I think. Maybe who to marry. Who to divorce. Whatever will help you that day.) I compete with my Dad only for a mother-and-wife's worry and angst.
Mom's led a very charmed life, which she views with gratitude, humility and grace. Nothing is taken for granted. She knows. My father, also an American success story (hard work does work), was a big part of that.
We three kids were, too. And our friends, new neighborhoods, adult friends, other people's noisy kids, animals, the happiest dogs on earth, oceans, rivers, lakes, always perch and smallmouth bass, some less edible or less noble fish, ravines, Mountain Grove, Chevy Chase, Port Austin, Alpena, 8 Mile Road, Pleasant Ridge, the Braeside and later Indian Hill schools, Duke (all three changed my life), North Deere Park, church in Glencoe for us red-haired protestants, Drake Road, the Cosmos Club, Mr. Whipple commercials, tennis, basketball, golf, more animals, more dogs, 8 grandchildren, 3 great-grandchildren foster kids, even foster people--all manner of events and creatures including, of course, human strays.
But she. She lights up all rooms--not just ours.
Happy Mother's Day, Penny Hull. Chicago Girl. Boarding School Sweetie. Ferry Hall May Queen. DePauw Campus Crush. Fashion Model. Keeper of Cockers. Keeper-Carer-Feeder-Trainer of John Hull III. Athlete. Task Master. Social Worker. Patrician Role Model. Angel to Strays and Mutts. Colonial Dame. Last Hull with natural class. Super-Mommy.
Posted by JD Hull. Permalink | Comments (1)
May 09, 2015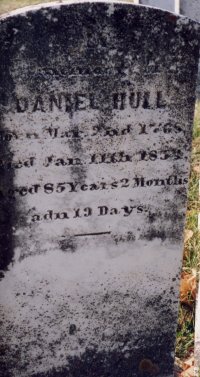 To us, in our lapsed estate, resting, not advancing, resisting, not cooperating with the divine expansion, this growth comes by shocks. We cannot part with our friends. We cannot let our angels go. We do not see that they only go out that archangels may come in.

We are idolaters of the Old. We do not believe in the riches of the soul, in its proper eternity and omnipresence. We do not believe there is any force in to-day to rival or recreate that beautiful yesterday. We linger in the ruins of the old tent.

--R. E. Emerson (1803-1882), Essays, First Series, "Compensation" (1841)

Middlebrook, Augusta County, VA (near Charlottesville ). Population about 250. In my tribe you can live a long life if you don't drink too much or work at the wrong jobs. Working near here this week here I detoured to visit this grave, and this time found it without difficulty. This Daniel Hull (1765-1852) was my great-grandfather's great-grandfather, then a first generation German in the U.S. There is no picture of him; photographs were, however, taken of his children and all the next generations. I know some but not enough (85 years, what wonderful stories will never be told...) about this fellow, a farmer who was the last of my line to die in Virginia, shortly after the family changed the spelling from Hohl to the more English-like Hull. His son, also a Daniel, moved to the Ozarks where every one of these John Daniel Hull creatures afterwards were born since save me. I just know I owe him and need to promise him that every generation gets better as life in America becomes easier. Are we doing that? Is that happening? Or do we armor ourselves with conformity and settle for ordinary, even though we know it's not enough? Or, as Emerson would ask, are we happy to be "idolaters of the Old." What would this old German-American farmer say?

Posted by JD Hull. Permalink | Comments (0)
May 08, 2015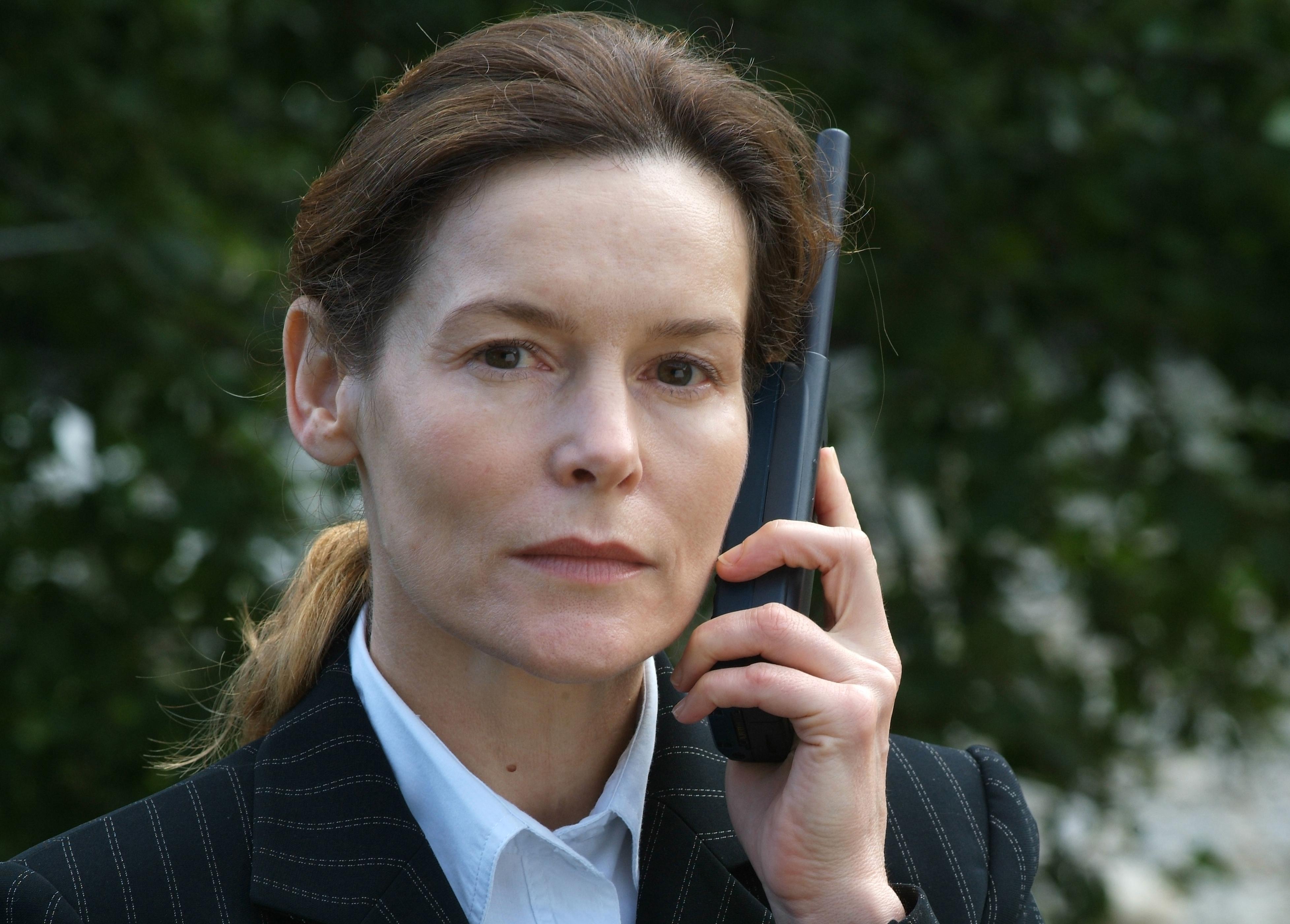 I have not met South Africa-born movie, television and stage actress Alice Krige but have admired her and her movies for almost 30 years. I would like to see her on stage some day. I am in awe of working dramatic actresses based on the difficulty of their craft alone--and have been lucky to spend a lot of time with one in particular. To be noticed and hired, to keep working in serious paying roles down through the years, to make a living, to endure, even for the very gifted, is not a reality for most. You must be more than pretty, more than mega-hardworking, more than resilient, more than cheerful, strong, tough, well-regarded, respected and liked. You must be Lucky, too. Uncommon and shining talent is a prerequisite. All your competitors have it. A tough, unforgiving profession you must love deeply and almost unconditionally to merely stay the course in many, many moments during a long career.
Posted by JD Hull. Permalink | Comments (0)
May 06, 2015
Out of the quarrel with others we make rhetoric; out of the quarrel with ourselves we make poetry.

--W.B. Yeats (1865–1939)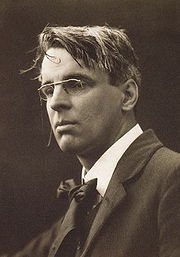 Posted by JD Hull. Permalink | Comments (0)
May 05, 2015
If you ever feel that way--I do almost every day--consider reading Tom Keen's The Internet is not the Answer. This is an honorable if imperfect book.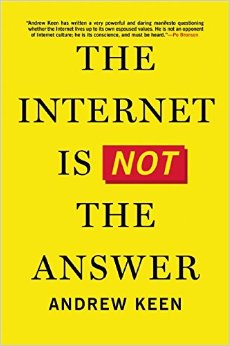 Posted by JD Hull. Permalink | Comments (0)
May 04, 2015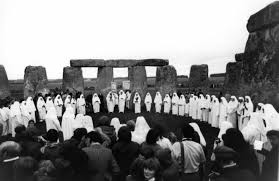 Lots of conversations with persons who approach your firm with a legal issue do not result in your getting hired. The matter might be too small, too insubstantial or not the kind of law you do. You usually know in the first few minutes. But very often the time from the initial call or meeting to saying "no" is protracted. You may need to review documents, or speak with someone they asked you to contact. However, that may take a few days, and involve a few conversations and emails.
In those cases in which you need to put off saying no, write a declination letter. Email. Regular mail. Something. Put it in writing that you are not her attorney. It's easy. It simply says you are confirming that you and your firm are NOT going to represent him, her or it in the matter at hand. It does not say why. It does not need to say why.
If the would-be client is an "unsophisticated user of legal services" or, in your view, a stone crazy person, the declination letter is especially important. You may even want to write one if there was only a short phone call or meeting to evaluate the matter followed by an immediate verbal "no". Again, if there may be any misunderstanding, write a declination letter. And do it quickly.
Frequent questions:
1. Do you really need to do this from time to time?
Answer: Yes. At least 4 or 5 times for would-be clients in a large or BigLaw firm during your career. In the smallest firms count on doing it at least 50 times in the course of a career. If you do plaintiff's PI or represent Mom and Pops business clients, you may do it more.
2. Who do you send them to and when?
Answer: (a) To would-be clients in situations where you take more time than usual to evaluate the matter they bring to you before saying no, (b) to unsophisticated users of legal services or, and most likely, (c) to crazy people who might tend to rely on your legal representation going forward despite the fact that you have declined the representation. Do it as soon as possible.
3. Why? Why would you ever need to send a declination letter?
Answer: Because unsophisticated and crazy clients are legion. They may not listen well. Or no one will represent them--and they may be so desperate for someone to move forward with their marginal or "dog" case that they in effect hijack you and your firm in hopes that you feel duty-bound to act or that you will change your mind. This is particularly true if a jurisdictional deadline is looming.
Posted by JD Hull. Permalink | Comments (0)
Authors who have tried but failed to get published--including current legions of brilliant writers no one will ever read if publishing industry models stay the same--might consider this new online publishing service platform: Double Bridge Publishing. Double Bridge is publishing first-time fiction and non-fiction authors by using a crowdsourcing model. Unlike traditional brick and mortar publishing houses, Double Bridge, now only in its tenth month, relies on crowdsourcing for virtually all if of its publishing functions. Its first 5 titles will be released later this month.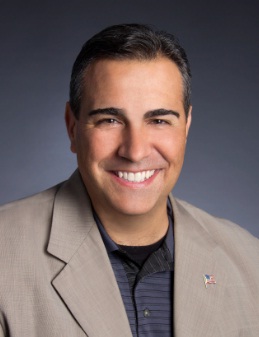 Double Bridge founder and CEO Richard O'Brien
Posted by JD Hull. Permalink | Comments (0)
May 03, 2015
A funny, fearless and densely layered poem (1960s super-critic Karl Shapiro said the "baroque" style used made it funnier and more ironic), Melvin B. Tolson's Harlem Gallery was first published in 1965, shortly before Tolson's death in 1966. Nearly 160 pages long, it showcases and comments upon a wide variety of humans living in that pulsating, screaming, dancing and crying New York City neighborhood from the time of the Harlem Renaissance in the 1920s through the 1950s. Twenty years before Harlem Gallery, Tolson had finally found the widespread recognition and praise through his customary shorter and more conventional verse forms. But Harlem Gallery surprised readers and critics with its novelty and verve.
A separate poem was crafted for each human subject in the gallery, based on encounters and informal interviews Tolson conducted when he lived in New York for a full year. In each poem, however, Tolson, who was ethnically both African-American and native American, continued to opine about race, and about the difficulty of squaring the actual experiences of American minorities with the idea of equality promised by the American experiment. True, the form of Harlem Gallery suggests that it is as least loosely modeled on Edgar Lee Master's Spoon River Anthology--to which Tolson's steady parade of characters has been favorably compared. Tolson's gallery characters, however, speak the many colorful and often-warring dialects one could hear on the Harlem streets.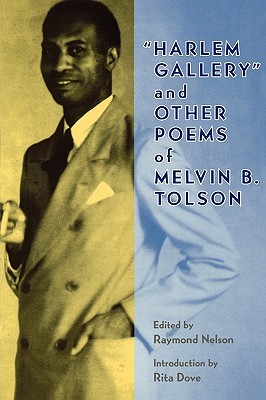 Posted by JD Hull. Permalink | Comments (0)
Without invention nothing is well spaced,
unless the mind change, unless
the stars are new measured, according
to their relative positions, the
line will not change, the necessity
will not matriculate: unless there is
a new mind there cannot be a new
line, the old will go on
repeating itself with recurring
deadliness.
William Carlos Williams in Paterson, Book 2 ("Sunday in the Park")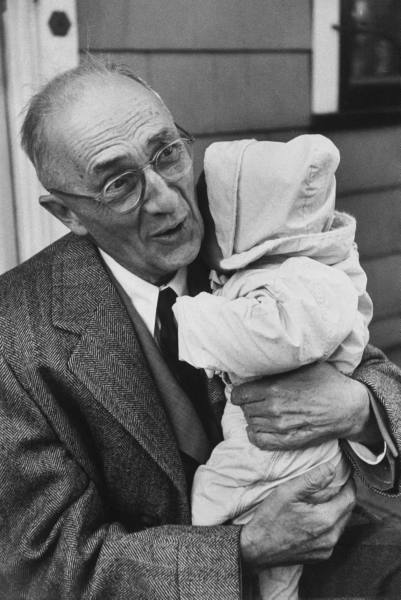 Posted by JD Hull. Permalink | Comments (0)
May 02, 2015
Yesterday, I wrote a post (here) criticizing a lawyer, Jeena Cho, who writes about and promotes the ideas of civility, emotional intelligence, self-awareness and "mindfulness" for lawyers. My criticisms and attempts to make them humorous or satirical are not important in this post. What's important now is that I acknowledge that I made a real mistake in the way I commented to one of her articles. Well, "fuck-up" is the right term here.
Also yesterday, Ms. Cho had published at Above The Law (ATL) an article, "Happy Law Day! Can We Bring Civility Into Law?." As usual at ATL, the piece was quickly followed by comments of ATL readers. Regular readers at ATL will recognize a commenter who posts and comments as Partner Emeritus. He's a retired "Big Law" lawyer, curmudgeon and gadfly at ATL who regularly lambasts writers and their ideas at ATL.
He does this through satire, usually in the snob faux persona of a New England Brahmin, and sometimes makes comments of a sexist or racist variety. I think of him as an Ivy League-version of Archie Bunker, Borat or Ali G. He's over-the-top irreverent, and makes light of discrimination and unfairness through a colorful but flawed persona. He made a comment suggesting that Jeena might be better off working as a massage therapist and, further drawing on this Asian stereotype, and asked for her services when she was next in New York City.
After I made my own critical comment about the article, I seized on the massage therapist comment, saying it was "most on point". This was intended to be ironic--how could massage therapy have anything to do with lawyer civility and "mindfulness"?--and to add to the humor. I later referenced both of my comments in my blog post and quoted the critical one.
I had thought my intention was clear: to add to the absurdity and funniness of the massage therapist stereotype. I tried to mix criticism and humor fairly. But I've re-read it and, I can see how it could be interpreted otherwise. A fair reading of what I wrote would lead the reader to believe that I meant to state, or imply, that Jeena's ideas are in some way less relevant or important due to her race or her gender. I may disagree with her ideas--and I do--but I think that the way I ended my piece was insensitive and, frankly, stupid.
What I wrote? It comes from a place from where I can't immediately identify with Jeena's reality. She posted an excellent take-down of yours truly here. I'm a baby boomer, and a bit of a curmudgeon, but there's still room for me to learn. Her post put things in a different light--one that helped put my mistake in perspective. In the future, I will do better. Jeena might have ideas that I disagree with, but I can respect at least one thing about her philosophy. And, to be sure, she had the opportunity to really take a broadside at me over this. She didn't. She taught instead. That tells me a lot about her.
I screwed up.
I respectfully apologize to Jeena, and to everyone else.

Posted by JD Hull. Permalink | Comments (2)
May 01, 2015
From Fear and Loathing on the Campaign Trail '72:
What happened, according to Chitty, was that "the Boohoo reached up from the track and got hold of Muskie's pants-leg waving an empty martini glass through the bars around the caboose platform with his other hand and screaming: 'Get your lying ass back inside and make me another drink, you worthless old fart!"

"It was really embarrassing," Chitty told me later on the phone. "The Boohoo kept reaching up and grabbing Muskie's legs, yelling for more gin...Muskie tried to ignore him, but the Boohoo kept after him and after a while it got so bad that even Rubin backed off."

"The Boohoo," of course, was the same vicious drunkard who had terrorized the Muskie train all the way from Palm Beach, and he was still wearing a press badge that said "Hunter S. Thompson - Rolling Stone."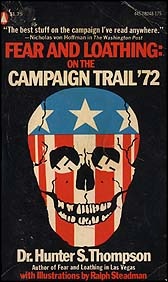 Posted by JD Hull. Permalink | Comments (0)
Good morning, and Kumbayah in the Highest, everyone.
Let's shoot another duck, another well-meaning but spectacularly clueless article purporting to be about the practice of law. Quickly now, as it's barely worth our time. Please read or skim "Happy Law Day! Can We Bring Civility Into Law?"* by Jeena Cho, and appearing yesterday in Above The Law.
Finished? Great. Thanks for reading. For obvious reasons, it is one of the most naive, silly and lightweight articles related to the law profession you will ever read. Let's never forget--the overture here screams--that lawyering is all about the care, feeding, mental health of the lawyers and otherwise how the lawyers experience lawyering, including other lawyers. Most of the comments to the Cho article--as is the custom at super-blawg Above The Law where it appeared--are the usual rude but often funny cries for help you get from the ATL commentariot. And in this case the impertinence is well-deserved. Here's one:
I think Jeena would be the perfect person to teach CLEs on civility, as such a role requires someone self-delusional enough to actually think that anyone is going to walk in as an asshole and walk out having done a complete 180. As if they're going to slap themselves on the forehead and realize, "So I've been the shithead this whole time?!" Like seminars on the importance of diversity, the very concept is based around preaching to the choir.
I commented, too. Which I rarely do anywhere, especially at Above The Law.
A spectacularly naive and lightweight piece--and one of the worst and frankly misleading writings you could see in the growing category of "it's all about the lawyers" profession literature. The author needs to take a deep breath and re-think the nature and goals of this law thing. It's sad to see an article like this in ATL. Would be wonderful to see more feature stuff on lawyering--its gritty and often difficult details--and serving sophisticated clients.
The most on-point remarks given the circumstances, however, were arguably by my friend Partner Emeritus. Certainly, his comments were the funniest assuming that, like me, you still value wit and the First Amendment, and you deplore PC culture. Consider PE's approach to having the author of the article consider other lines of work.
Ms. Cho, your people are very good at imparting relaxation techniques. Back when I was a practicing lawyer, there were times I would exit the complex on Centre Street with knots on my shoulders and other limbs. I would take a stroll up to Mulberry Street and an Asian woman would be able to bring me instant stress release in 5 minutes. It was the best $20 I ever spent as a New Yorker. Alas, these establishments were eradicated in the wake of the Giuliani Era. Ms. Cho, if you are ever in New York, please contact me as I may require your services. Namaste Ms. Cho.
*In case you are interested, this piece on professionalism is how I would approach the "civility" issue.
Posted by JD Hull. Permalink | Comments (0)
April 29, 2015
Ode On A Grecian Urn
Thou still unravish'd bride of quietness,
Thou foster-child of Silence and slow Time,
Sylvan historian, who canst thus express
A flowery tale more sweetly than our rhyme:
What leaf-fringed legend haunts about thy shape
Of deities or mortals, or of both,
In Tempe or the dales of Arcady?
What men or gods are these? What maidens loth?
What mad pursuit? What struggle to escape?
What pipes and timbrels? What wild ecstasy?
Heard melodies are sweet, but those unheard
Are sweeter; therefore, ye soft pipes, play on;
Not to the sensual ear, but, more endear'd,
Pipe to the spirit ditties of no tone:
Fair youth, beneath the trees, thou canst not leave
Thy song, nor ever can those trees be bare;
Bold Lover, never, never canst thou kiss,
Though winning near the goal—yet, do not grieve;
She cannot fade, though thou hast not thy bliss,
For ever wilt thou love, and she be fair!
Ah, happy, happy boughs! that cannot shed
Your leaves, nor ever bid the Spring adieu;
And, happy melodist, unwearièd,
For ever piping songs for ever new;
More happy love! more happy, happy love!
For ever warm and still to be enjoy'd,
For ever panting, and for ever young;
All breathing human passion far above,
That leaves a heart high-sorrowful and cloy'd,
A burning forehead, and a parching tongue.
Who are these coming to the sacrifice?
To what green altar, O mysterious priest,
Lead'st thou that heifer lowing at the skies,
And all her silken flanks with garlands drest?
What little town by river or sea-shore,
Or mountain-built with peaceful citadel,
Is emptied of its folk, this pious morn?
And, little town, thy streets for evermore
Will silent be; and not a soul, to tell
Why thou art desolate, can e'er return.
O Attic shape! fair attitude! with brede
Of marble men and maidens overwrought,
With forest branches and the trodden weed;
Thou, silent form! dost tease us out of thought
As doth eternity: Cold Pastoral!
When old age shall this generation waste,
Thou shalt remain, in midst of other woe
Than ours, a friend to man, to whom thou say'st,
'Beauty is truth, truth beauty,—that is all
Ye know on earth, and all ye need to know.'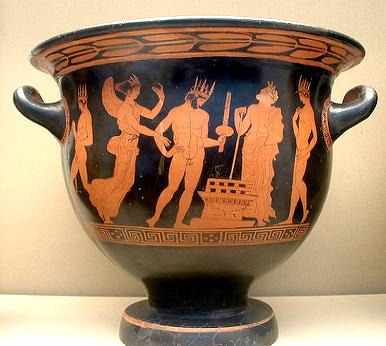 Posted by JD Hull. Permalink | Comments (0)
April 27, 2015
Here's an imperfect but ballsy article in The New Republic I wish I had written. "Elite Universities Are Turning Our Kids Into Corporate Stooges" by 30-something 2002 Duke grad Bryan Williams, a Washington, D.C.- based economist. Williams asks all the right questions about what our best colleges and universities should be making a priority. Encouraging and developing outlaws (my term, for lack of a better one here)--doers, thinkers, artists and writers with genuinely new big ideas--is one. No, getting to be CEO of a pre-built GM or Apple, which mega-talented Duke grads Rick Wagoner and Tim Cook have recently done--is not what I had in mind here.
It's weird that most of these, say, 30 to 40, 'elite' schools in America, have a reputation for free thought or leftist thought. Duke, where I went as well, and I do still love, is the perfect poster boy here. Duke graduates top talent straight into the bourgeois inner sanctums. This is okay with me folks--but you do need more. A good liberal arts education ought to fire the imagination. Produce more Dalis, Buckminster Fullers, Updikes, Styrons, Demings, Heideggers, Sartres. It may not be happening as much. I see the lower standard in Duke grads, in other grads and on resumes. And it's upsetting mainly because hardly anyone is disappointed by it. Except for Williams, the 2002 Duke grad who wrote the TNR piece. Bravo.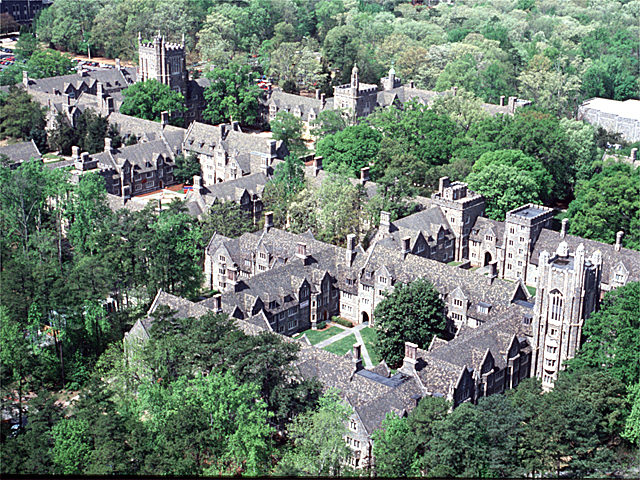 Gothic Wonderland: Duke's West Campus
Posted by JD Hull. Permalink | Comments (0)
April 26, 2015
Can we please stop saying "shoot you an email"? It's like GI Joe watched CNBC by mistake or something. How about "send" or "email" as a verb?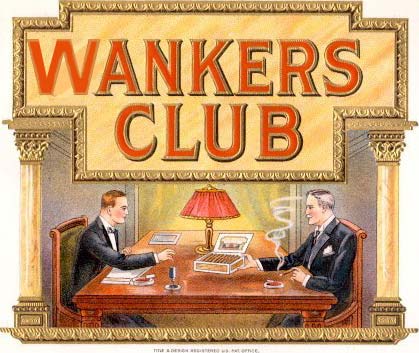 Posted by JD Hull. Permalink | Comments (0)