« In case you missed it: 75 new non-U.S. blogs. | Main | Brands, Buzz and Whispers: Blawg Review #169 »
July 22, 2008
The Business of Blogging
San Diego North Chamber of Commerce
Tuesday, July 22, 2008, 7:30--9:00 a.m.
"The Business of Blogging" is the first of a number of workshops hosted by the San Diego North Chamber of Commerce to demonstrate how technology can boost business. WAC? was one of three speakers who addressed how to (1) make a blog successful (2) to help make a business improve. Below (past disgruntled blog-dogs) is the handout we used during the presentation.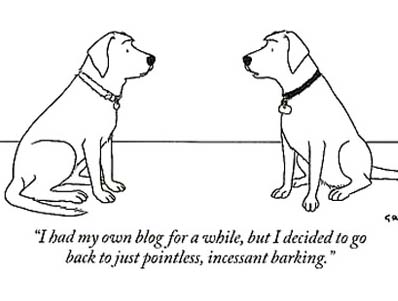 Dan Hull, Rancho Bernardo, California USA
What About Clients?
• 100 Most Informative Blogs in the World (No. 60), Carnegie Mellon (Nov. 2007)
• 2007 Best Business Blog, American Bar Association (Jan. 2008)
A. Stats (from Technorati.com)
1. About 70 million blogs worldwide
2. About 120,000 created each day (1.4 new blogs every second)
3. Japanese is the #1 blogging language; English is second.
B. 5 Rules
1. Write to match business goals.
2. Only the "right" people at your shop should blog (i.e., grownups who can write).
3. Do short posts (with compelling titles).
4. Post regularly.
5. Be provocative, and brave, ya' big wimp.
C. Seven Great Blogs
1. News/Commentary. InstaPundit, Glenn Reynolds, Knoxville
2. Personal. Minor Wisdom, Ray Ward, New Orleans
3. Business. Blog Maverick, Mark Cuban, Dallas
4. Arts. Paris Parfait, Tara Bradford, Paris
5. Travel. My Marrakesh, Maryam, Morrocco
6. Business. Groovy Like a Movie, Brent Altomare, San Diego
7. Business/Law. Real Lawyers Have Blogs, Kevin O'Keefe, Seattle
D. Resources
1. Technorati: www.technorati.com
2. AllTop: www.alltop.com (Guy Kawasaki)
3. ProBlogger: www.problogger.net
4. www.blogsearch.google.com
E. Blog platforms
1. Movable Type
2. TypePad
3. WordPress
4. Blogger.com
5. Tripod
6. SquareSpace
See the full PDF version of Dan's handout here.
Posted by Brooke Powell at July 22, 2008 12:00 AM
Comments
Post a comment