« The Flourishing: Caesar's Town in Toscana. | Main | Paris: Snow in the Rodin Garden. »
December 08, 2010
Druids worldwide to get wild around the 21st.
For centuries, starting around the 21st of the month, Druids liked to leave the house, get wild and "put on the dog". Both warriors and mystics, Druid fighters in the woods of northern Europe came at you painted, naked, screaming, hurling weapons and curses, chanting and, well, real rowdy. Not unlike our British pal GeekLawyer after them, these folks came to play.
Even the Romans were a bit afraid of Druids--especially in what is now northern Wales. But except for celebrations of solstice and equinox four time a year, Druids are pretty quiet these days. Could a Christmas-season plant with a mythical calming influence be the reason? Well, here's a Steamboat Today (Steamboat Springs, Colorado) piece that links mistletoe to Druids.
The Druids felt the plant could protect against poisons, illness and witchcraft spells. In their time, if enemies met under mistletoe in the forest, they were required to be peaceful until the next day. This may be the origin of the custom of kissing under a ball of mistletoe as a sign of goodwill.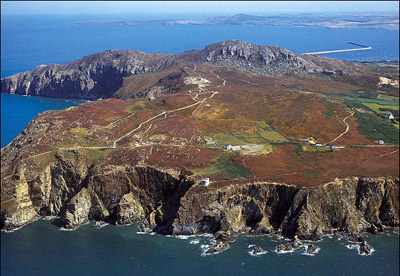 Isle of Anglesey: A fun Druid island in northwest Wales.
Posted by Holden Oliver (Kitzbühel Desk) at December 8, 2010 10:59 AM
Comments
Post a comment