« This is East Anglia: Aldeburgh. | Main | Hesse on Good Friday »
April 07, 2023
Easter Rising 1916: 107 years ago in Dublin.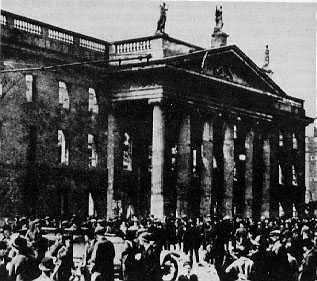 460 killed, 2600 wounded, 16 executions. The proclamation was read by Patrick Pearse outside the General Post Office in Dublin on Sackville Street (since 1924 O'Connell Street)--and the Rising began. It was modeled on a similar if less well-supported proclamation by Robert Emmet in 1803.
However, as one of our readers, Patrick J. Keeley, has pointed out:
The proclamation in 1916 was an actual declaration of a Republic. Emmet is more known for his speech from the dock when he spoke of Ireland one day taking its place (free) among nations of Earth. I don't think he ever actually proclaimed a Republic, he lead what in effect was a mob, sadly inebriated down Thomas Street in 1803. A noble effort and a tragic end to what would surely have been a brilliant legal career.
Posted by Holden Oliver (Kitzbühel Desk) at April 7, 2023 12:39 AM
Comments
Post a comment
Thanks for signing in, . Now you can comment. (sign out)
(If you haven't left a comment here before, you may need to be approved by the site owner before your comment will appear. Until then, it won't appear on the entry. Thanks for waiting.)