« Diversions | Main | »
May 29, 2009
Breaking news: GeekLawyer sued, finally.
The Romans at Teutoburg Forest, the Lusitania, Pearl Harbor, the Oscar Wilde trial, the death of Bambi's mother. And now this. We bump our in-progress pieces on SCOTUS nominee Sotomayor, "the end of the recession", the GM bankruptcy, and a tip we got about the whereabouts of Jimmy Hoffa to note that GeekLawyer--soft-spoken and mild Brit barrister, writer and IP specialist WAC? befriended in 2005, and recently drank Diet Cokes with in Mayfair--has been finally sued. See Geeklawyer sued--finally!
Details are sketchy at this point.
But who would want to sue this guy? No matter what he's done (within reason), he is "one of us". Let's circle the wagons for our cousin in Albion. He's done scads to help us get over our fears of really having a First Amendment culture here in the States. At a minimum, he's unwittingly lowered--and quite drastically--FCC standards.
Here are excerpts from the milder parts of yesterday's GL post, edited by WAC? for Yanks of PC-persuasion and/or moral majority sensibilities:
GeekLawyer has taunted many a [phallic, arguably anti-gay and un-PC imagery expletive deleted] who has huffed and puffed but climbed down: billionaire [F-word imagery implying cretin-esque qualities deleted] Stelios for example.

Mercifully this litigation, for a piffling £300,000, was unrelated to GeekLawyer's profession and his capacity to entertain the judiciary while [violent and horribly un-PC client service imagery deleted] punters and opponents alike remains unimpeded.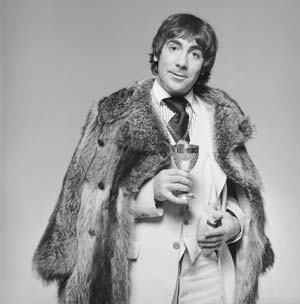 Outrage in London--how will it end?

Above: Well-loved Brit pundit GeekLawyer at Epsom Downs racetrack just days before vicious and groundless lawsuit for doing something.
Posted by JD Hull at May 29, 2009 11:35 PM
Comments
I'm terribly grateful for your support at this trying time.
I'm relieved that dear Holden is no longer about: he would have ribbed me mercilessly I'm sure.
Please hand round the collections tin. I hope my rich American colleagues will dig deep: $1 from every US lawyer will see me in the clear if the judgment goes against me.
Posted by: Geeklawyer at May 29, 2009 04:33 AM
... Was the pic taken before, or AFTER Mr Geeklawyer drove his Rolls Royce into his Hotel Swimming Pool?
Posted by: lawminx at May 29, 2009 05:53 AM
Posted by: Hull at May 29, 2009 12:36 PM
Post a comment