« "Mexico: Working With The Mañana Culture" | Main | Financial regulation in America: A British view. »
June 17, 2009
Patten on UK redundancies.
Whenever two good people argue over principles, they are both right.

--Marie von Ebner-Eschenbach, Austrian novelist (1830-1917)
Or "terminations", or firings, to Yanks. To mediate, or not to mediate? asks London's capable Justin Patten, in his Human Law Mediation Ezine for June. I met Justin, a solicitor and ADR consultant, in early 2007 near the Marble Arch. We have followed him and kept in touch ever since. A few days before meeting Justin, we had mentioned him, and a few other notable Brit lawyer-writers in "UK Bloggers: The Good, the Erudite and the UnHoly."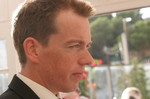 Posted by JD Hull at June 17, 2009 08:22 PM
Comments
Post a comment
Thanks for signing in, . Now you can comment. (sign out)
(If you haven't left a comment here before, you may need to be approved by the site owner before your comment will appear. Until then, it won't appear on the entry. Thanks for waiting.)