« Houston-based Defending People adopts "no-name, no-publish" policy . | Main | Geoffrey Hazard: How U.S. civil litigation is viewed abroad. »
July 29, 2009
In America, we call that a scoop: Charon QC interviews Lord Falconer.
Has the Blogosphere in the West finally arrived? Yesterday, London's silver tongued Charon QC--in his other life a well-regarded legal educator and journalist--interviewed Lord Falconer (Charles Leslie Falconer), the Lord Chancellor of Great Britain between 2003 and 2007. Jack Straw, in Gordon Brown's administration, now has the position. Among the other powers and duties assigned to him, the Lord Chancellor is a member of the Prime Minister's Cabinet and responsible for the operation and ensuring the independence of the British court system. Charon's podcast interview is here.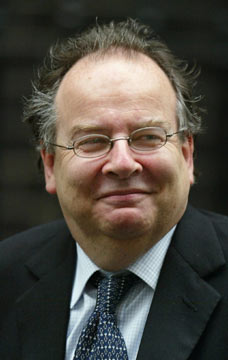 Lord Falconer

Posted by Rob Bodine at July 29, 2009 03:23 PM
Comments
Rob - thanks for this - I thoroughly enjoyed interviewing Lord Falconer. In fact, we could have gone on rather longer. It is good when people at the heart of the UK legal world and government take the time to talk to people other than mainstream media.
Lord Falconer was very robust in his views - and, predictably - most interesting and a pleasure (as all podcastees are) to interview.
On that topic... I thoroughly enjoyed my podcast - my 150th - with Dan on Saturday. It was fun, direct and on point on the issue of anonymity. It was also good to talk about the blogosphere and I am with him - subject to reasonable and necessary exceptions - on the anonymity issue.
After all... rules are not rules without reasonable exceptions!
Thanks for publicising the Lord Falconer podcast on assisted dying and our new Supreme Court - both very topical issues in Britain - The House of Lords Judicial Committee (Soon to be the Supreme Court of the UK) delivers judgment tomorrow on assisted suicide. It will be interesting to see what they say.
Lord Falconer's amendment to the Lords for a change in the law on assisted suicide - is very important. It is a great shame it was defeated for political/religious and other reasons. That, by the way, is my view - Falconer was at pains to point out that he avoided religious issues.
Posted by: Charon QC at July 29, 2009 05:28 PM
Post a comment