« Good Saturday: Paris Spring 2010 | Main | Special Anglo-Nantucket-Bow Tie Alert. »
April 06, 2010
O Rare Duke: Hated Hoops Tribe Triumphs in Hostile Hoosier Heartland.
Duke 61, Butler 59. Win or lose, Butler is one classy school and team. And I will never escape my own family Indy ties and Indiana memories. But blood is blood. Anyone who went to Duke babbles happily about it for several eternities, and for good reason. I'm no exception. It's some place. See AP article: "Duke Ends Butler's Dream, Claims 4th Title".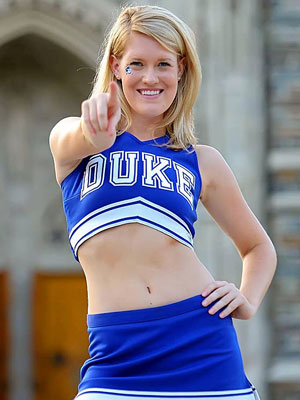 Like its other students, Duke's cheerleaders are often mega-smart, civilized, and tough-minded. Another complaint of the non-Duke public is they are too well-bred, thus lacking the all-important "C&W/chubby hooker look" that other U.S. universities prize and carefully cultivate.
Above: Duke's wonderful Lauren Cooper (by Bruce Yeung)
Posted by JD Hull at April 6, 2010 12:44 AM
Comments
I'm sorry, but you stumped me with "C&W."
Eric Chason (Trinity '93)
Posted by: Eric Chason at April 6, 2010 03:31 PM
Country and Western. And say hey to "W&M". Great place. One of its grads was married to me, if briefly.
Posted by: Hull at April 6, 2010 04:47 PM
Post a comment