« Not a good day so far: The world's stock markets. | Main | Doris, let's talk. Close the door and pull up a couch. »
May 26, 2010
P&G's Alan Lafley: Examine the "meaningful outside".
The Consumer as Boss and Laboratory. For nine years, from 2000 to mid-2009, A.G. Lafley served as chairman of Cincinnati-based Procter & Gamble. Lafley got the CEO job when he got it--in June 2000--in large part because the company was experiencing downturns, and stock price fluctuations, seldom seen in its 163-year history.
During his watch, however, P&G doubled it sales, and grew its line of billion-dollar brands from 10 to 23. Some say the even-keeled and reflective Lafley elevated P&G's "art of the customer" to new levels.
What is brand loyalty? What "moments of truth" lead a housewife, grocery chain, or government buyer to prefer Tide, Pampers, Crest or Pringles over competing brands? Who, exactly, are our customers? Why do they buy from us? When is price not so important?
In May of 2009, and just before he stepped down as CEO, Lafley wrote "What Only the CEO Can Do" in the Harvard Business Review. Here's an excerpt, in which Lafley quotes the consultant-writer Peter Drucker (1909-2005) in comments Drucker made in 2004:
"Inside there are only costs. Results are only on the outside."

The CEO alone experiences the meaningful outside at an enterprise level and is responsible for understanding it, interpreting it, advocating for it, and presenting it so that the company can respond in a way that enables sustainable sales, profit, and total shareholder return growth.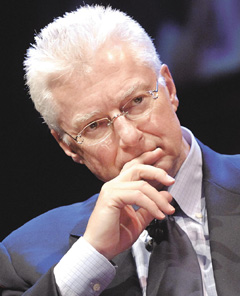 Posted by JD Hull at May 26, 2010 10:59 AM
Comments
Post a comment