« Men in Full: Duncan Campbell King | Main | Consider a run for President, too, Rahm. »
September 27, 2010
Brit Politics: Revenge of More Liberal, More Pro-Union, More Controversial Baby Brother.
MP David Miliband v. MP Edward Miliband. LA Times: "Britain's Labor Party Chooses New Leader". This happened in intra-party elections held Saturday in Manchester. The Miliband family--three generations of it--is storied, talented, and inspiring. The winning brother, Ed Milband, is 40. Ed's win makes things more turbulent, if more interesting, in the UK government, now lead by the Conservative Party. Its leader is Prime Minister David Cameron, 43, who took office in May. Ah, dear Old Blighty. She's about to put on a show.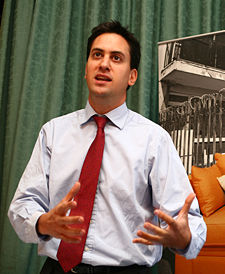 Critics, often preferring big brother David, called Ed Milband "Red Ed".
Posted by JD Hull at September 27, 2010 05:59 AM
Comments
Post a comment