« Writing Well: Satire--and Law? | Main | Venice Beach, Los Angeles, California: Lord, Take Me Downtown. »
November 18, 2010
Jim McElhaney: Jurors--and Lawyer Fatigue.
Most jurors are smarter than you think. Granted, they do weird things. But they get subtleties. They take their jobs seriously. And they don't want to be spoken to as peasants. See Jim McElhaney's piece "Lawyer Fatigue" at his McElhaney on Litigation column in this month's ABA Journal.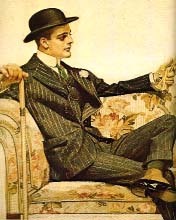 New lateral: Okay, he needs a little work.
Posted by JD Hull at November 18, 2010 12:43 PM
Comments
Post a comment
Thanks for signing in, . Now you can comment. (sign out)
(If you haven't left a comment here before, you may need to be approved by the site owner before your comment will appear. Until then, it won't appear on the entry. Thanks for waiting.)