« Duke: Cisco Systems' John Chambers to give 2011 graduation main address. | Main | Two Client-Centric Places to Visit. »
January 19, 2011
North Korea: The Look and Feel of Juche.
Only rarely does Blogdom really earn its keep. But there are exceptions. Don't miss "A Visit to North Korea", both the reporting and the accompanying photos, at Richard Lewis's Cross-Culture. Excerpt:
While it has replaced Marxism-Leninism in North Korea, Juche acknowledges the influence of traditional communist doctrine, although over the past two decades, the military rather than the proletariat or working class, is the main revolutionary force.

To the traditional hammer and sickle, symbolizing the factory worker and the farmer, Juche's icons also include a writing brush for the "Samuwon" class of writers, professors, engineers, and bureaucrats – a departure from the emphasis in other communist nations.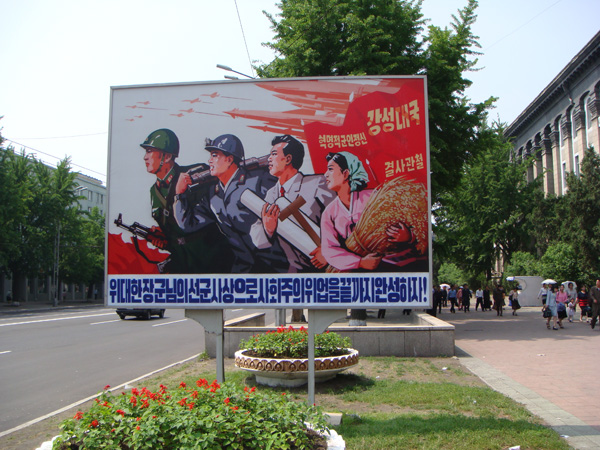 "Revolutionary posters all follow the same formula: a farmer, a factory worker, an office worker or engineer, usually carrying a T-square, and a soldier. One is always a woman." (Photo: R. Lewis)
Posted by JD Hull at January 19, 2011 11:59 PM
Comments
Post a comment
Thanks for signing in, . Now you can comment. (sign out)
(If you haven't left a comment here before, you may need to be approved by the site owner before your comment will appear. Until then, it won't appear on the entry. Thanks for waiting.)