« Christopher Eric Hitchens (1949-2011): Warrior Essayist. | Main | Beyond E-Mail, Social Media and Buying: So what happens if The Net follows you around and becomes your new bud? »
December 17, 2011
Lower Manhattan's Trinity Church has a "Solidarity" Problem.
Say it isn't so, Muffie. Over three centuries ago--and just about two decades after the English finally achieved permanent control of Dutch-built Manhattan--then-local Anglo-Saxon politicians and families did things that made Trinity Church, now standing at the corner of Wall and Broadway, a major landowner in Lower Manhattan. And nowadays, Trinity (and probably just trying to be a good landlord to its tenants) has a bit of Episcopalian egg on its face: it supports the Occupy Wall Street movement, but does not want protesters doing their protest thing actually on some of its real estate holdings. Surely, this is making some of the first English settlers of New York City spin in their churchyard graves. See at The Gothamist "Occupy Wall Street May Occupy Trinity Church's Property Today."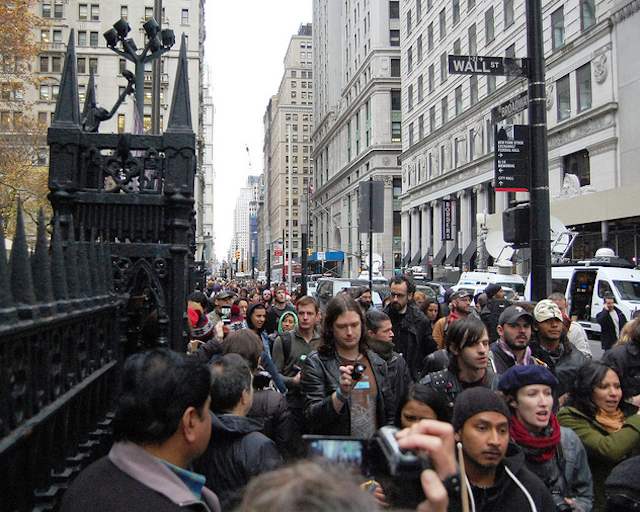 Protesters outside Trinity Church last month (Gothamist/Mattron).
Posted by JD Hull at December 17, 2011 02:24 PM
Comments
Post a comment
Thanks for signing in, . Now you can comment. (sign out)
(If you haven't left a comment here before, you may need to be approved by the site owner before your comment will appear. Until then, it won't appear on the entry. Thanks for waiting.)