« H.R. 3261 and S. 968: "Congress, can you hear us?" This Social Media Groundswell worked pretty well. | Main | WAP Guest Writer Mike O'Neil: "National Spotlight to Turn on Arizona: Four Reasons Why." »
January 23, 2012
Nigeria as Battlefield: "Western education is sacrilege."
Over sixty years after gaining independence from European rulers, the Federal Republic of Nigeria, Africa's biggest oil producer, and home to Africa's largest population, continues to be a battlefield. Yesterday in Kano, Nigeria, in northern Nigeria, over 150 people were killed in a coordinated terrorist bombing claimed by the Islamist sect Boko Haram. Nigeria's current government is widely regarded as inexperienced and weak. But, as news reports rarely emphasize, one of the more troubling aspects of recent attacks by Boko Haram and other groups is that, since independence in 1960, traditional tribal and religious leaders in Nigeria have seen their power and influence weaken in times of crisis and violence. Increasingly, and in most circumstances, they can no longer be counted on or trusted to step in. See this AP article. Excerpt:
On Monday, Emir of Kano Ado Bayero and Kano state Gov. Rabiu Kwankwaso sat together at the front of a mosque typically full of worshippers during Friday prayers in this dusty, sprawling city. However, the special service to commemorate the dead and ask God for peace and justice drew much smaller crowds than usual, with half of the prayer mats unoccupied.

"I call on people from all groups to pray for this place," Bayero said.

Meanwhile, secret police officers stood guard outside with assault rifles.

Bayero is one of the premier rulers of the emirates of Nigeria, a system of governance that dates back to the 1800s and still carries spiritual importance to Muslims. British colonialists used the emirates to rule the north by proxy until Nigeria gained its independence in 1960.

Many believe Nigeria's corrupt politicians now do the same, as the vast majority of those living in the north deal with crushing poverty in a nation where most earn less than $2 a day.

The influence of traditional leaders in Nigeria has waned in recent years and the 81-year-old emir himself showed his age as he walked slowly away from the mosque, leaning heavily on his cane.

Such leaders previously promised to intercede for the government to stop the increasingly violent sectarian attacks of Boko Haram, whose name means "Western education is sacrilege" in the local Hausa language.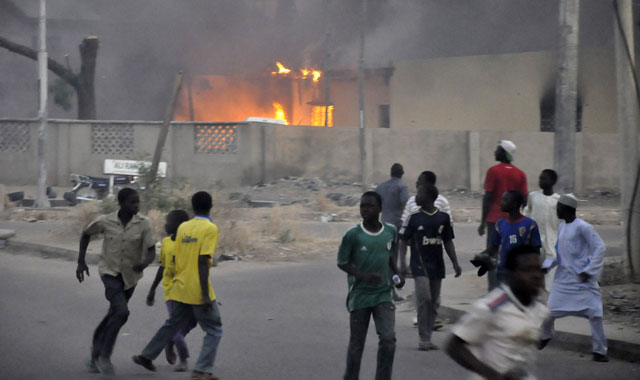 Sky News

Posted by JD Hull at January 23, 2012 11:56 PM
Comments
Post a comment
Thanks for signing in, . Now you can comment. (sign out)
(If you haven't left a comment here before, you may need to be approved by the site owner before your comment will appear. Until then, it won't appear on the entry. Thanks for waiting.)