« NYT: Uganda's disappointing--and expensive--reversal on AIDS progress. | Main | Paris: Autolib'. »
August 04, 2012
AU Mediation: Sudan will move South Sudan's oil.
Struck under an African Union mediation, and announced today in Addis Ababa, Ethiopia, the deal reportedly covers transportation, processing and transit of landlocked South Sudan's 350,000-thousand-barrel-a-day oil production through Sudan's pipelines at $9.48/barrel for a term of three-and-a-half years. Some hotly-contested border issues, however, will need to be resolved first. Until South Sudan seceded from Sudan last year, the two countries shared for the most part a unified oil industry. NBC: "South Sudan strikes deal with Sudan to export oil through pipelines".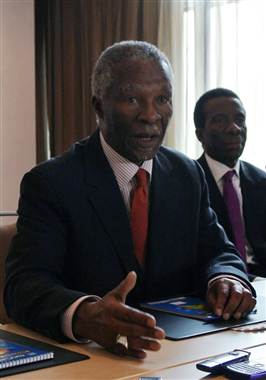 (Jenny Vaughan/AFP - Getty Images)
AU mediator Thabo Mbeki in Addis Ababa today.
Posted by JD Hull at August 4, 2012 11:54 PM
Comments
Post a comment