« The Customer Experience: Should retail buyers just start creating their own? | Main | Great Clients: Meet Tess Cacciatore of GWEN. »
October 11, 2012
Debate Prediction: Joe Biden Over Paul Ryan By Two Touchdowns; Ryan Way More Annoying.
In tonight's vice-presidential debate in Kentucky between two talky Irish Catholic guys, Joe Biden, about to turn 70, will triumph over but not trounce Paul Ryan, 42.
Unfortunately, Ryan is more annoying than any pol alive (including Biden) when he gets going. Further, the young Wisconsin congressman has trouble "seeming smart" or seasoned when he talks his highly-touted economic plans, policies and especially underlying numbers. Like the late Jack Kemp, my old buddy at the Longworth Building, and who Ryan used to work for, when Ryan talks economics he sounds like he's parroting something Dan Moynihan or Milton Friedman said or wrote but really doesn't get that well yet. Even low-information voters pick up on this stuff.
Joe Biden? He is way smarter than people think. He is more likable (and, yes, smarter) than Ryan. And he is one of the best natural politicians the country had ever produced. He will be very well-prepared. Biden will be feisty--but not talk as much as Ryan. Watch also for Biden to strip away on national television his GOP-painted cartoonish "buffoon" image in much the same way Mitt Romney last week blew away the "uber-robot" caricature. People will be reminded, too, that on foreign policy he's more knowledgeable and experienced than the president, Romney and Ryan put together.

Finally, this is Ryan's first national debate; he will be a little nervous. The Vice-President has done a few; he is never nervous.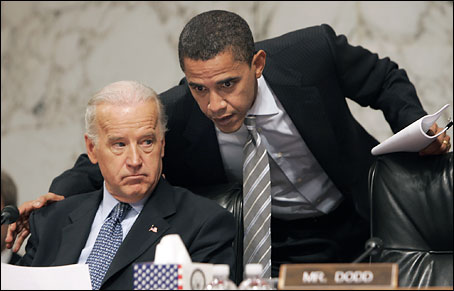 2008: Senator Obama confers with Biden during a hearing of the Senate Foreign Relations Committee, which Biden chaired. (Washington Post)
Posted by JD Hull at October 11, 2012 11:53 PM
Comments
Post a comment