« Obama Blows Off His "No Angry" Rule to Seize the Night. And, Fellow Yanks: Do You Feel Lucky, Yet? | Main | Bob Redford, Santa Monica's Mayor for Life, Weighs in on Obama v. Romney. »
October 18, 2012
Voice of America interviews Patrick Ukata on Ibrahim Prize for African leadership.
Yesterday on Voice of America's Straight Talk Africa, VOA mainstay Shaka Ssali interviewed our friend Patrick Ukata, Professor of International Relations at American University's School of International Service in Washington, D.C. The entire show, which was broadcast live simultaneously on radio, television and the Internet, is here.
By way of background, earlier this week, the Mo Ibrahim Foundation released its 2012 edition of Ibrahim Index of African Governance, which annually assesses governance in every African country. Interestingly, the Foundation also announced that this year no one deserved the annual Ibrahim Prize for achievement in African leadership this year. Only three leaders have been awarded the prize in the last six years. In yesterday's hour-long Straight Talk program, Patrick was asked: who do you think deserved to win this year's Mo Ibrahim Prize for governance and why? Also on the show was Eric Chinje, Communications Director for the Ibrahim Foundation, via a London studio. Listen to Shaka Ssali, Patrick and Eric discuss the quality of new leaders and new regional governments in the daily-changing political and economic canvas of the new Africa.
At American University, Patrick, who also a lawyer, specializes in the political economy and international relations of Africa, legal reforms and governance. He is widely known in American and Africa for building and directing the American University of Nigeria (AUN), a privately funded American-style university in Nigeria. It began in 2004, and is the first of its kind in Sub-Saharan Africa.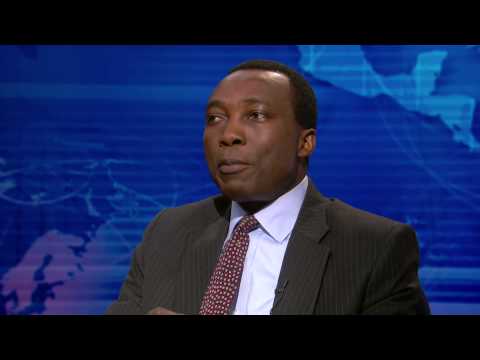 Dr. Patrick Ukata on Gwen Ifill's "Washington Week" in July. (PBS photo)
Posted by JD Hull at October 18, 2012 03:57 AM
Comments
Post a comment