« Blaise Pascal: Time and Brevity. | Main | Hot with increasing existential dread by Monday. »
July 31, 2022
Encore: What would this old German-American farmer say?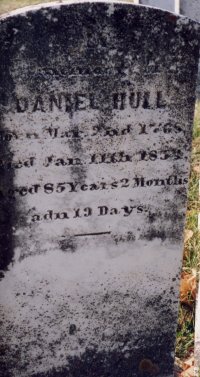 To us, in our lapsed estate, resting, not advancing, resisting, not cooperating with the divine expansion, this growth comes by shocks. We cannot part with our friends. We cannot let our angels go. We do not see that they only go out that archangels may come in.

We are idolaters of the Old. We do not believe in the riches of the soul, in its proper eternity and omnipresence. We do not believe there is any force in to-day to rival or recreate that beautiful yesterday. We linger in the ruins of the old tent.

--R. E. Emerson (1803-1882), Essays, First Series, "Compensation" (1841)

Middlebrook, Augusta County, VA (near Charlottesville ). Population about 250. In my tribe you can live a long life if you don't drink too much or work at the wrong jobs. Working near here this week here I detoured to visit this grave, and this time found it without difficulty. This Daniel Hull (1768-1854) was my great-grandfather's great-grandfather, then a first generation German in the U.S. There is no picture of him; photographs were, however, taken of his children and all the next generations. I know some but not enough (85 years, what wonderful stories will never be told...) about this fellow, a farmer who was the last of my line to die in Virginia, shortly after the family changed the spelling from Hohl to the more English-like Hull. His son, also a Daniel, moved to the Ozarks where every one of these John Daniel Hull creatures afterwards were born since save me. I just know I owe him and need to promise him that every generation gets better as life in America becomes easier. Are we doing that? Is that happening? Or do we armor ourselves with conformity and settle for ordinary, even though we know it's not enough? Or, as Emerson would ask, are we happy to be "idolaters of the Old." What would this old German-American farmer say?
Original: April 14, 2015
Posted by JD Hull at July 31, 2022 11:09 PM
Comments
Post a comment