« Salzburg, Austria: Mozart, salt, Huns and lawyers. | Main | The First Franchisor: Singer Corporation. »
July 16, 2017
"The guy has no enemies. Isn't that great?"
Well, no. It's not good. It's not great, either.
You have enemies? Good. That means you've stood up for something, sometime in your life.

--Winston Churchill
Here's some of the best advice on hiring, staffing and re-staffing anyone can give. Please don't stand behind, endorse or recommend a candidate for employment, partnership or board membership--especially candidates over say, the age of 35--on grounds that he or she "has no enemies" or something to that effect. This is not a compliment. Hearing that someone is "a team player" isn't troublesome because it runs the spectrum of Elwood P. Dowd (from the 1950 Jimmy Stewart film "Harvey," about a beloved if quirky man who drinks with his imaginary 6 foot tall rabbit), Willy Wonka and Marie Osmond (all too nice) to Leona Helmsley, Leatherface and one far-out mother named Robert Edward (Ted) Turner III (not known for nice). But saying someone has "no enemies"? It's an insult. It means that he or she hasn't even been in the game, Jack. No bueno.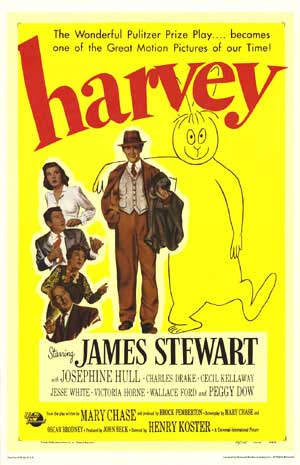 Do share a drink with Elwood P. Dowd and his pal Harvey. But don't work with either of them.
Posted by JD Hull at July 16, 2017 07:41 PM
Comments
Hi, my name is Pauline and I am the sales manager at StarSEO Marketing. I was just looking at your What About Paris? : "No enemies" usually means he or she was never even in the game. website and see that your site has the potential to become very popular. I just want to tell you, In case you don't already know... There is a website service which already has more than 16 million users, and most of the users are interested in topics like yours. By getting your website on this network you have a chance to get your site more visitors than you can imagine. It is free to sign up and you can read more about it here: http://axr.be/e08- - Now, let me ask you... Do you need your site to be successful to maintain your business? Do you need targeted visitors who are interested in the services and products you offer? Are looking for exposure, to increase sales, and to quickly develop awareness for your site? If your answer is YES, you can achieve these things only if you get your site on the service I am talking about. This traffic network advertises you to thousands, while also giving you a chance to test the network before paying anything at all. All the popular blogs are using this network to boost their readership and ad revenue! Why aren't you? And what is better than traffic? It's recurring traffic! That's how running a successful website works... Here's to your success! Read more here: http://tf3.info/nf
Posted by: Pauline at March 24, 2015 04:09 PM
Post a comment
Thanks for signing in, . Now you can comment. (sign out)
(If you haven't left a comment here before, you may need to be approved by the site owner before your comment will appear. Until then, it won't appear on the entry. Thanks for waiting.)