« "We live in a world that never sleeps": Blawg Review #65, 7-10-06. | Main | Brian Neary's Hawk. »
April 30, 2023
A Federal Discovery Rule Sleeper You Can Use: Rule 27, Fed. R. Civ. P.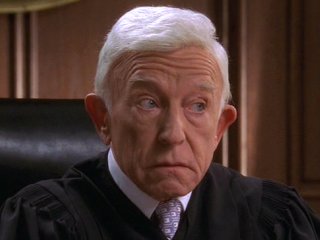 You hosin' us, Mr. Hull?
Rule 27 of the U.S. Federal Rules of Civil Procedure is "Depositions to Perpetuate Testimony". It's not invoked that often. Subdivision (a) covers "Before an Action Is Filed":
(1) Petition. A person who wants to perpetuate testimony about any matter cognizable in a United States court may file a verified petition in the district court for the district where any expected adverse party resides. The petition must ask for an order authorizing the petitioner to depose the named persons in order to perpetuate their testimony. The petition must be titled in the petitioner's name and must show:

(A) that the petitioner expects to be a party to an action cognizable in a United States court but cannot presently bring it or cause it to be brought;

(B) the subject matter of the expected action and the petitioner's interest;

(C) the facts that the petitioner wants to establish by the proposed testimony and the reasons to perpetuate it;

(D) the names or a description of the persons whom the petitioner expects to be adverse parties and their addresses, so far as known; and

(E) the name, address, and expected substance of the testimony of each deponent.

(2) Notice and Service. At least 21 days before the hearing date, the petitioner must serve each expected adverse party with a copy of the petition and a notice stating the time and place of the hearing. The notice may be served either inside or outside the district or state in the manner provided in Rule 4. If that service cannot be made with reasonable diligence on an expected adverse party, the court may order service by publication or otherwise. The court must appoint an attorney to represent persons not served in the manner provided in Rule 4 and to cross-examine the deponent if an unserved person is not otherwise represented. If any expected adverse party is a minor or is incompetent, Rule 17(c) applies.

(3) Order and Examination. If satisfied that perpetuating the testimony may prevent a failure or delay of justice, the court must issue an order that designates or describes the persons whose depositions may be taken, specifies the subject matter of the examinations, and states whether the depositions will be taken orally or by written interrogatories. The depositions may then be taken under these rules, and the court may issue orders like those authorized by Rules 34 and 35. A reference in these rules to the court where an action is pending means, for purposes of this rule, the court where the petition for the deposition was filed.

(4) Using the Deposition. A deposition to perpetuate testimony may be used under Rule 32(a) in any later-filed district-court action involving the same subject matter if the deposition either was taken under these rules or, although not so taken, would be admissible in evidence in the courts of the state where it was taken.
And subdivision (c), equally as vague in some respects (but see the Committee Notes), states:
(c) Perpetuation by an Action. This rule does not limit a court's power to entertain an action to perpetuate testimony.
Again, Rule 27--and its many state counterparts--is not used that much. In non-federal cases, most states have some versions of Rule 27, with different case law on how you can take discovery before an action has been commenced. Valid reasons might be to preserve testimony which might "get away", e.g., a dying or homeless witness or a witness about to skip town with the money. Or (less commonly) to do a limited pre-suit evaluation of the merits. The state versions are worded very similarly to the federal rule; however, the case law on what you can actually do with the state counterparts of the rule vary widely from state to state. It's a bit vague, but good lawyers can use that to their advantage for clients when they see it in statutes, regulations and procedural rules.
One common concern with the rule: It will be used to harass and intimidate (read: "mess with people") rather than to perpetuate or preserve. Unfortunately, it is used that way. And some judges just don't at first like what they don't see that much. In 2010, one very good if elected North Carolina state judge in beautiful Durham, N.C., initially was increasingly aggravated that some godless bow-tied out-of-state city lawyer who tried to pick up his sultry 27-year-old law clerk named Zoey right in front of him was introducing him for the first time to the state's Rule 27. Judge Quaalude didn't know much about it. But no one seems to.
So you teach and sell His Honor or Her Honor. You're an officer of the court, right?
But go easy, check the cases on it--for obvious reasons, there are not many--and think it through. Local lawyers may not be much help; understandably, they often have rote, unthinking habits about their own procedural rules. Hey, we all do that--and we are missing a lot. (See Rule 56(d) for example.) Rule 27, done right, saves time and money. Downside: you might have to sell it to, or be creative with, the local state or federal judiciary. Or refresh the collective memory. Boomers do forget stuff.
(Image: D.E.K. Enterprises/Henry Gibson as Judge Brown, Boston Legal.)
Posted by JD Hull at April 30, 2023 12:22 AM
Comments
Post a comment