« On second thought, do see Trainwreck (with Amy Schumer) so we can face the enemy together. | Main | Coal: Still standing. Barely. »
August 01, 2015
Scouting changes again; as usual, the Washington Blade is there.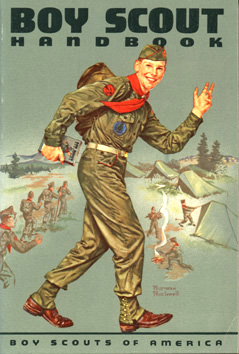 I was a Boy Scout, and eventually an Eagle Scout, growing up in suburban Chicago and Cincinnati. What I learned in scouting means a lot to me; I use it, probably instinctually, every day. Naturally, national news about changes to BSA's local or field leadership policies interests me.
In the 1960s and 1970s, at least in the Cincinnati suburb of Indian Hill, every adult scoutmaster, his adult assistant scoutmasters and all the adult men who pitched in to help at our many, many meetings and (for me, at least) 40 to 50 camping trips, was always a father of one of the boys in my troop. My Dad, who traveled on business nearly every week, pitched in on camping trips from time to time.
So I have little reaction to the BSA decision on July 27th to allow openly gay leaders to participate in scouting. I don't have a good picture of what's happening here culturally. Drawing a blank, if you will. I am, however, amazed how much this traditionally conservative organization has moved in the last few years.
Also, I did like the way this development was covered by the LGBT press. The day it happened, the enduring Washington Blade, almost an underground publication when it started 46 years ago and now arguably the most influential LGBT news source in the world, reported "Boy Scouts to Allow Gay Leaders". In fact, the Blade--a weekly tabloid with daily online reporting--chose the same story 4 days ago on BSA's policy change as the lead article in its weekly edition, which came out last night. The Blade begins:
Members of Boy Scouts of America National Executive Board on Monday voted to end the organization's ban on openly gay adults from holding leadership positions.

The body by a 45-12 vote margin approved a resolution on the issue the Boy Scouts of America Executive Committee unanimously backed earlier this month.

The new policy, which takes effect immediately, would allow openly gay adults to become scoutmasters and unit leaders within the Boy Scouts of America.

It will also allow gay people who were previously removed from leadership positions because of their sexual orientation to reapply for them.
Posted by JD Hull at August 1, 2015 04:16 AM
Comments
Post a comment