« Valorem's Patrick Lamb: Ways law firms put themselves before clients. | Main | Parker County, Texas. »
September 12, 2015
The Mother of All Funny Economist Covers: It's the September 4-11 issue bemoaning The Trump Uprising and it's unexpected staying power.
This one (see below) could be collector's item on cover alone so head down to the news stands now if you don't subscribe. The short article accompanying it is similarly remarkable for its tone of genuine terror and disbelief that America could let Donald Trump set the tone of our new pseudo-populism this election cycle. The Economist staff apparently finds Trump more objectionable as a pol and a person than any GOP candidate ever. If you dislike Brits--or like me you just like to goof on or wind up your British friends a few times a year--this is one of your best moments. Donald Trump has gotten to them and good.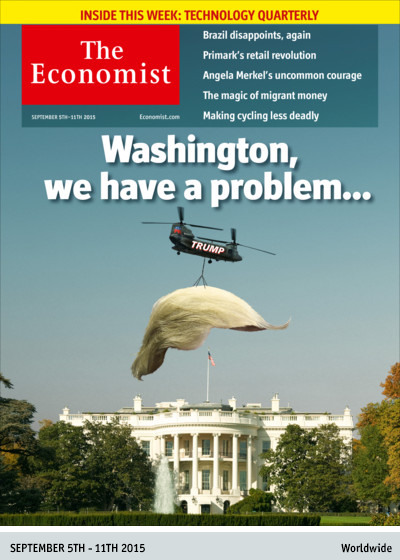 Posted by JD Hull at September 12, 2015 12:23 PM
Comments
with regard to a, some organizations, principall Cheap Air Max 95 y in c Cheap Oakley Flak Jacket ountries in europe within in the states, became too self-conscious to in order to lower price lands, Preferring as being a in order to select some are priced at alleviation altern Nike Free Run Pas Cher ative which they regarded as reliable tactics, in order to Cotte. "
Posted by: Lululemon Hoodie at September 26, 2015 02:53 PM
Post a comment