« San Bernardino: Any more fun new Ozzie and Harriet couples we can welcome to the 'hood? | Main | Heroes: James M. Edwards. »
December 09, 2015
This Dude's Funny: "The Snooze Button", by Joshua Pierce.
Says author, comic, scholar, linguist, cyclist, philosopher and DC-based polymath Joshua Pierce: "This book is about stuff that annoys me, like waiting in lines, babies, boring sports, and job interviews. It's also about awesome things such as animals and boiled peanuts."
It's Funny. You can get it on Amazon. I've 3 copies and no you can't have one.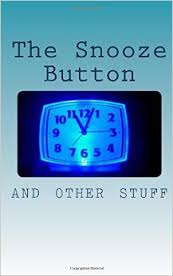 Posted by JD Hull at December 9, 2015 11:43 PM
Comments
Post a comment
Thanks for signing in, . Now you can comment. (sign out)
(If you haven't left a comment here before, you may need to be approved by the site owner before your comment will appear. Until then, it won't appear on the entry. Thanks for waiting.)