« Antonin Gregory Scalia (March 11, 1936 - February 13, 2016) | Main | Nelle Harper Lee (1926 - 2016) »
February 19, 2016
Note to President Obama re: SCOTUS Slot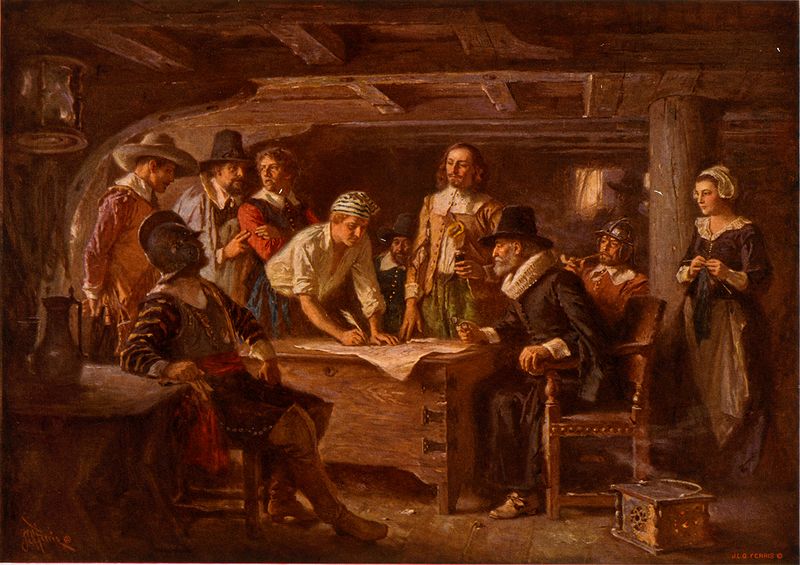 Signing the Mayflower Compact 1620, 1899, Jean Leon Gerome Ferris.

Dear Mr. President:
I'm glad you are getting on with the selection of Justice Scalia's replacement as the Constitution requires.
But maybe add "Protestant-raised" to complete your list? A WASP? White Anglo-Saxon Protestant. Like those old English guys who started settling here in the early 1600s? Right now not one of the nine justices is a Protestant or WASP. We used to have lots and, I admit, maybe even too many WASPs. It would be so rad if we could have just one member of SCOTUS out of nine people from the same general colonial tribe who (1) thought up, (2) planned and (3) commenced building America.
Man or woman. Doesn't matter to me. Duke grads are fine this cycle, too
Thank you.
Sincerely yours,
John Daniel Hull, IV
Posted by JD Hull at February 19, 2016 12:21 AM
Comments
Post a comment