« Piranesi | Main | Pantheon: Charlize Theron »
October 30, 2023
The 3 days of AllHallowtide starts October 31. Get ready, y'all.
Allhallowtide is a Western three-day observance (or triduum, a word I learned today) between October 31 and November 2 when we remember and honor the dead. The days are All Saints Eve (Halloween) on October 31, All Saints' Day (All Hallows') on November 1 and All Souls' Day on November 2. Although a tradition associated with Christianity for the past 1000 years, Allohallowtide is hardly recognized outside the Catholic church, and even Catholicism seems to have increased its distance over the centuries. The observance, especially the first day of Halloween, a contraction of "All Hallows' Evening", seems to have deep pagan roots, with many of its celebration traditions like those of Celtic harvest festivals. Culturally, however, it's still a big deal with most Westerners, especially their kids. Little kids. Big kids. Those celebrating that first day of Allohallowtide seem to get older every year.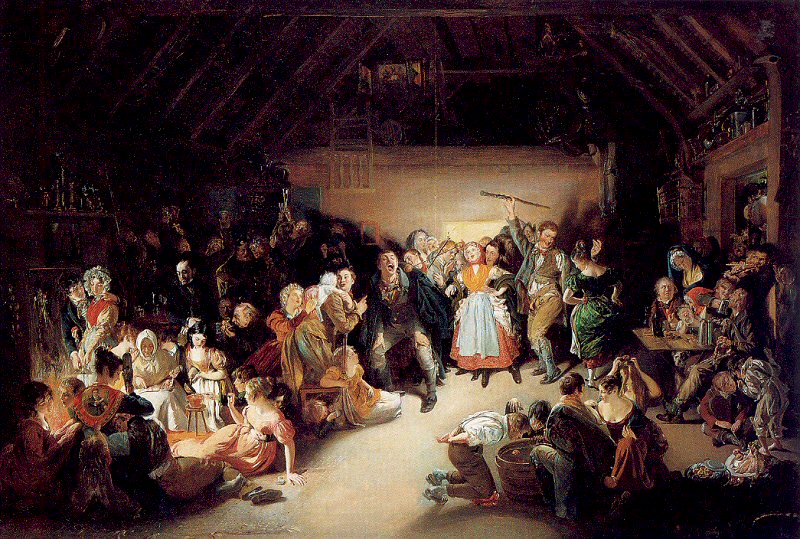 "Snap-Apple Night", Daniel Maclise, 1833. It was inspired by a Halloween party Maclise attended in Blarney, Ireland, in 1832.
Posted by JD Hull at October 30, 2023 11:23 PM
Comments
Post a comment
Thanks for signing in, . Now you can comment. (sign out)
(If you haven't left a comment here before, you may need to be approved by the site owner before your comment will appear. Until then, it won't appear on the entry. Thanks for waiting.)