« Even more on BTI Consulting study--and some new things on unhappy GCs. | Main | Outsourcing American legal work to Asia. »
September 09, 2006
Bad client festival: Make sure to tune in on Sunday at 3:00 PM Pacific time...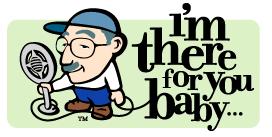 ...to San Diego's CA$H 1700 AM where you'll hear WAC?'s own Dan Hull discussing how to deal with clients that aren't worth keeping on this week's edition of "I'm There For You Baby".
As always, the show will be simulcast on CA$H's website and will also be available on the Baby website.
Posted by Tom Welshonce at September 9, 2006 11:45 PM
Comments
Post a comment
Thanks for signing in, . Now you can comment. (sign out)
(If you haven't left a comment here before, you may need to be approved by the site owner before your comment will appear. Until then, it won't appear on the entry. Thanks for waiting.)