« Got Jury Wonks? | Main | Happy 5th Birthday, Sarbanes-Oxley, you big brute. »
July 30, 2007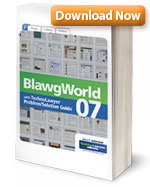 Ladies and Gents of the Blawgosphere: WAC? is extremely happy to join in on announcing today's release of BlawgWorld 2007. For those of you new to BlawgWorld, TechnoLawyer/Peerviews Inc. have put together 77 exemplary posts and essays by 77 blawgers into one e-book. WAC? is honored to be included in this incredible group of blawgers.
Last year's edition of BlawgWorld was downloaded 45,000+ times. This year's edition, which also includes the 2007 TechnoLawyer Problem/Solution Guide, will certainly surpass that.
The best part: you can download BlawgWorld 2007 for no charge at this link. Make sure you do that. This is a wonderful e-book you cannot afford to miss.
Posted by JD Hull at July 30, 2007 11:58 PM
Comments
Post a comment
Thanks for signing in, . Now you can comment. (sign out)
(If you haven't left a comment here before, you may need to be approved by the site owner before your comment will appear. Until then, it won't appear on the entry. Thanks for waiting.)