« BBC News: French industrial output way down. | Main | Blawg Review #159 »
May 11, 2008
Mothers, and movements for others.
All women become like their mothers. That is their tragedy. No man does. That's his.

--Oscar Wilde, The Importance of Being Earnest, 1895.
My mother was the mom that all the other kids in the neighborhood wanted to be their mom. A photogenic only child growing up in Chicago, she started working as a model when she was quite young, and the agency loved her all-American girl next door face and smile. Now, in her seventies, she is still tall, almost 5'10", angular, with dark hair, and fresh, friendly, athletic, striking. In boarding school and college, she was always the homecoming queen--but that rare one without enemies. All my life, I've heard both men and women remark how beautiful she is--and how nice she is to them. She is never interested in herself. She loves children and sloppy dogs.
Energetic and very physical, she still does things too quickly. But she moves for others. She's fond of the troubled, those with raw deals, the strays. And she wants to get things done for them. She has a very private but active spiritual life, and a natural class and ease with others. She is comfortable with, and genuinely interested in, everyone she meets, anywhere in the world. She wants to know them.
She lights up all rooms--not just ours. She puts up with me, and my father, and I wish I could be more like her. She's led a charmed life, which she views with gratitude, humility and grace. Her side of my family came from the still-tiny village (below) of Lindsey, England, to Massachusetts in 1634. I visited Lindsey, in Suffolk, in 2003. Her family's name is still on some of the stones in the churchyard.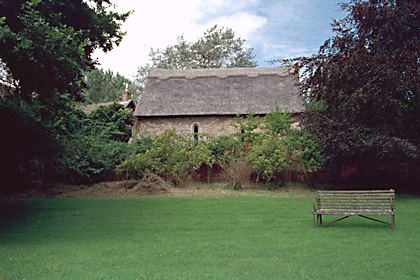 Posted by JD Hull at May 11, 2008 11:59 PM
Comments
Post a comment