« Breaking, pointless news: American CEOs still paid well. | Main | Good habits as hard-won. »
June 17, 2008
A lawyer and a writer--and damn fools like WAC?
If at first you don't succeed, try again. Then quit. There's no use being a damn fool about it.

--attributed to William Claude Dunkenfield
There are some good writer-lawyers out there--and we'll never give up trying to get the best ones to write more. One is the author of Declarations and Exclusions, a mainstay Blawg Review host. Holden once called him "the only insurance person I ever liked--even a little". But the guy writes better (way) than I do, and knows more about literature than Holden. We suspect he's a mighty fine lawyer, too, and just lawyering for comic relief from his writing. Or is it the reverse? In any event, George M. Wallace is writing again at his "other" blog: A Fool in the Forest. And the world is right again. Please, more, sir.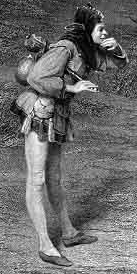 Posted by JD Hull at June 17, 2008 10:18 PM
Comments
Post a comment