« Blawg Review #173: World Record Swimming | Main | Trout fishing in America. »
August 17, 2008
Action, speed, color, violence: Gen Y discussion has legs.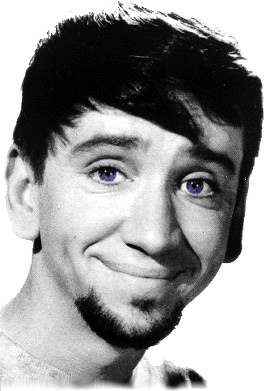 Maynard G. Krebs (circa 1962), Hero of The Slackoeisie.
Re: Hi, I'm Justin, and am very happy going through life as a turd--which, by the way, is your fault. Speaking of inspiration, it's August 18, and our May 20 post Who cares what makes Gen Y tick? keeps delivering strong comments, some remarkably angry, on both sides of the issue. Some of the language is eerily reminiscent of Bob Dylan's soul-sick closing lines of his song "Masters of War".* Our take is still: Gen Y gets points for turning unhappiness into a philosophy, we like your moxie, maybe it's our fault--but we're burning daylight here. Do something. You have formidable energies--if not a wit of discipline. Write a novel, maybe? (Nah, too hard.)
Hey, don't quit before the miracle happens.
*And I hope that you die
And your death'll come soon
I will follow your casket
In the pale afternoon
And I'll watch while you're lowered
Down to your deathbed
And I'll stand o'er your grave
'Til I'm sure that you're dead.
Dang.
Posted by JD Hull at August 17, 2008 11:15 PM
Comments
Post a comment
Thanks for signing in, . Now you can comment. (sign out)
(If you haven't left a comment here before, you may need to be approved by the site owner before your comment will appear. Until then, it won't appear on the entry. Thanks for waiting.)