September 17, 2008
Business and Net Royalty Hosts Blawg Review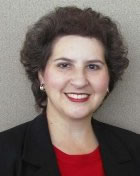 Anita Campbell of Small Business Trends
We're not easily star-struck.
Cruel, ruthless and demanding--eccentrics who think that employees are paid to work and add value, rather than to talk, be wankers, leave work at 5:45 PM and feel good about themselves--WAC? writers are different. Hardened. Tough. And not easily impressed. We don't like small businesses (except ours), small minds, small towns (under 5 million SMSA) or small parking places. We've grown up around, worked with, drank with and/or even "dated"--if you call trophy sport-swiving "dating" (and we do)--a few public figures, politicians, artists and celebrities. We are not easily fazed.
But like Parker Posey, who WAC? met last year in the Newark airport and still has a huge thing for, Anita Campbell of the widely-read and respected Small Business Trends is different, and authentic. Somehow we feel like the flustered men or women who met Sharon Stone or George Clooney in the early days, before anyone knew Stone and Clooney were just more fun bozos on a boomer bus.
Seriously, folks (and just kidding, Sharon, George), Anita's site does have five (5) qualities you almost never see in Anything: Popular, Interesting, Well-Written, To-the-Point, Useful.
See Blawg Review this week and Anita's Back to Business Blawg Review #177. WAC? is not worthy. We be flustered.
Posted by Holden Oliver at September 17, 2008 11:59 PM
Comments
Post a comment