« Jim Hassett: "Don't stop." | Main | This Week: All Europe Watches Yanks. »
October 30, 2008
The Big Dog shills for Senator Obama.
See The Nation and about 350 other articles. I'm not voting for Obama, but Bill Clinton, who also campaigned for Al Franken in Minnesota last night, is on the tube as I write, campaigning for Obama in Florida. Can Wild Bill "market" or what? (At a meeting of 50 GCs: "Hull McGuire's your friend--they aren't like the others--and if you love me, like I know you do, you'll love them, and you'll crank up their rates just...") Dang. Maybe I'll reconsider my vote for McCain. No, if I just lie down for a while, the feeling is sure to go away. Shucks, WJC could make all male Texans dress in drag for a week.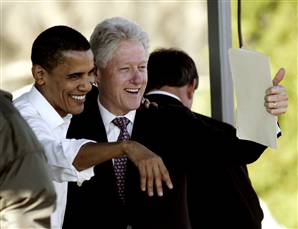 Even the controlled Sen. Obama gets a little weird around Wild Bill.
Posted by JD Hull at October 30, 2008 12:59 AM
Comments
Post a comment
Thanks for signing in, . Now you can comment. (sign out)
(If you haven't left a comment here before, you may need to be approved by the site owner before your comment will appear. Until then, it won't appear on the entry. Thanks for waiting.)