« Formerly Known As a privilege, an honor, a trust: Lawyering. | Main | Mumbai »
November 28, 2008
Anti-Client Remark of the Century.
"We" versus "Them"--and clients not even part of the equation. Anti-client, clueless and--but we'll be charitable and stop there. In response to Legal Blog Watch's post "Should Firms Cut Bonuses in Response to Clients?", the first comment was:
Associates don't share in the good times the way partners do, so why should they suffer in the bad times? The answer is not to cut associate bonuses, but to cut profits per partner.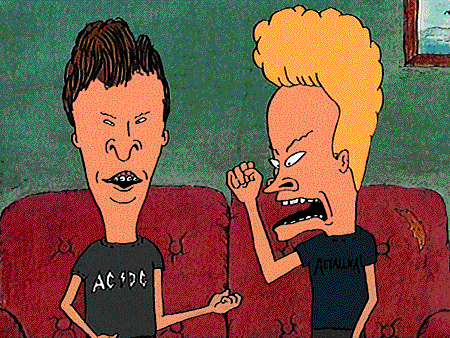 "Jesus, Beavis, get over it. The partner guys--who work for those client guys--will always stiff us."
Posted by JD Hull at November 28, 2008 11:59 PM
Comments
JD
I read through your links and was appalled, again, at the number of lawyers who will say or do anything for the most short term advantage.
For starters, anyone who would pay any attention to any American business person at this point has lost their mind. You are looking at a group that individually and collectively has lost all credibility (wholly deserved), and will survive only via government bailout.
As even Greenspan came to recognize, these people are not running their companies based on sound business principles or for what is in the best interest of the firms or shareholders. It is only about short term individual greed. Under such circumstances, why would any one attempting to run a good business listen or pay attention to anything they have to say, even if they happen to be the customer.
Here is typical bs from some blogger ""Just being-there' bonuses tells the whole world–not just your clients–that your law firm values 'talent retention', crowd control and morale in the associate ranks over common sense economics and the kind of things clients think about: reward, punishment, incentive, efficiency, penny-pinching in good times and bad."
Given the cost of recruiting and training a young lawyer, concern over talent retention and morale are common sense, just as much as incentive or efficiency. In fact, it goes directly to incentive.
The 800 pound gorilla for big law is the constant fear that good young lawyers will leave the firm, taking the clients with them. That is why most firms operate on the 4 years and you are out program.
The associate about whom you complain fully understands the game. She understands that the better job she does as a lawyer, and the better clients like her, the more likely she will be shown the door in four years, before she is a real threat to leave, taking the client with her. She knows she is being "cheated" if not paid a bonus, for she likely has no real long term prospects with the firm, for starters.
The key driver of big law firm behavior is that Rules of Professional Conduct make it impossible to keep young associates from competing for existing clients with whom they develop a relationship.
Remember Ezra Tom Clark, "The only secret to a successful law practice is a good paying client."
Posted by: Moe Levine at November 29, 2008 11:43 AM
Thanks Moe. Not all law firm associates are the same; they differ radically in quality almost from the first day. Different performances should merit different pay.
Associates these days are what they are--but we see no reason to make the problem worse. We're more worried that some firms may be buying a decline in work ethic, and not emphasizing clients enough. Law is a business AND a profession (read: a bit of an art form)--and it's hard to balance them. We are more worried about rewarding mediocrity, and punishing off-the-charts brilliant performances.
Finally, most firms are not worried about losing their clients to young talent. I wish I could find an associate these days with that much ambition...seriously. "Dude, steal my clients--please be that good."
Posted by: Dan Hull at November 29, 2008 05:30 PM
Post a comment
Thanks for signing in, . Now you can comment. (sign out)
(If you haven't left a comment here before, you may need to be approved by the site owner before your comment will appear. Until then, it won't appear on the entry. Thanks for waiting.)