« Franken-Coleman update: Just lawyering up for the Holidays. | Main | Princess Hillary of Foggy Bottom? »
November 13, 2008
Your boss wants a word with you: GC Value Challenge (cont.)
So you guys were serious about that, huh? If outside law firms couldn't figure it out for themselves, the ACC offered to explain it to us last month, after a meeting the in-house group held in late September in DC. In his weekly thought piece, Jim Hassett writes about it, sans the usual shameless pandering often displayed when corporate lawyer-bloggers (WAC? for example) seize on an issue they know GCs love and champion: "ACC's Value Challenge (Part 1)".
Forget about how you bill. Focus on what you are adding on each project. But what's the incentive for that, you ask, when you can just "feed the monster" in a series of one-night stands? A: Long-term relationships with companies you want to keep as clients. For once, though, don't listen to What About Clients? Pay attention to your boss. A springboard for working Value Challenge ideas can be found at the ACC website. Folks, they're serious.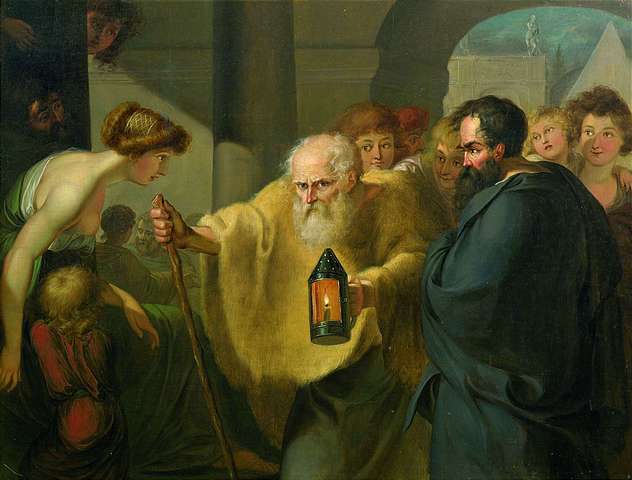 Diogenes of Sinope searches for honest, value-focused, counsel. J.H.W. Tischbein (c. 1780).
Posted by JD Hull at November 13, 2008 08:15 PM
Comments
Screw the corporate rat race, and join the Obama administration in its newly forming cabinet level position of Secretary of Value (a/k/a Value Czar). You will, of course, be required to fill out a lengthy invasive questionnaire and undergo a lengthy and even more invasive proctocology exam, but it will be worth it when you realize all the good you can do for the faltering economy.
Posted by: shg at November 13, 2008 12:39 PM
Moe asks:
When a group of buyers act in concept to reduce price hasn't someone run across the antitrust laws? Who in your "elite" group has the guts to call either or both the FTC or DOJ
Given recent events, who would trust anyone associated with any American company to recognize value (which is most often risk avoided), yet alone pay for such?
What is it about WAC and all these other lawyers who don't get Charlie Munger's insights about psychology, especially the Persian Messenger syndrome. What client sees any value in being told they are a crook, but that is generally the most valuable counsel an lawyer can offer?
Posted by: Moe Levine at November 13, 2008 05:07 PM
Post a comment
Thanks for signing in, . Now you can comment. (sign out)
(If you haven't left a comment here before, you may need to be approved by the site owner before your comment will appear. Until then, it won't appear on the entry. Thanks for waiting.)