« | Main | China Business: What about Dan Harris? »
January 25, 2009
Amsterdam has a bit of everything.
Art, religious art, not-religious art, the Anne Frank House (moving, authentic and not to be missed), religion, not-religion, sex for pay, sex as play, a wonderful absence of jackass Western "moral certitude", happy people, The Sex Museum, a truly international atmosphere, real global business, real lawyers, real tall blonde women who speak English way better than you, Jack. Even "soft" drugs. Whoa. And dang.
After ditching the Americans he was with ("they traveled together through Europe in a self-imposed Yank Bubble to make 100% sure they wouldn't learn anything"), WAC?'s main writer, by then a Tea-Totaler on all chemical fronts, first visited the Betty Boop Coffeeshop on an early September morning in 1992, and really did think the place was just about the coffee. Which it is, mainly, sort of. It's still there. And it's still a good place to hide from Americans. Ask for Ellen. Or a guy named "Space". Boop-boopee-doop.
Special note if you are traveling with your 79-year-old Aunt Nina from Sioux City and need a cup of Joe: "In Amsterdam, coffee shop means a place where cannabis is openly sold and smoked, while only café means a coffee and tea drinking place." --Amsterdam.info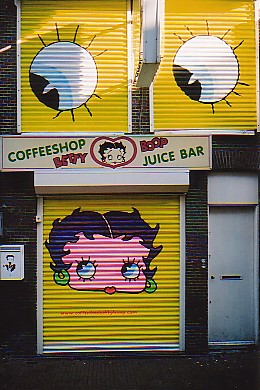 Posted by Holden Oliver (Kitzbühel Desk) at January 25, 2009 11:09 AM
Comments
Post a comment
Thanks for signing in, . Now you can comment. (sign out)
(If you haven't left a comment here before, you may need to be approved by the site owner before your comment will appear. Until then, it won't appear on the entry. Thanks for waiting.)