« Keep your Beginner's Mind. | Main | February's Carnival of Trust »
February 03, 2009
Like him or not, Bill Clinton is a U.S. asset.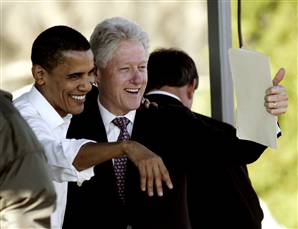 Even our controlled Commander-in-Chief gets excited, starstruck and a little weird around WJC. What's the deal with his wrist?
We vote "R", "D" and "Other" at WAC?--but all of us here like Wild Bill. We can't think of anyone we'd rather have with us abroad. The guy always comes to play. If you're reading this, WJC, you might reconsider. You've had three years to decide, and Hull McGuire still does lots of work in western Europe. We'll pay you to sit in the room. Or to stop in and say hello. Or phone in. Whatever. Ring us.
See Salon, where Joe Conason is watching Bill Clinton work his magic in Davos, Switzerland at the World Economic Forum:
What roused the global elitists from their glum torpor was the opportunity to lay blame for the economic catastrophe that has befallen the world. There was one obvious target: the United States of America, whose stupid and criminal bankers have inflicted so much harm on the whole of humanity. It is an undeniable fact that the Russian and Chinese leaders explored with great relish at every opportunity.

Into this hostile territory rode Bill Clinton, the lone American to whom anyone at Davos might actually listen as he attempted to uphold the name of his country.
Posted by Holden Oliver (Kitzbühel Desk) at February 3, 2009 12:54 AM
Comments
Post a comment
Thanks for signing in, . Now you can comment. (sign out)
(If you haven't left a comment here before, you may need to be approved by the site owner before your comment will appear. Until then, it won't appear on the entry. Thanks for waiting.)