« Is Obama making some Americans go nuts? | Main | Real lawyers practice law. Blogging comes second »
April 22, 2009
GC-heavy: InsideCounsel's SuperConference, Chicago, May 5-6.

InsideCounsel magazine's 9th annual SuperConference at the Chicago Fairmont May 5-6.
It's different: GC-heavy.
We won't, of course, look down our nose at InsideCounsel for having a few registrants from law firms like David Boies, Fred Bartlit, former U.S. Attorney General Dick Thornburgh, and DNC Chairman Robert Bauer. But top in-house lawyers at SuperConference so far include GCs for Cisco Systems, Chevron Philips, LG Electronics, Ingram Industries, WESCO International, Xerox, Microsoft, Whirlpool, Office Depot, Union Pacific, TV One, C-SPAN, FMC Technologies, the DNC, the Milwaukee Brewers, and many more "majors" you'd recognize. Chief in-house litigation counsel for DuPont, IBM and Cardinal Health are also participating.
The two-day meeting is "re-designed for 2009". So topics at the SuperConference won't be much of a surprise. If you can think of it, it will be covered. More details are here.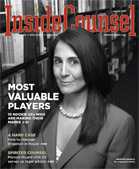 Posted by Holden Oliver (Kitzbühel Desk) at April 22, 2009 12:59 AM
Comments
Post a comment
Thanks for signing in, . Now you can comment. (sign out)
(If you haven't left a comment here before, you may need to be approved by the site owner before your comment will appear. Until then, it won't appear on the entry. Thanks for waiting.)