« Discovery: The Miracle of Rule 56(f), Fed. R. Civ. P. | Main | Towards a reinvented Martindale-Hubbell? »
May 20, 2009
For lawyers, working = marketing.
Rule Six: When You Work, You Are Marketing. From our 12 Rules of Client Service. In 2006, Mr. Rogers himself gave The Rules to my co-writer Holden Oliver and me--they were written on two legal pads, each bearing the logo Staples®--when we were up on "the mountain" at a place known as Two Bunch Palms, near Palm Desert, California. We carried The Rules down the mountain, and the back to the people. We told them the news. We read from the pads. But no one would listen. Well, you get the idea.
Or do you? When you work, you are marketing. You are constantly sending to your GCs, inside counsel, CFOs and other client reps barrages of small but powerful ads. They are received, and experienced, any time you do anything.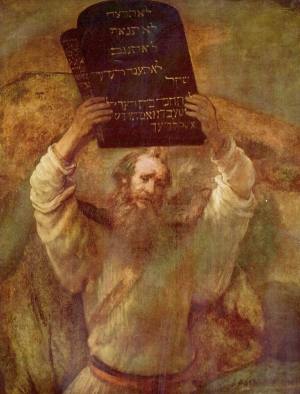 Moses with the Tablets, 1659, Rembrandt

Posted by JD Hull at May 20, 2009 11:59 PM
Comments
Post a comment