« It hovers, takes hostages, and moves on to the next town. | Main | U. S. Copyright Office: Getting the bugs out of a $52 million "process". »
June 23, 2009
Hello. City Desk? Get me rewrite, doll. This is Juror No. 8.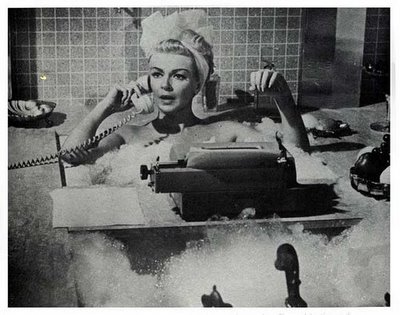 And stop the presses. Here's something you don't see every day--but then you wonder why more jurors aren't taken to task for texting, tweeting, phoning, blogging and otherwise messaging. Milwaukee's Anne Reed at Deliberations has this one from March we almost missed, and there's nothing stale about it: "The Fourth Circuit And The Juror Who Called The Press". And see U.S. v. Basham, the Fourth Circuit's March 30 opinion reviewing claims of errors in the grisly 2004 murder trial of a defendant sentenced to death.
It starts out when a producer from a Greenville, South Carolina television station contacted the district court judge right after the verdict came; he told the judge that during deliberations a juror had called to inquire why the station was not reporting on the trial, and to offer a few observations on the proceeding. No big deal, maybe, right? But then, as Anne Reed notes:
When the phone records came out, there was even more. "Wilson [the jury foreperson] made a six-minute call to WSPA, two one-minute calls and a four-minute call to WHNS Asheville, a two-minute call to WYFF in Greenville, a two-minute call to the Greenville News, and a one-minute call to the Spartanburg Herald. These latter two calls to newspapers had not been reported by Wilson during her initial testimony."

And more: "seventy-one calls between her and two other jurors from September through October 2004," including calls on days of critical testimony.
Read Anne's post to learn the Fourth Circuit's take on the foreperson's misconduct, and whether a new trial was warranted.
Posted by Rob Bodine at June 23, 2009 11:59 PM
Comments
Post a comment
Thanks for signing in, . Now you can comment. (sign out)
(If you haven't left a comment here before, you may need to be approved by the site owner before your comment will appear. Until then, it won't appear on the entry. Thanks for waiting.)