« Real lawyers practice law. (Blogging comes second.) | Main | Indiana Ivy-Leaguer goes national, makes good: Above The Law Editor on "The Law School Indicator". »
July 07, 2009
London law students: scholars, critics, lovers.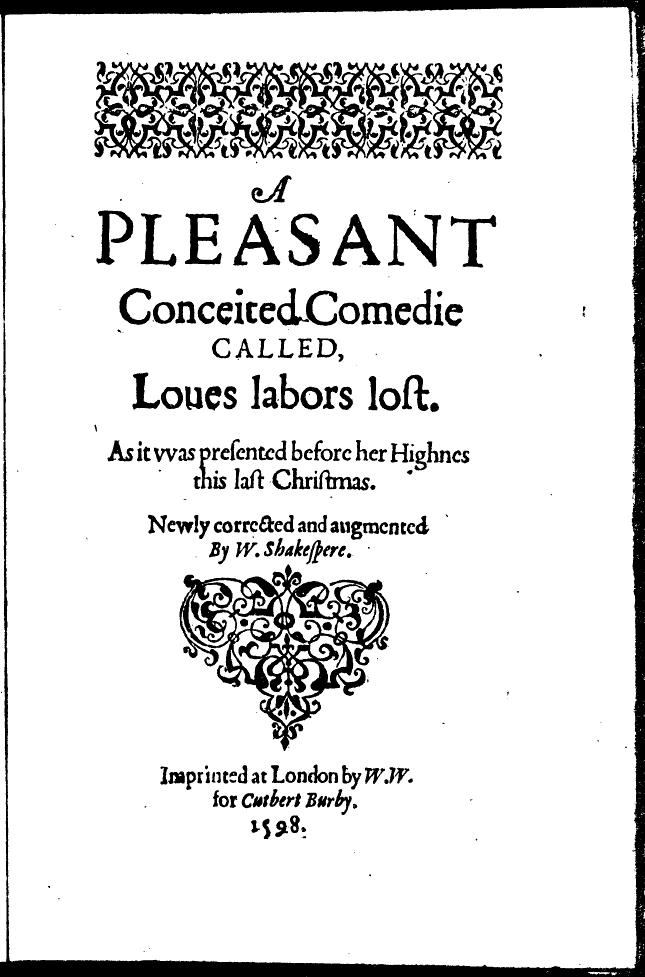 We send you the complete text of this circa-1595 comedy by Shakespeare, here, and on one page. The play was first performed before Queen Elizabeth, at her Court in 1597.
"Loues Labors Loſt"--note the obsolete spelling of 'love', showing the strong hangover of the French language in England--was also likely written for early performances before culturally-literate law students and barristers-in-training at the Inns of Court in Legal London. The idea was that the students would appreciate its sophistication and wit. Law students apparently were once like that in the West.
Do read Love's Labour's Lost when it's quiet. Maybe next weekend after the weenie roast, or when Uncle Seamus from Albany sleeps it off in the room with the happy bunny rabbits-motif wallpaper and curtains you never took down. Interestingly, and not to embarrass you about Uncle Seamus again, the play itself begins with a vow by several men to forswear pleasures of the flesh and the company of fast women during a three-year period of study and reflection.
And to "train our intellects to vain delight".
(From a 9/1/08 Dan Hull post written at Bayswater, West London)
Posted by Rob Bodine at July 7, 2009 12:58 AM
Comments
Post a comment
Thanks for signing in, . Now you can comment. (sign out)
(If you haven't left a comment here before, you may need to be approved by the site owner before your comment will appear. Until then, it won't appear on the entry. Thanks for waiting.)