« P.L. 111-22: A Hurdle for Purchasers of Foreclosed Homes. | Main | Performance Reviews based on CS standards. »
July 01, 2009
Senator Franken: Good enough, smart enough, tough enough.
The Minnesota Supreme Court unanimously gives Franken the nod over Norm Coleman. Al Franken got out there and worked his wazoo off for that Senate seat. Congrats, Renaissance man--and welcome to arguably the world's most elite club. Los Angeles Times: "Goshdarnit Al Franken's a Senator". But is putting him on the Senate Judiciary Committee a good thing?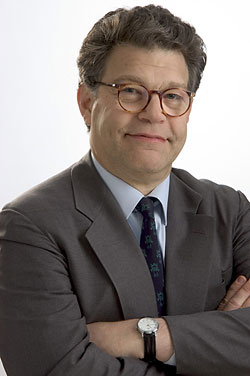 Posted by JD Hull at July 1, 2009 06:41 AM
Comments
If he works as hard at doing the job as he did at getting it, his committee appointment will not be a problem.
Posted by: Catherine Mulcahey at July 3, 2009 06:12 PM
Post a comment
Thanks for signing in, . Now you can comment. (sign out)
(If you haven't left a comment here before, you may need to be approved by the site owner before your comment will appear. Until then, it won't appear on the entry. Thanks for waiting.)