« Today in Calais: French police lose it a little. | Main | Pittsburgh: Lord, Take Me Downtown. »
September 23, 2009
Wanted: One Huntin' Dog.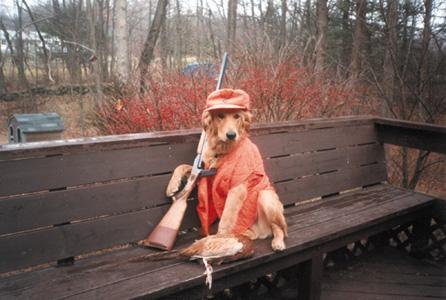 Buy Boomer. Nothing beats having a Boomer in your office when it's time to get things done. We're loyal, irreverent, and fun. You get energy, hustle, charm, and a nearly overwhelming sense of cultural identity. Hardworking. Generation Moxie. Do-or-die. You want something done? Done right? Then Buy Boomer. Consider going straight to the top, for the best, and work from there:
HELP WANTED: Of counsel for growing and energetic Pittsburgh-based boutique business law firm with publicly-traded clients to die for. Candidate must have at least 8 years of highest level federal Exec. Branch experience, world-wide connections, Yale Law degree, one year at Oxford, own money and people skills. Crowd-pleaser. Must be able to sell anything to anyone. And be originally from Hope, Arkansas. State government experience preferred but not required. Same for participation in Renaissance weekends, and fund-raising. United Nations experience also a big plus. You don't need to re-locate. Happy to set up the office for you. Wherever you want. Harlem or Chappaqua, New York are okay. Or DC. You decide. You can work out of your house. Whatever. NOTE: No previous private law practice experience necessary. Not a problem–no problem at all. Excellent benefits package.
Posted by JD Hull at September 23, 2009 11:59 PM
Comments
How in the world did you get the dog to sit still for that long in that position?
Posted by: Joe at September 24, 2009 01:53 AM
Post a comment