« Greenfield | Main | Got a Little Black Book for you right here. But are you ready to do some work? »
November 28, 2009
Practice tip: Do timely object to hand grenades.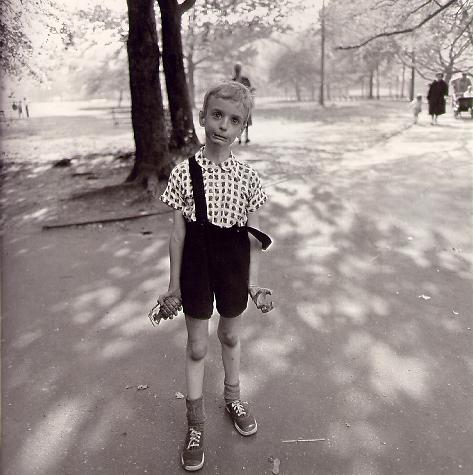 Diane Arbus, Central Park, 1962
Even without notice, you can let some stuff slide a little when it slips into defense counsel closings: photos, videos, a few power point slides, and maybe blow-ups of handwriting samples. No reason to object. But you never know about those wild cards: firearms, working chain saws, certain munitions, live-looking grenades, those sorts of things. So do pipe up--even if you think you're winning big with the jury in an "I-can't-lose-here" jurisdiction. See at ABA Journal "Lawyer Under Fire for Using Dud Grenade in Closing".
There was no objection and the presiding judge simply asked that Kepfield remove the grenade from the table.

Kepfield's client was convicted following 15 minutes of jury deliberations, according to the Hutchinson News.
The grenade closing prop was used in a demonstration of a "real" imminent threat. A complaining witness claimed that one co-defendant in the case threatened "to kill her dog and harm her daughter" if she would not assist in the forgery of stolen checks. No timely objection to the grenade. But here the winning prosecution apparently could have it both ways:
District Attorney Keith Schroeder intends to also alert the Kansas attorney general's office.

"Clearly, I'm concerned about the situation and the safety of my employees, and I'm concerned about the way the jury's treated," Schroeder said.
Posted by Rob Bodine at November 28, 2009 12:00 AM
Comments
Post a comment
Thanks for signing in, . Now you can comment. (sign out)
(If you haven't left a comment here before, you may need to be approved by the site owner before your comment will appear. Until then, it won't appear on the entry. Thanks for waiting.)