« Real Heros: Benjamin Disraeli | Main | Rule Six »
January 06, 2010
Lafley: Look to the outside.
The consumer as boss. From 2000 to June 2009, A.G. Lafley served as chairman of Cincinnati-based Procter & Gamble, where he is now a director. Last May, he wrote "What Only the CEO Can Do" in the Harvard Business Review. Here's an excerpt, in which Lafley quotes the consultant-writer Peter Drucker (1909-2005) in comments Drucker made in 2004:
Inside there are only costs. Results are only on the outside.

The CEO alone experiences the meaningful outside at an enterprise level and is responsible for understanding it, interpreting it, advocating for it, and presenting it so that the company can respond in a way that enables sustainable sales, profit, and total shareholder return growth.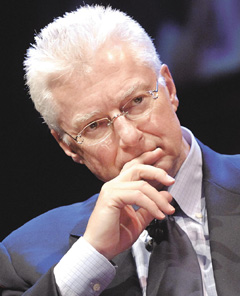 Alan George Lafley
Posted by JD Hull at January 6, 2010 02:06 PM
Comments
Post a comment