« Los Angeles | Main | ADR Risings »
March 28, 2010
For clues, try Tennessee.
What does it take be a great trial lawyer, anyway?
Tennessee's John Day may have the answer. No surprise to us that fellow Midwesterner Day ended up here. Tennessee is the warrior-breeding Volunteer State. It hatches, and attracts, both brawlers and serious students of war. Record numbers of Tennessee men stepped up to fight in the 1812 and Mexican wars. Alvin York, World War I's most decorated American soldier, came from Pall Mall, near the Kentucky border.
And so John just had to move to Nashville. Read either John's fine Day on Torts, or his cover article in the November 2008 issue of the Tennessee Bar Journal.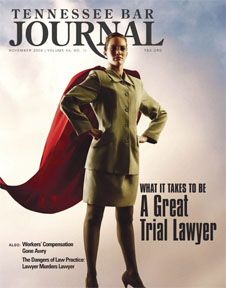 Posted by JD Hull at March 28, 2010 12:59 AM
Comments
Post a comment