« To American law schools: A little help, please? | Main | Well, do they, punk? »
April 15, 2010
The Real Tax Day: February 3, 1913 and Amendment XVI
The Congress shall have power to lay and collect taxes on incomes, from whatever source derived, without apportionment among the several States, and without regard to any census or enumeration.
April 15 has been federal Tax Day--now "Cyber Tax Day"--for individuals in America since 1955. While the income tax system really started here during the Civil War, it got jump-started by the 1895 U.S. Supreme Court decision (5-4 vote) in Pollock v. Farmers' Loan and Trust Company. In Pollock, the Court declared unconstitutional a federal income tax on income from certain stocks and bonds, and thereby invalidated part of an 1894 act that imposed a direct tax on the incomes of U.S. citizens and corporations.
The 16th Amendment was proposed by Congress on July 12, 1909, and finally ratified by the states on February 3, 1913 (1,302 days). It mooted Pollock. The amendment was rejected by New Hampshire, Arkansas, Connecticut, Rhode Island and Utah. Other tax days: the original was March 1, 1913. Between 1918 and 1954, it was March 15.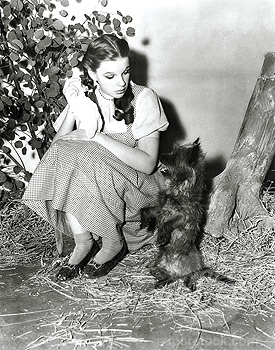 Going over trial strategy: The IRS stuck Judy Garland with huge tax bills in the 1960s.
Posted by Holden Oliver (Kitzbühel Desk) at April 15, 2010 11:59 PM
Comments
Judy Garland? Judy Garland? You've gone total poof on us? Next time feature Wes Snipes or Al Capone. Jesus, Holden.
Posted by: Dan Hull at April 10, 2010 04:50 PM
And you think you are multicultural.
Posted by: Holden Oliver at April 11, 2010 01:17 PM
Post a comment
Thanks for signing in, . Now you can comment. (sign out)
(If you haven't left a comment here before, you may need to be approved by the site owner before your comment will appear. Until then, it won't appear on the entry. Thanks for waiting.)