« | Main | Watkins on Business Mediation. »
October 09, 2010
Hard Times at Duke.
The Duke Experience. In The Chronicle, the award-winning, muckraking, star-hatching, and these days way-tawdry 105-year-old Duke daily newspaper, visit "Sex List Draws Media to Duke". Here are some excerpts--including two of the offending history-making links, which we have added--to get you started (warning: you may do no work for the rest of the day), to do more research, and in case you missed the buzz on Thursday of last week:
The 42-slide PowerPoint that has drawn widespread attention was meant to be shared between friends.

In it, Karen Owen, Trinity '10, vividly describes the sexual performance of 13 current and former Duke students, all of them varsity athletes and many of them lacrosse players.

After Owen sent the PowerPoint to a few friends, it eventually made its way across listservs at Duke and then onto sites such as Jezebel, The Huffington Post and CNN.

At one point Thursday night, "Karen Owen Powerpoint" was the second most-searched term in the United States on Google. "Duke Powerpoint" was 10th.

Deadspin, a sports blog, and Jezebel, a blog that covers women's interests, first posted the PowerPoint last Thursday. The document has since been viewed more than 2 million times on the sites.
And the best quote ever:
"I regret it with all my heart," Owen told Jezebel. "I would never intentionally hurt the people that are mentioned on that."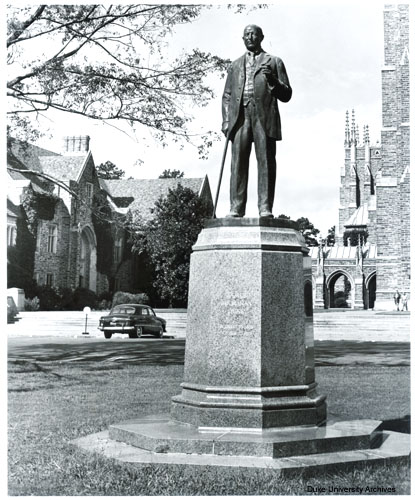 Above: James "Buck" Duke smoking a big one on West Campus.
Posted by JD Hull at October 9, 2010 11:59 PM
Comments
Post a comment
Thanks for signing in, . Now you can comment. (sign out)
(If you haven't left a comment here before, you may need to be approved by the site owner before your comment will appear. Until then, it won't appear on the entry. Thanks for waiting.)