« My Marrakesh: Christian tattoo artists in Muqattam, Egypt. | Main | Weak Local Counsel--Another Lawyer-Centric Epidemic? »
November 12, 2010
This Week's Blawg Review: IP Savvy in a Class by Itself.
Over at Cincinnati-based powerhouse Frost Brown Todd, partner and patent lawyer Stephen Albainy-Jenei is still a Mother of Invention. Don't miss this week's Blawg Review (#289), at his Patent Baristas. Even Austrian-born Hedy Lamarr is in play. It's always the quiet ones.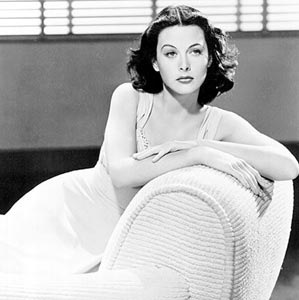 Patent Baristas frolics with the inventive Ms. Lamarr.
Posted by Holden Oliver (Kitzbühel Desk) at November 12, 2010 01:59 AM
Comments
Always the quiet ones that....turn out to be crazy?

Posted by: Joe Marchelewski at November 10, 2010 08:58 PM
No--but close. Quiet ones do well with the dames. Or babe-age, skirts, girls and women. Bone up on your basic Bill Murray.
Posted by: Holden Oliver at November 11, 2010 12:57 PM
Post a comment
Thanks for signing in, . Now you can comment. (sign out)
(If you haven't left a comment here before, you may need to be approved by the site owner before your comment will appear. Until then, it won't appear on the entry. Thanks for waiting.)