« Trials: Money, Guns and Budgets. | Main | This Blog Is A No-Cowards/No-Poofs Zone. No Anonymous Comments. »
January 14, 2011
Why Are You Paying New Law Hires? Law Profs Don't Pay Students To Learn.
He's saying he didn't want to be President of the United States so he could stay home and be "Daddy"? Give me a fucking break.

--Billy Bob Thornton's Carville-like character in Primary Colors
In job candidates, why not require extreme relentless unbridled off-the-wall burning ambition? Yes, start there. Bonus pointer: if a job reference tells you that a job-seeker "doesn't have one mean bone" in his/her body, then hire him, her or it as your wife's hairdresser or to decorate your toddler's bedroom. Business orientation, grades, editorships, legal smarts, people skills, writing ability, global outlook? Those are very tough to find in one human--still, demand those. Absolutely.
Law schools and their professors do not pay students to learn. Why should you? But hey, all the foregoing is not enough. You need more. You need "it". Big energy and daunting ambitions. It's not there compellingly and unmistakably? Next, please. Don't waste your time with 95% of the possible candidates. That remaining 5% group presents enough bodies and talent for difficult work. You have to look harder. And pay them, of course--but only those worth investing in.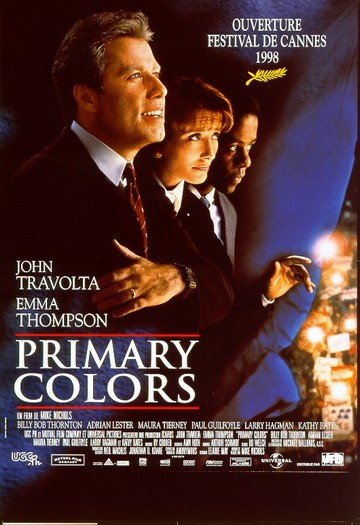 If they are to some degree less than what your and your clients deserve, a suggestion: make the associates pay ($) your firm to learn how to be lawyers for 2 years or so. Do not bill out their hours. (It's at best a breach of fiduciary duties and, at worst, fraud.)
It is no secret that law professors and law schools are too wimpy/lazy/out-to-lunch/greedy to teach them anything, and loyalty to commercial institutions is at an all time low. If marginal or even very good hires get the greatest benefit in the first 2 to 3 years from the firm-associate relationship--and they almost always do--don't be chumps. Pay only a few of them; let the rest pay your firm. Law school professors do not pay students to learn. Why should you?
Two years ago, recruiter Major, Lindsey & Africa wrote "What Law Firms Want in New Recruits" in Law.com. Great article if you seek generic barely-adequate rank and file employees. Or maybe new kinds of houseplants.
MLA, you are a great firm. Why not get a great standard?
Posted by JD Hull at January 14, 2011 11:59 PM
Comments
Posted by: Phil Dracht at January 9, 2011 02:32 PM
My thoughts on that article and others like it, Phil? Debt is not the point. You either do or don't want to be a lawyer. In the first 3 years, students should pay firms.
Sorry--but most law schools and esp. profs are not helping and staying "above" the debate.
If my firm is going to teach lawyers 90% of what they need to be marginally effective, and that takes 18 months to 3 years, those students should pay my firm.
In the meantime, you don't bill out anyone's associate work. Which would be fraud--and IS fraud when it happens--in my book. My highest estimate of the value of a new hire post-bar exam is $28.00/hour--if they are brilliant and use everything they have to try to be valuable.
The situation gets a bit worse every year. Coif, Law Review editors, best schools. None of them know anything. And they could care less about clients. It's not in their training or make-up. Clients should not have to bear the cost of training. Either should my firm our yours.
Bitch at the law schools--not at me. :>)
It's not about students, law firms or law schools. About clients.
Posted by: Hull at January 9, 2011 02:56 PM
JD,
You don't teach lawyers 90% of what they need to be effective, but that is for another day.
All businesses have to train their employees. Do you seriously believe that a newly hired software engineer is any more use to Google than a Harvard grad would be to you? All this, however, is for another day.
What you should have commented on is the pathetic state of someone with a great legal education complaining about $275,000 in debt, even in present circumstances.
Investing $275,000 to get into business is nothing. Look at what a decent retail store costs to stock and open. It costs, here, $3 million plus to open a McDonalds, etc.
Any law student complaining about his or her debt is truly a "Girlie Man," in your words.
Obviously, they have a vastly over developed sense of self-importance and self-worth. Life doesn't owe them a great job, until 70, because they went to a couple of good schools.
These people truly are slackards. They are the only people I know of who deserve the scorn of Rush.
What they need to do is buy Ben Franklin's autobiography and start going to bed early at night and rising early in the morning. Then, they should borrow a copy of The Partnership by Charles Ellis and read how one makes one's way in the world.
They won't have to read far. On page 4 Ellis starts the story of Marcus Goldman who started lending money in New York City in 1869 in scenes no different than The Gangs of New York. Goldman learned how to tell whether a man or woman was credit worthy and acted an an intermediary between the banks and the merchants of New York.
In a few words, he learned how to create value from the work he did, doing work that others weren't doing.
The same story can be found in the pages of Lisa Endlich's book.
Given the false "academic" bent of these folks, they might also read Bhide's Hustle in the Harvard Business Review.
Someone needs to tell these people that they are spoiled brats, not even worth of tea party membership
Posted by: Moe Levine at January 9, 2011 03:28 PM
I like the idea of an apprenticeship. Make law school 2 years and then start the apprenticeship -- you could follow the medical training model. No/low pay at least for your first year and scale it up from there (medical resident working >80hrs/wk gets around 40k+/- just for reference).
This would help decrease the number of students who go to law school to "open doors." You don't see medical students going to medical school to "open doors" -- they want to be doctors!
And for the kid that is in debt 240k because of his Thomas Jefferson School of Law diploma, you gotta shake your head.
Posted by: Phil Dracht at January 9, 2011 09:35 PM
All for apprenticeships--which is the logical extension of this blog's current and past energies devoted to this subject. TJ Law School? Best legal mind in SD (I know, but bear with me) belongs to one if its grads. He helped me pass the CA bar in 2002. His name is Bull. He blew me away on con law and fed jur subjects. Hope he's teaching or rich. No dork, either.
Posted by: Hull at January 9, 2011 10:20 PM
Post a comment